My 27-Piece Spring 2023 Casual Capsule Wardrobe
See everything in my own capsule wardrobe, which includes tops, bottoms, layers and shoes, in mostly neutral colors. My capsule wardrobe is based on the Simplified Style®: Classic Casual Capsule Wardrobe. I'm showing everything in my own personal capsule wardrobe in my closet, here on the blog.
For those of you that follow the Classy Yet Trendy blog, you know that I have been using a capsule wardrobe in my closet for several years. I absolutely love using a capsule wardrobe every season, as it helps me get dressed quickly and easily everyday. A capsule wardrobe is a small set of clothes and shoes, which all mix and match, so you can have dozens of outfit combinations ready to wear. Using a capsule wardrobe lets you focus on more important things in your life and takes the stress away from getting dressed.
My full-time job is administering Classy Yet Trendy, as the sole person who does everything while working at home. Since I work at home, I wear casual clothes like jeans and casual pants, tops and layers. My job everyday consists of: working at my desk, doing photo sessions of clothes and shoes, moving about creating flatlays for Instagram, etc., so dresses or skirts are not feasible for my work-week lifestyle. On Sundays, I do wear skirts and dresses to church, in addition to wearing outfits from my capsule wardrobe since everyone dresses casual at our church.
Living in Alabama, the temperatures of our Spring season vary. We will have days of cool weather, then days of warm weather, so we could wear short sleeves one day and layer with jackets the next.
I created my all-neutral capsule for my closet based on the women's Simplified Style®: Classic Casual – A Year-Round Foundation Capsule Wardrobe. In Simplified Style®, there are 400+ outfit combinations for the entire year, capsulea for all seasons, outfit calendars and more!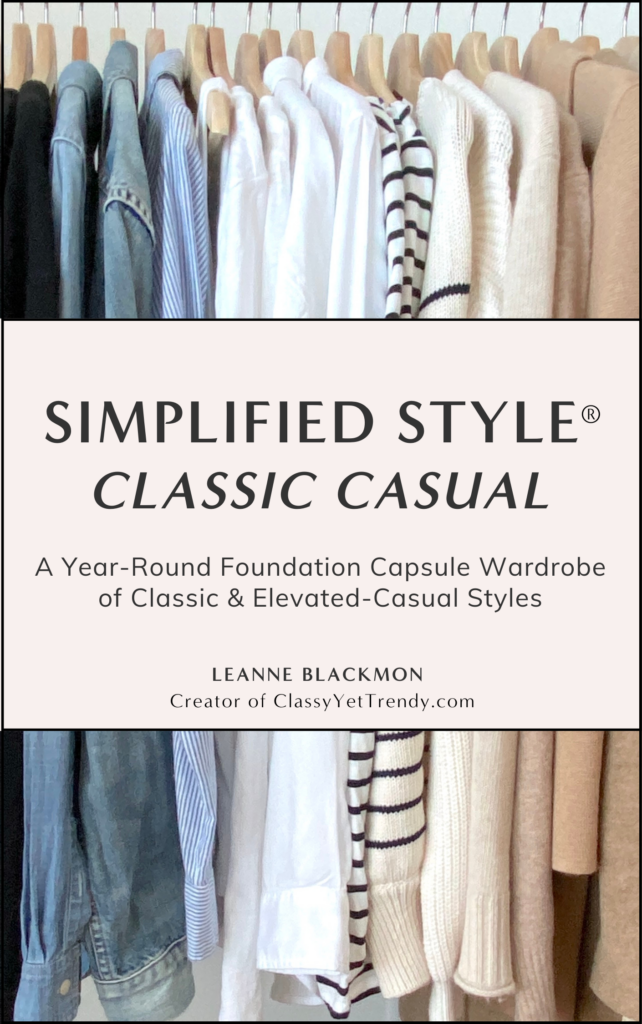 My Color Palette
For this Spring season, I chose "black" as the base color for my capsule wardrobe since I purchased these Chanel-inspired Steve Madden Ellison black cap toe flats a few weeks ago! I chose black as my own personal preference, so if you are referencing this post to create your capsule wardrobe for the Spring season, feel free to use your favorite base color. You can choose navy, brown, charcoal gray, etc.
The capsule wardrobes I share from my own closet every season, are clothes that I have in my own closet and goes with my personal style. Everyone has their own personal style as well as color preference in clothes, so your clothes and shoes in your capsule may be different from mine. You are welcome to use my capsule wardrobes here on the blog as inspiration for creating your own! While I don't have a guide of outfits for my own personal capsule wardrobes, feel free to follow along on my Instagram account @classyyettrendy, where I share outfits I wear throughout the season, as well as outfit collages and outfit ideas!
If you need a complete wardrobe for the season, then you may enjoy using one of my "ready to wear" capsule wardrobes in other styles available in the Capsule Wardrobe Store!
My own capsule wardrobe from my closet…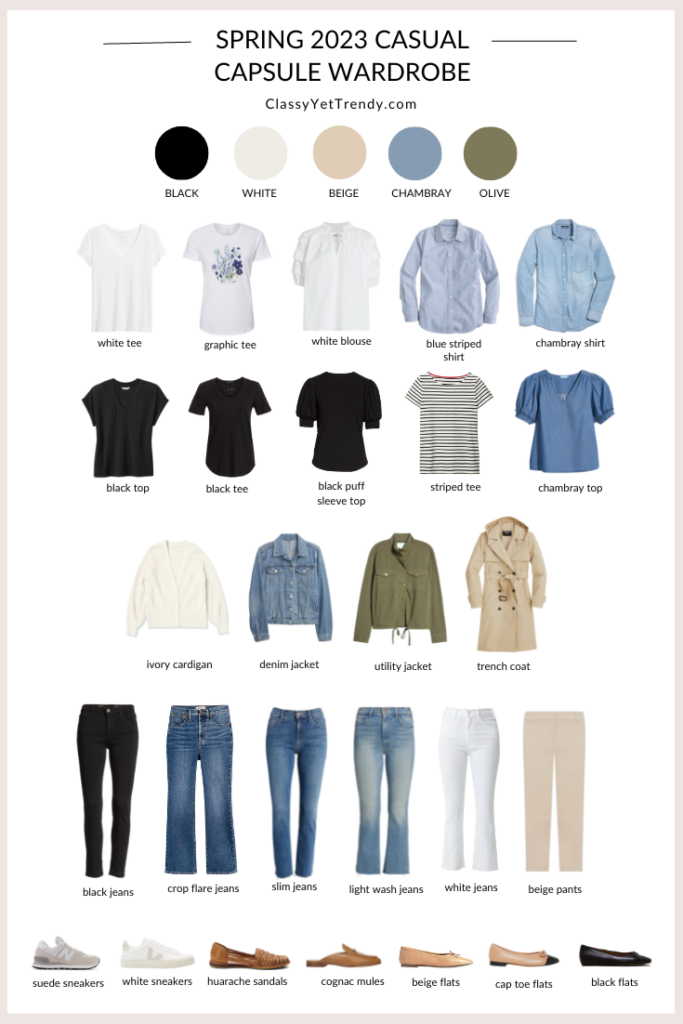 What Is My Personal Style?
My first and foremost favorite style is "Classic" with a twist of "French Minimalist", which includes solid color tees, button-down shirts, casual pants, jeans, cardigans, denim jackets, loafers, mules and flats. What is "classic" style? Classic style includes timeless designs that stand the test of time in mostly solid, neutral colors. I love the simplicity of classic style and I enjoy wearing this style the most. I create French Minimalist capsule wardrobes every season…see them here!
How Did I Create This Capsule Wardrobe?
I created my own capsule wardrobe for my closet based on my best-selling capsule collection, Simplified Style®: Classic Casual Capsule Wardrobe. I also followed the 4 steps in my blog post, How To Start A Capsule Wardrobe: An Easy 4-Step Visual Guide to create my capsule.
What Is In My Capsule Wardrobe?
Here's everything in my Spring 2023 Casual Capsule Wardrobe. For my own capsule wardrobe, I included 27 tops, bottoms, layers and shoes.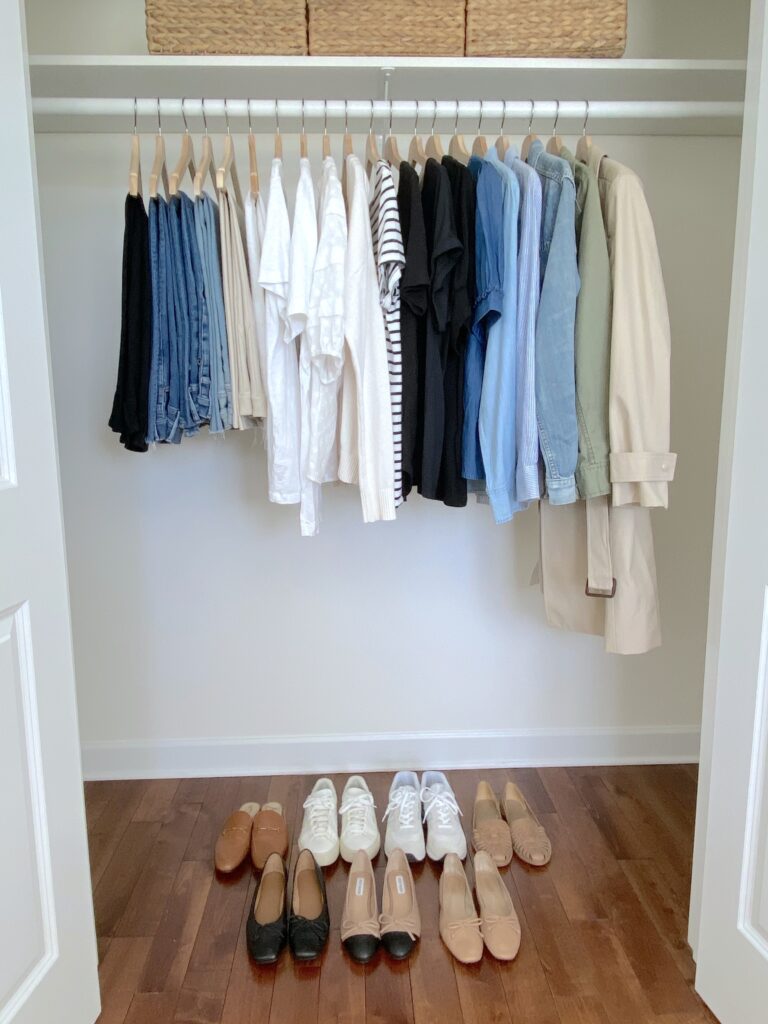 When I create a capsule wardrobe, I select my tops first, I guess it's maybe out of habit, but you can also start building your capsule by choosing bottoms or shoes first! To give you a visual of what a capsule wardrobe looks like on a clothes rack, here is what my capsule looks like on my clothes rack in my studio room.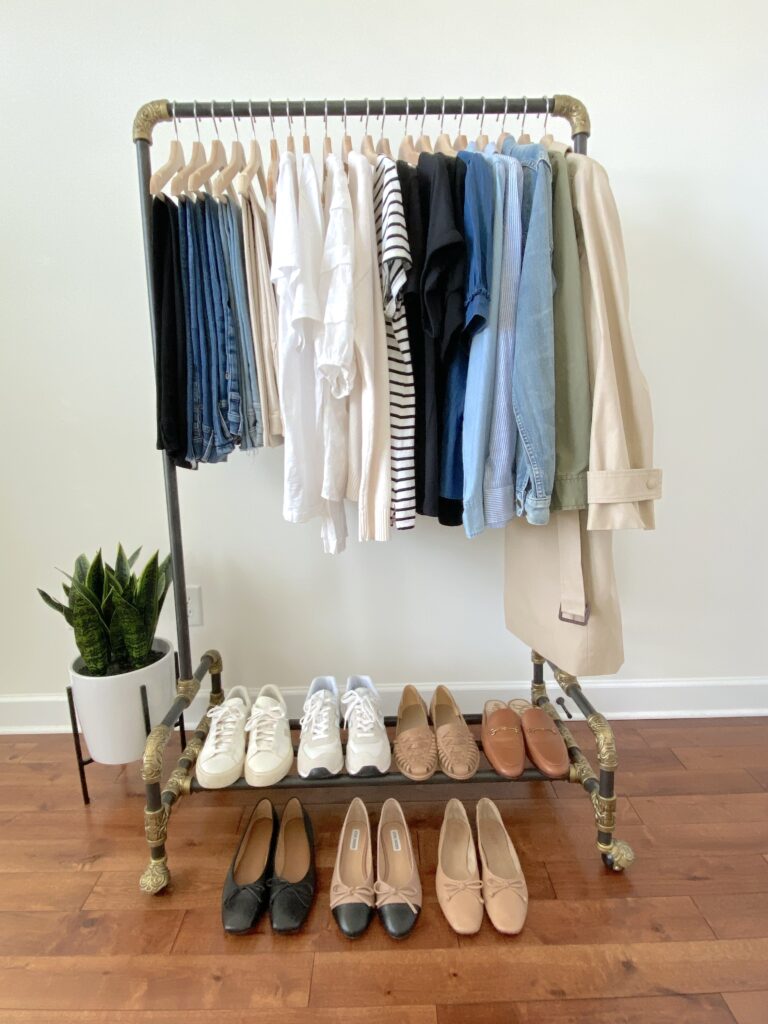 Here is everything in my own Spring 2023 capsule wardrobe, along with shopping links to either the actual or similar items (in case it is sold out), so you can add them to your closet!
Tops & Layers
I used mostly closet foundation essentials with some trending pieces to build my capsule wardrobe! You can use similar pieces to mine (shopping links are below) OR you can "shop your closet" too, including your favorite pieces for your capsule.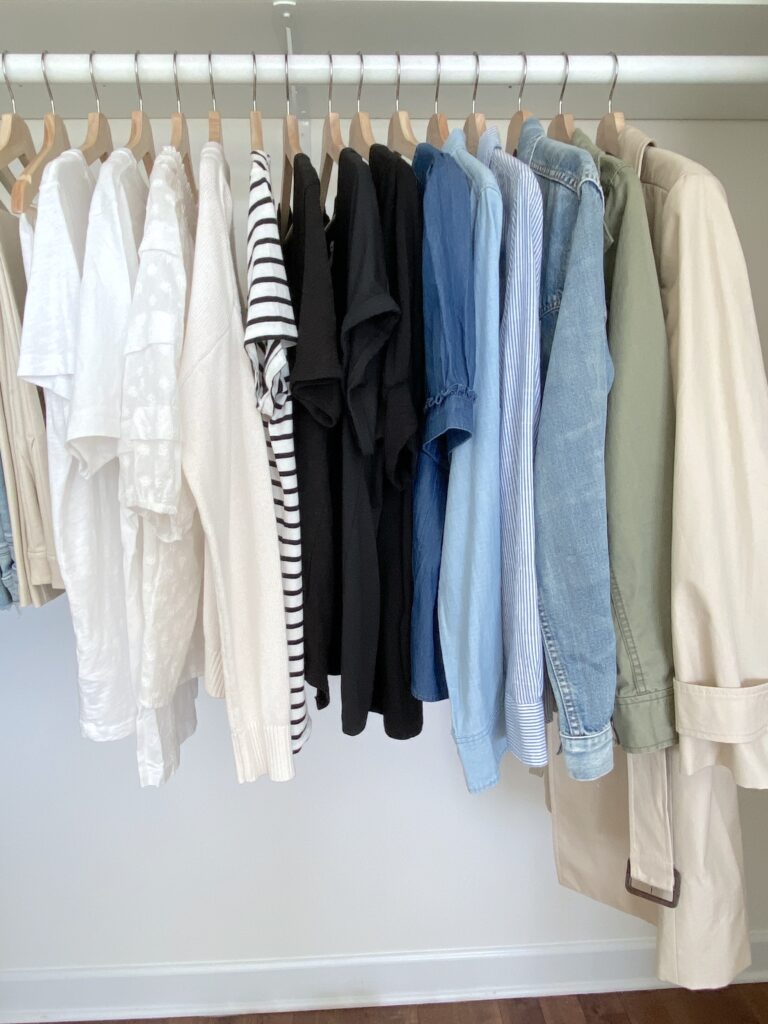 Left To Right:
I linked "similar" items if any of my exact ones are sold out.
white v-neck tee
white graphic tee Love the graphic tees from this Etsy shop!
white blouse
ivory cardigan similar
striped tee ("ivory/black stripe")
black v-neck tee
black short sleeve top
black puff sleeve top I have this Amazon top in both black and navy and love wearing them, so soft!
chambray top Love this top, so soft and feminine!
chambray shirt Softest shirt ever!
blue striped shirt similar
denim jacket same brand similar jacket
green utility jacket (same jacket as mine but in olive color)
beige trench coat
Shop The Tops & Layers:


You may also like:
How To Create A Carry-On Capsule Wardrobe (Spring Edition) + Outfits
How To Create a Core Closet
How To Create a Classic Wardrobe
How To Dress Like a French Woman
Bottoms
I have 6 bottoms in my Spring capsule. Since I work from home, I dress casual and wear jeans and pants.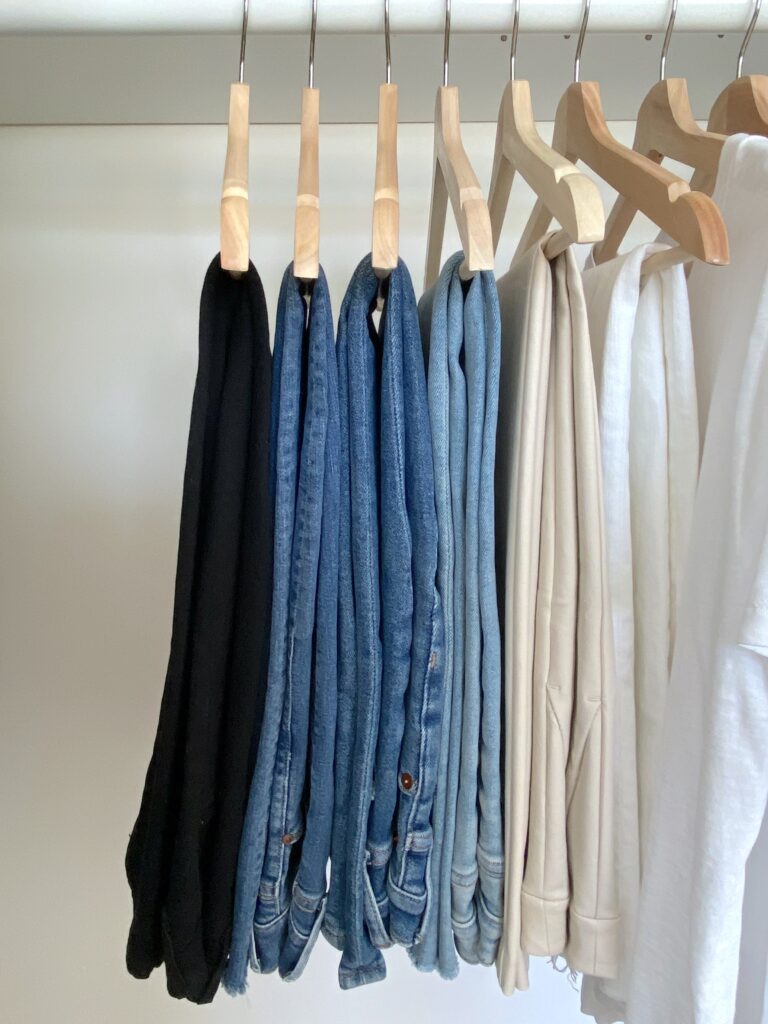 Left To Right:
I linked "similar" items if any of my exact ones are sold out.
black jeans
crop flare blue jeans
slim-straight blue jeans
light wash jeans
beige pants
white crop flare jeans
Shop The Bottoms:
Shoes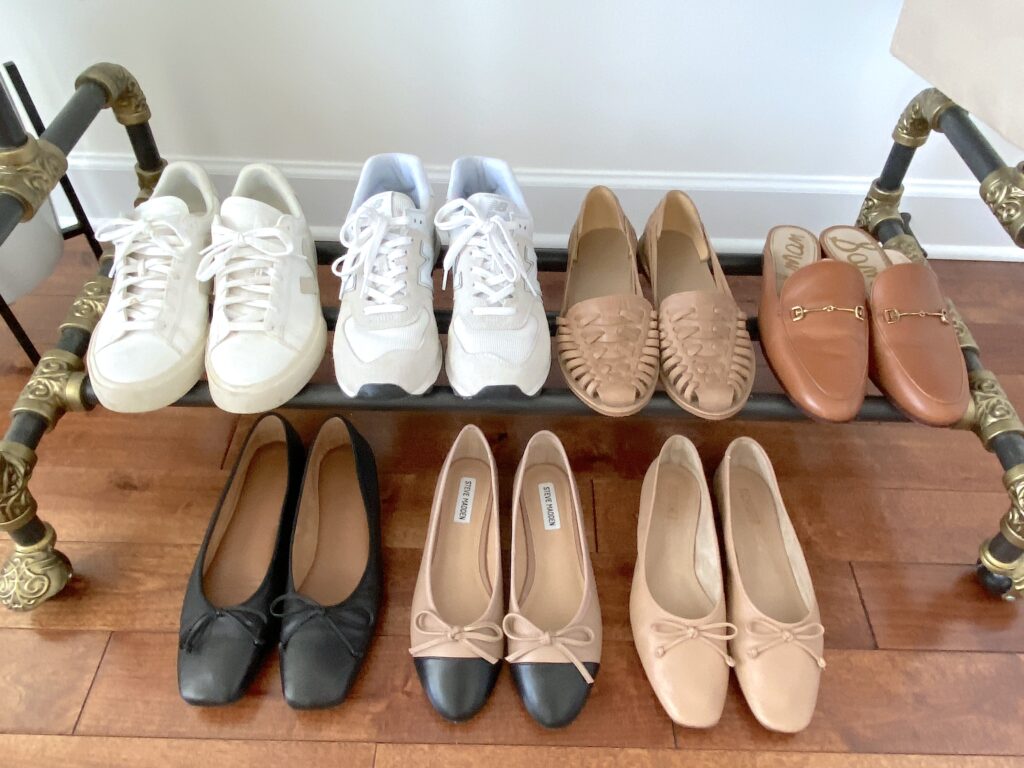 TOP ROW (Left To Right):
White Casual Sneakers
Suede Trim Sneakers
Huarache Sandals "almond" color I have wore these shoes for several years and recently replaced the same ones!
– Use code my promo code CLASSYYETTRENDY for 20% off the Huarache Sandals at Nisolo.com!
Cognac Mules in the "saddle" color
BOTTOM ROW (Left To Right):
Black Ballet Flats / also love these Sam Edelman ballet flats!
Beige/Black Cap Toe Flats <- LOVE these Chanel-inspired flats!
Beige Ballet Flats super soft shoes! I added these insoles for extra cushion
Shop The Shoes:
I'll be sharing outfits I wear from my Spring capsule wardrobe on my Instagram @classyyettrendy!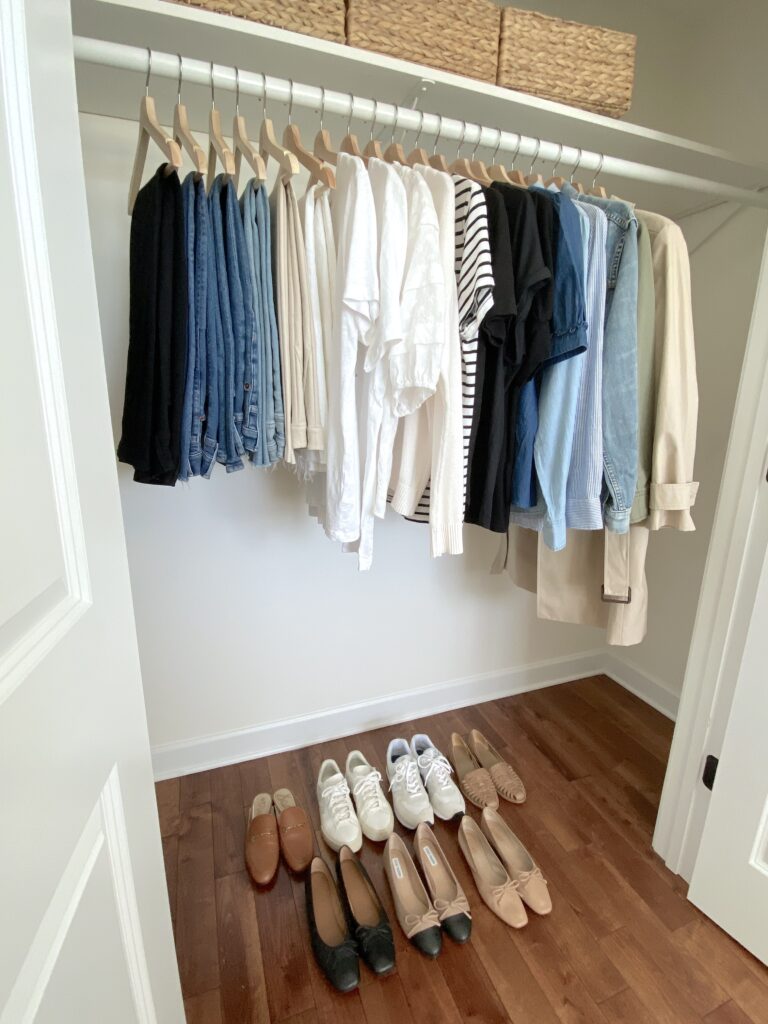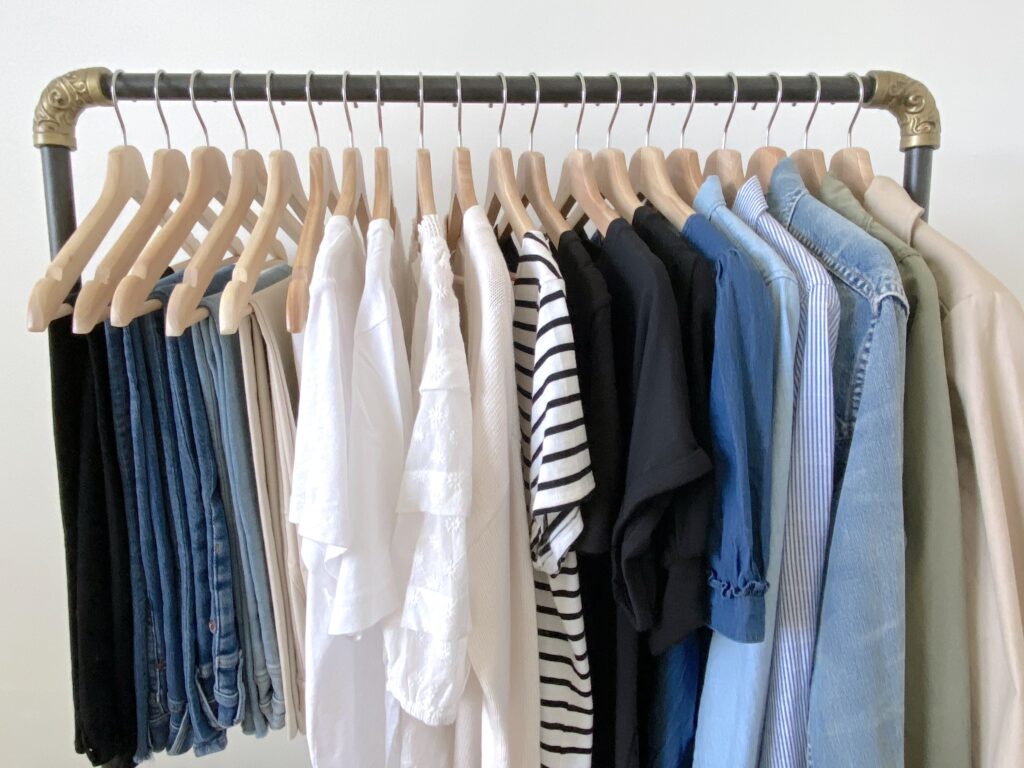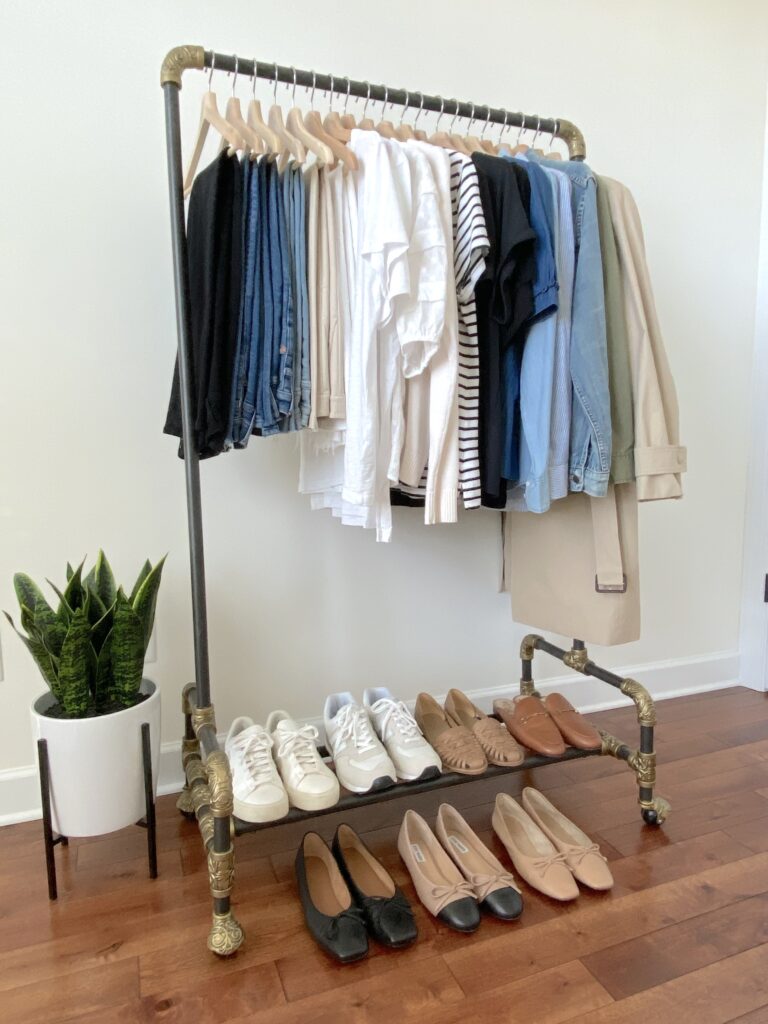 A Bit Of Inspiration For Your Day:
"My help comes from the Lord, the Maker of heaven and earth." – Psalms 121:2