10 Ways To Double Your Page Views
 Do you have a blog?  If so, how long have you been blogging?  I've been blogging here on ClassyYetTrendy.com since July 2014.  I have learned a lot along the way.  I've found techniques that work and some that don't.  I have used these exact 10 techniques to more than double my page views…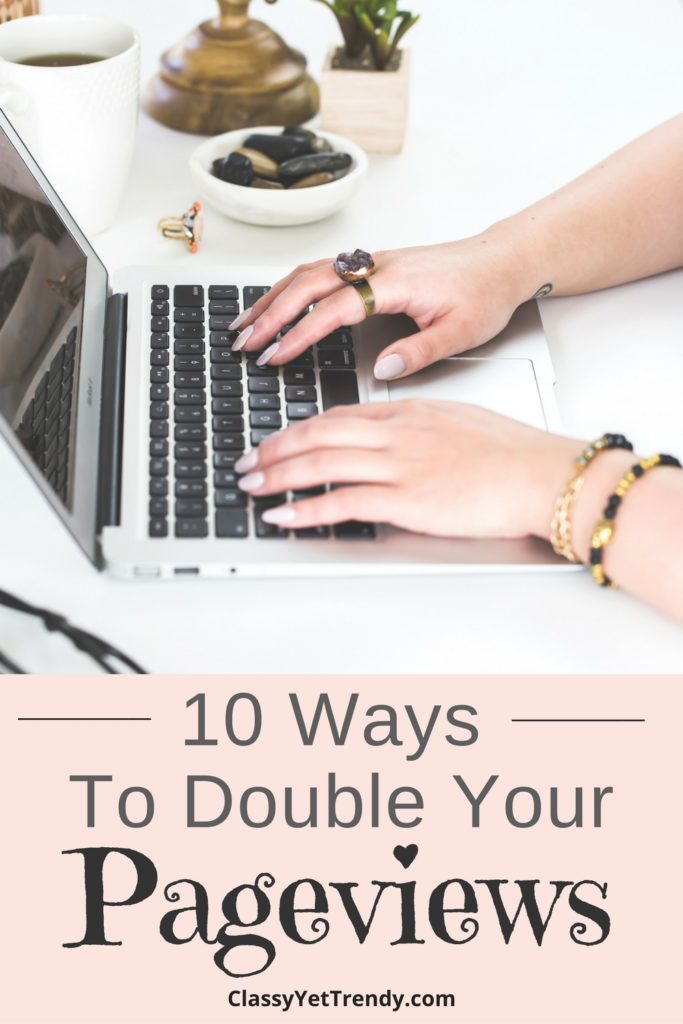 Do you want to start a blog?  Find out how to do it here…
How To Start a Blog In 3 Easy Steps
1.  
Have an Attention Grabbing Post Title
: Depending the type of blog you have, be creative with your post title.  My most popular post was
"How To Wear a Blanket Scarf"
, which has generated over 17,000 page views alone!  Most of the traffic this post comes from is Pinterest (I'll discuss Pinterest in just a bit).  Use phrases such as "How To", "Why" or "Where".  Numbers are also attention grabbers like this post title, "10 Ways".
2.  Write a Post Everyday: The more you contribute to your blog, the more people will be interested in what you have to say.  Everytime you write a post, you make your internet presence known.  When first started blogging, I read that the longer you have your blog and the more posts you write, the more readers you will have.  That is true!
3.  Post Quality Pictures:  They say a picture is worth a thousand words, and it's true!  What you have to say is important, but a picture is a first impression.  If the pictures are great, then everything else is easy.  You don't have to be a professional photographer.  Just make sure your pictures clear and expresses your post subject.
4.  Have a Pinnable Image In Your Post and Post It On Pinterest:   Did you know there are over 70 million users on Pinterest?*  That's why it's important to have at least one pinnable image in your blog post.  A popular subject with fashion bloggers is sharing their favorite sale picks.  Instead of listing them individually, you could create a collage and copy and paste all the images to a picture, add a title, and voila, instant Pinnable image!  Also, post that image to one of you boards on Pinterest.  When a person pins that image to their board, then their followers pin the image to their boards, then, well, you get the point, your post just may go viral like my "How To Wear a Blanket Scarf" did!  I would recommend installing a snippet of code from Pinterest to your blog's main page, so when a reader hovers over any image, Pinterest's red "P" appears and will let readers pin any image from your blog to their Pinterest boards.
5.  Post to Social Media Everyday: I use Instagram, Twitter, Pinterest, Facebook and Bloglovin'.  I post to these everyday!  Readers who use social media will see your blog posts.  They might not go directly to your blog, but if you post to social media, they will be reminded of your blog posts there and will click through to your blog.
6. Add Your Posts to Stumbleupon, Buzzfeed, Reddit and Digg:  These are content reader networks.  I would recommend adding your blog posts to all these sites everyday.  They may not generate as much traffic as Social Media but they are contributors to your blog traffic.
7.
Participate In Giveaways
: Since I have participated in a few giveaways, my social media followers and blog traffic has increased tremendously!  The giveaways I have participated in are Instagram Loop Giveaways and Blog Post Giveaways.  The Instagram Loop Giveaways are only on Instagram.  The Blog Post Giveaways build all your social media following.  Here's how it works: You pay on average $20-$40 to participate.  The amount depends on the prize to be given away and the number of participants who contribute.  The giveaway host will collect the money, create an image, the giveaway rules, the start and end time of the giveaway, and will host the rafflecopter (or other entry) app.   Then the giveaway host has the entry app pick a winner and they will contact the winner about their prize.  Do you research first and make sure you are pariticipating in a legitimate giveaway.  I would recommend the 
#Girlbosses
 group on Facebook for Instagram Loop Giveaways (it's a closed group so you'll need to request to be added) and 
Oh My Gosh Beck
 for social media blog post giveaways.
8.  
Add Your Post To Link Ups or Blog Hops:
  This is how I generate a lot of my traffic.  Some bloggers will host link ups or blog hops usually one day a week.  Since my blog is about mainly about fashion, beauty and recipes, I join link ups on these subjects.  There are many link ups out there on the web!  Readers of the link ups will see your post and may click on your post and go to your blog!  This is not only free advertising, but a great way to connect with other bloggers!  On Wednesdays, I host the Trendy Wednesday fashion and beauty linkup.  On Fridays, I host the Mix It Up Friday link up, which is just about anything (fashion, beauty, home decor, crafts, DIY, recipes, lifestyle, etc).  If you have a fashion blog, check out my
fashion link up list
 to see where I add my posts each week.
9.  Be a Link Up or Blog Hop Co-Host: This is a great way to increase exposure to your blog!  Some link up hosts will allow co-hosting, so the same link up list will be on the host's blog and your blog as well.  If you're new to blogging, it's a great way to get your blog noticed.  It's a great way to build repeat followers too.
10. Comment on Other Blogs:  When you visit another blog, comment on their blog and be sure to leave your name, your blog name and your blog URL (website address).  Readers will read the comment and can click through to your blog.  Instant blog traffic!
I hope you enjoyed these tips!  I hope you will double your page views as I have done by using these tips.  I can't guarantee that you will, but I personally have used these tips and they have worked for me.