Getting Dressed Is Easy With Golden Tote
Do you ever wish someone could shop for you and pick out the perfect things for you to wear? And, that you didn't even have to go out of your house to get them? Golden Tote does just that!
Do you get distracted by all the clothes in the stores and then you wind up leaving without what you went in for, or even worse, nothing? With Golden Tote, you choose the size of tote that you want, select some items online, then they surprise you with more, plus deliver it to your house. How convenient is that?!
Golden Tote is a subscription service that sends a surprise tote of items each month to your door, picked out by a stylist just for you! You can get the full scoop on it here! The founders are clothing designers from LA, so they have an eye for great clothes. They work with fashion brands to get you deep discounts and they also design clothing items as well.  They also have an updated return policy, in which you can keep the items you want and return the items you don't want.  Woohoo!
I've teamed up with Golden Tote today to share how they made getting dressed easy and fun for me! Read on about my experience to see what was in my tote!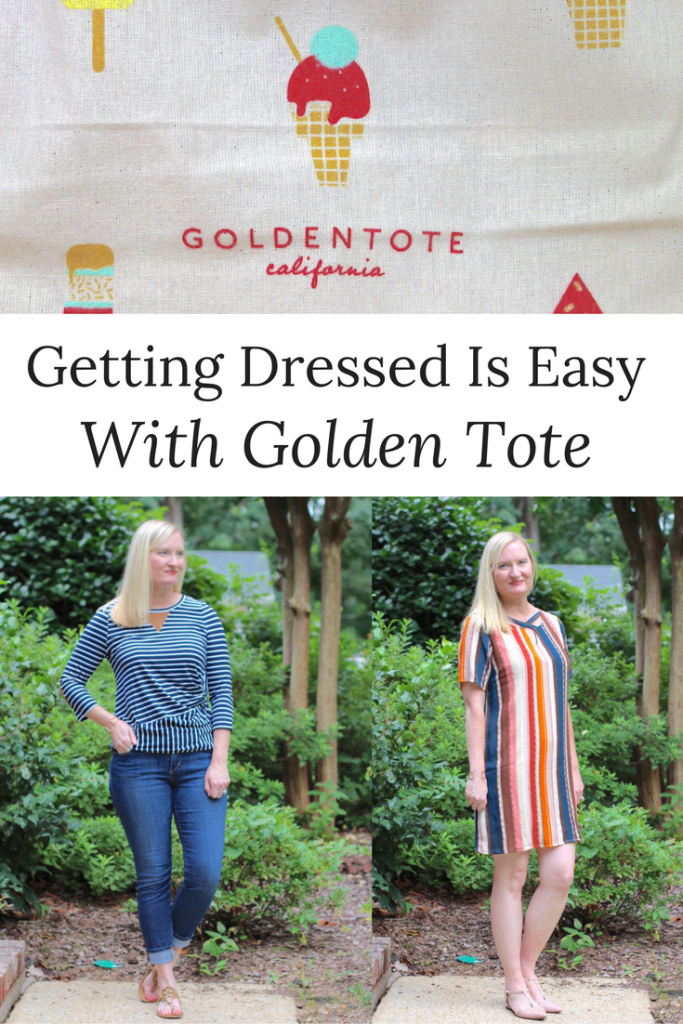 I partnered with Golden Tote on their "Golden Tote" in which I picked out 2 items online and they sent me 3 surprise items. The surprise items were hand selected by my stylist based on my style survey in which I filled out online in about 5 minutes. This tote is $149. They have the "Surprise Tote" that contains 3 items, which the stylists pick for you for $89. Then, they have the "Mini Tote" which contains 2 items, one you choose and another the stylist picks, for $59.
All the clothes come bundled in this cute tote, shown below, that you can use to carry just about anything.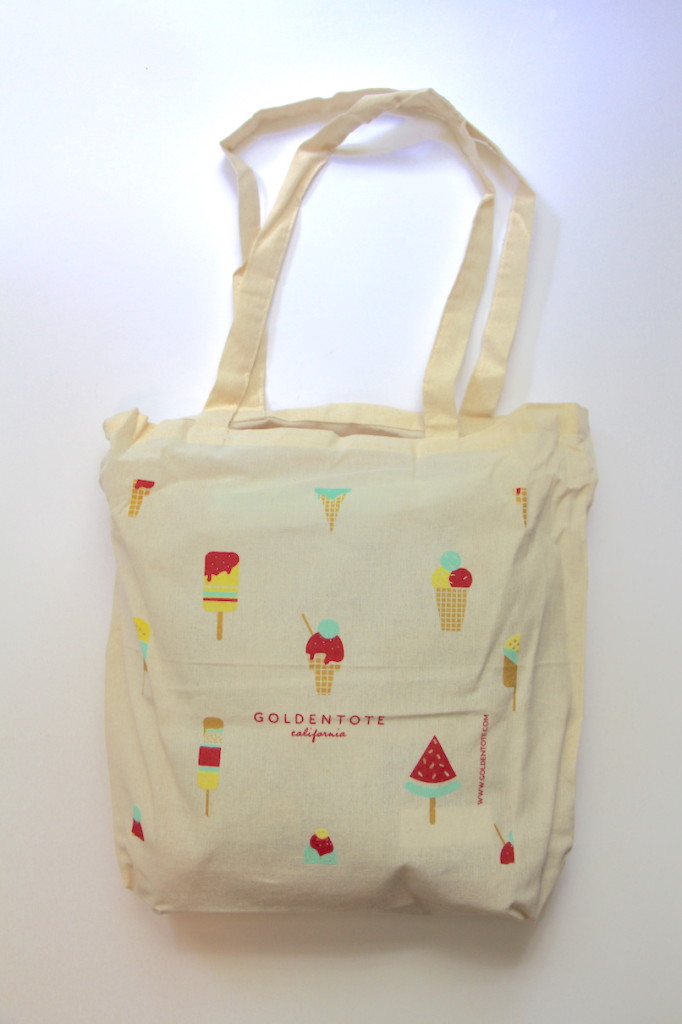 Here are the items I received:
Look #1: Everyday Adventures Dress
This is the first item I was able to choose for my tote. I absolutely love this dress! The colors on this are perfect for fall and the "X" fabric on the neckline is neat! I can see me wearing this to work with a blazer or on the weekend with my olive utility vest.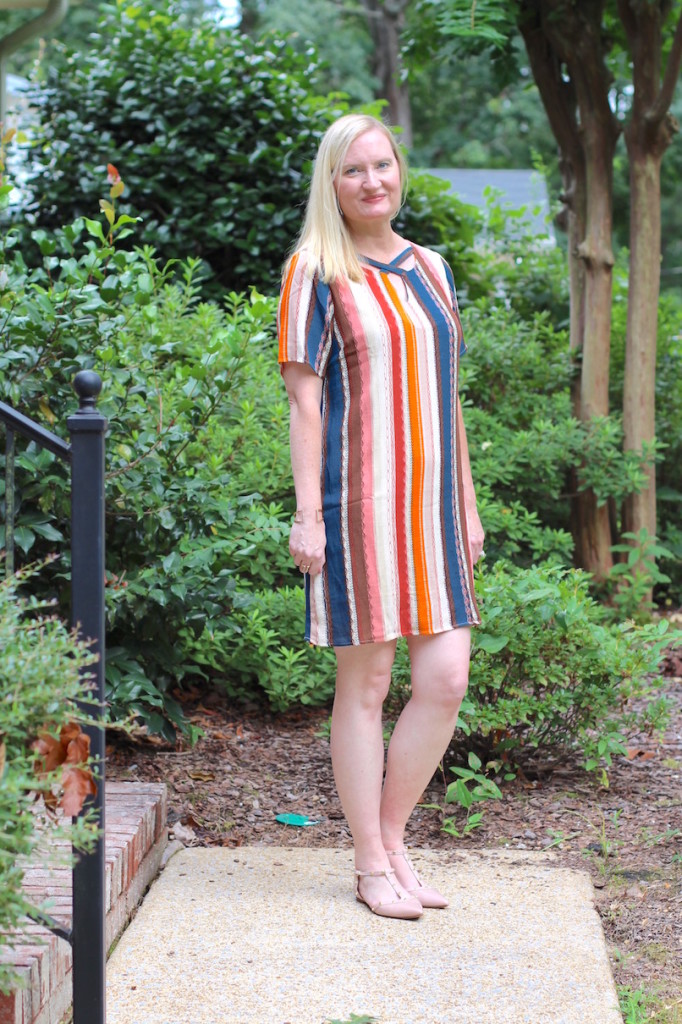 Look #2: Striped Tassel Top
This is the second item I chose for my tote. I love stripes and when I saw it had the lace-up detail, I couldn't pass it up! Here I'm wearing it with jeans, but it would also look cute with a skirt.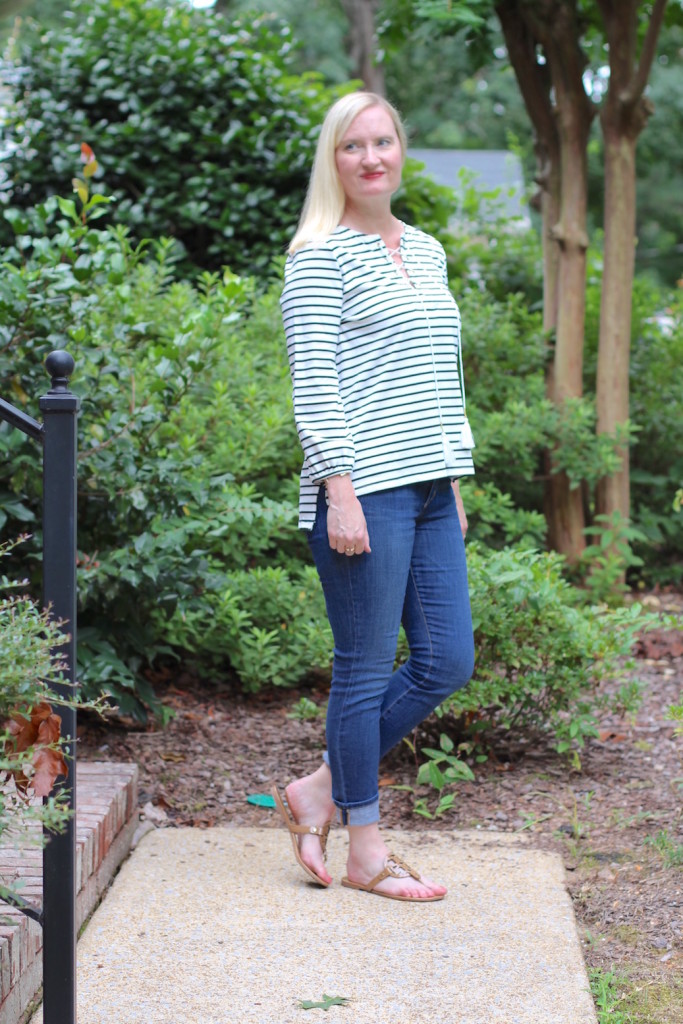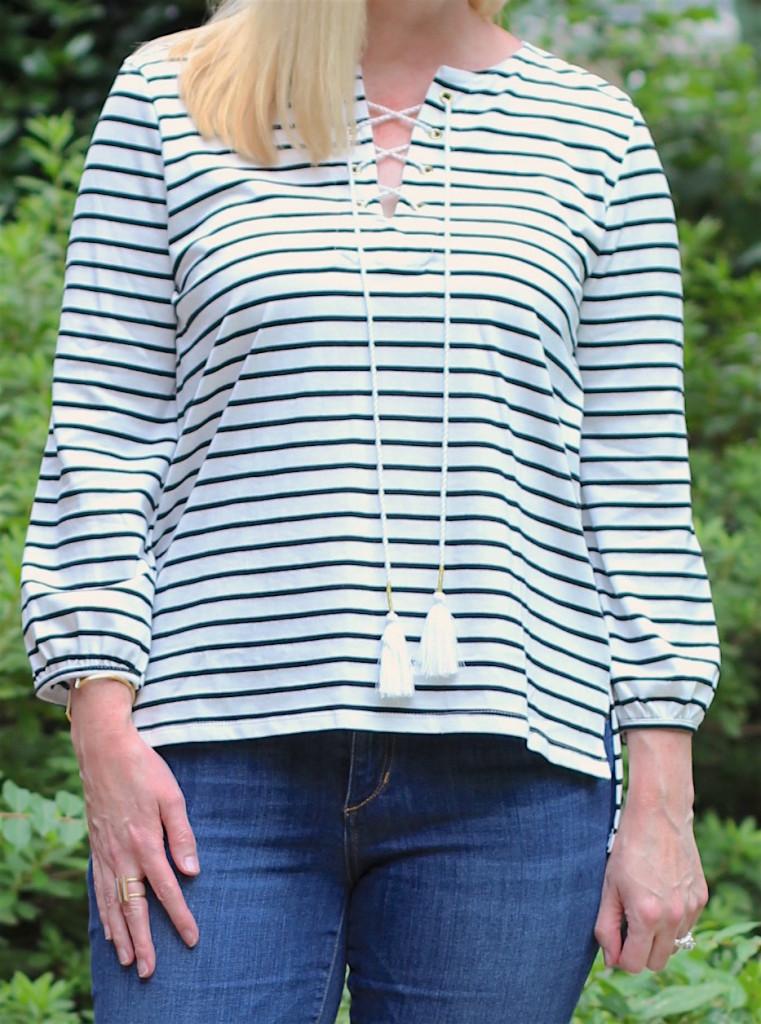 Look #3: Skies Are Blue Striped Top With Suede Detail
This was a "surprise" item included in my tote. This top will be a favorite of mine! The material is soft, the color is vivid and the material is gathered just slightly on the side waist. This will look great with jeans like I'm wearing here or a pair of burgundy jeans or white jeans.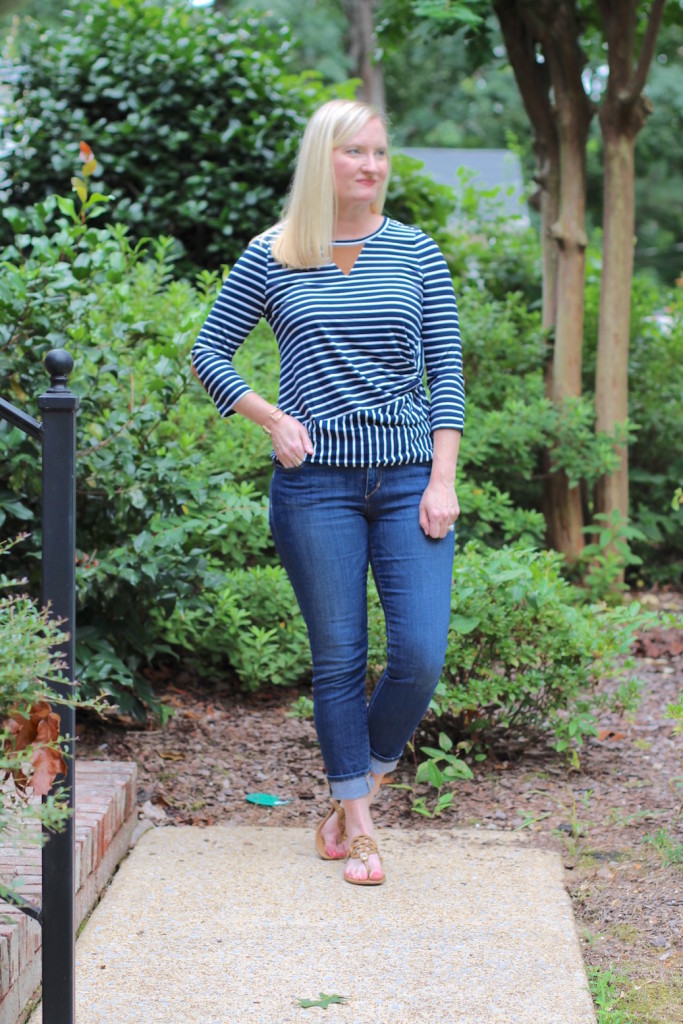 Look #4: She & Sky Sleeveless Floral Pleated Dress
This was the second "surprise" item picked by my stylist. I love the floral print and the length makes this dress fun! You can wear it by itself or throw on a chambray blazer for a beautiful complete outfit.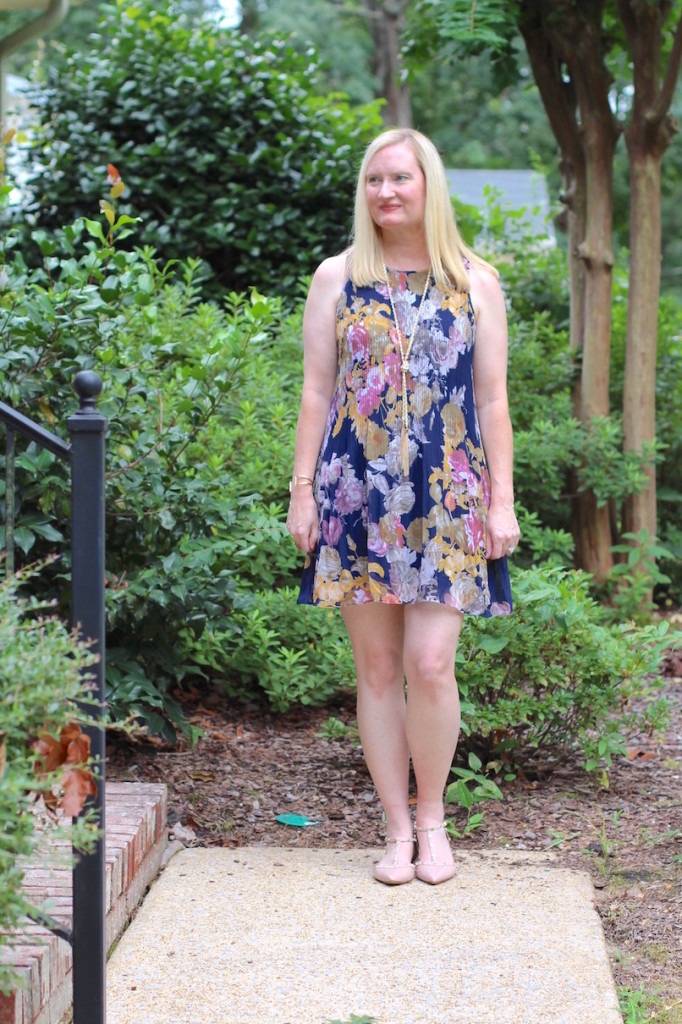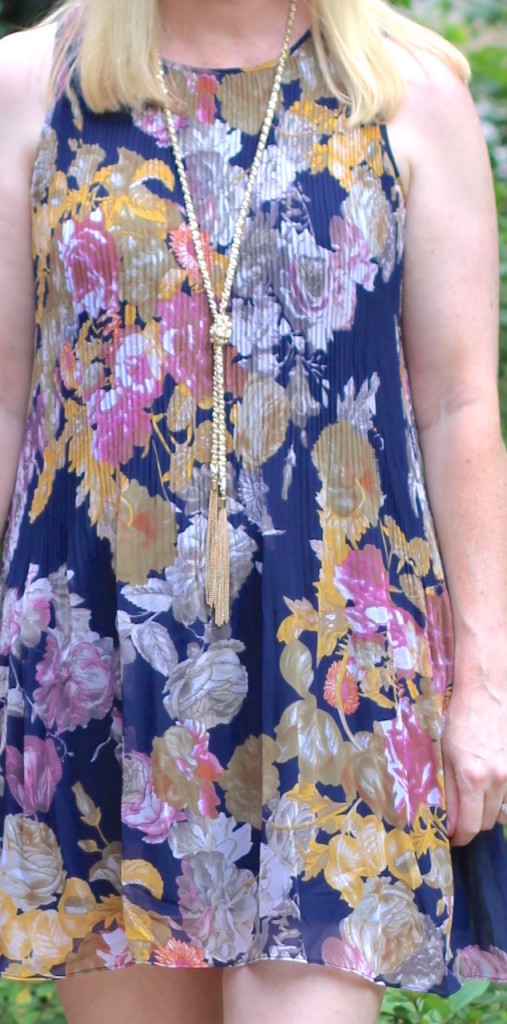 Look #5: Ellison Embroidered Scallop Tank
This was the third "surprise" item in my tote. I'm fond of coral colors, so when I took it out of the tote I was pleased to say the least! You could wear it with jeans like I styled it here, or it would look great with shorts. To dress it up, you can pair it with a white skirt. Just look at the back of the top at the open flap feature…how darling!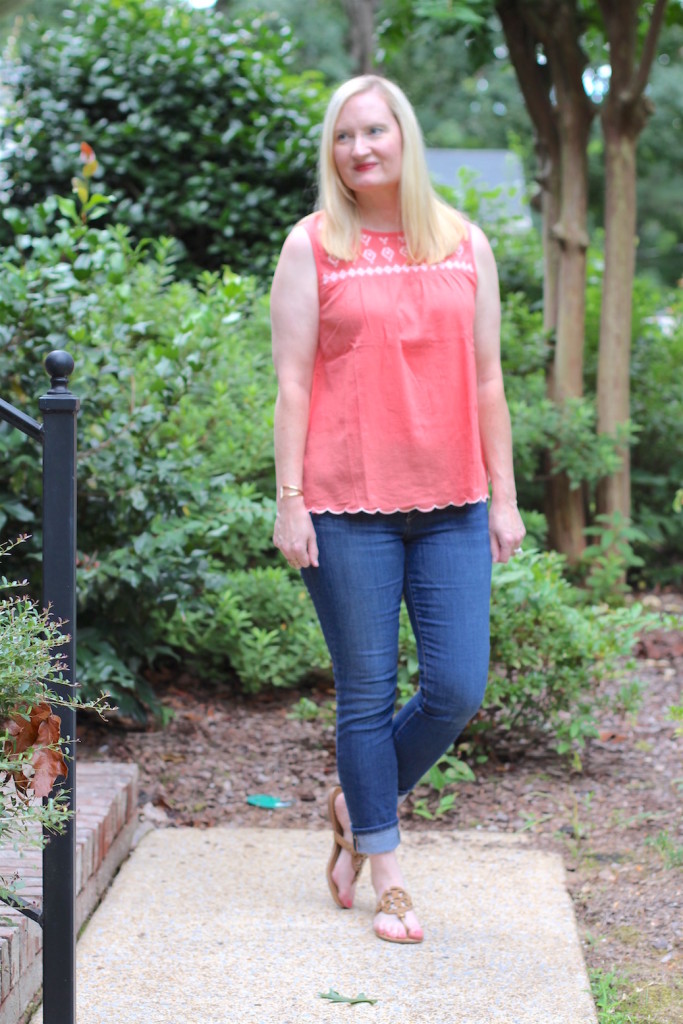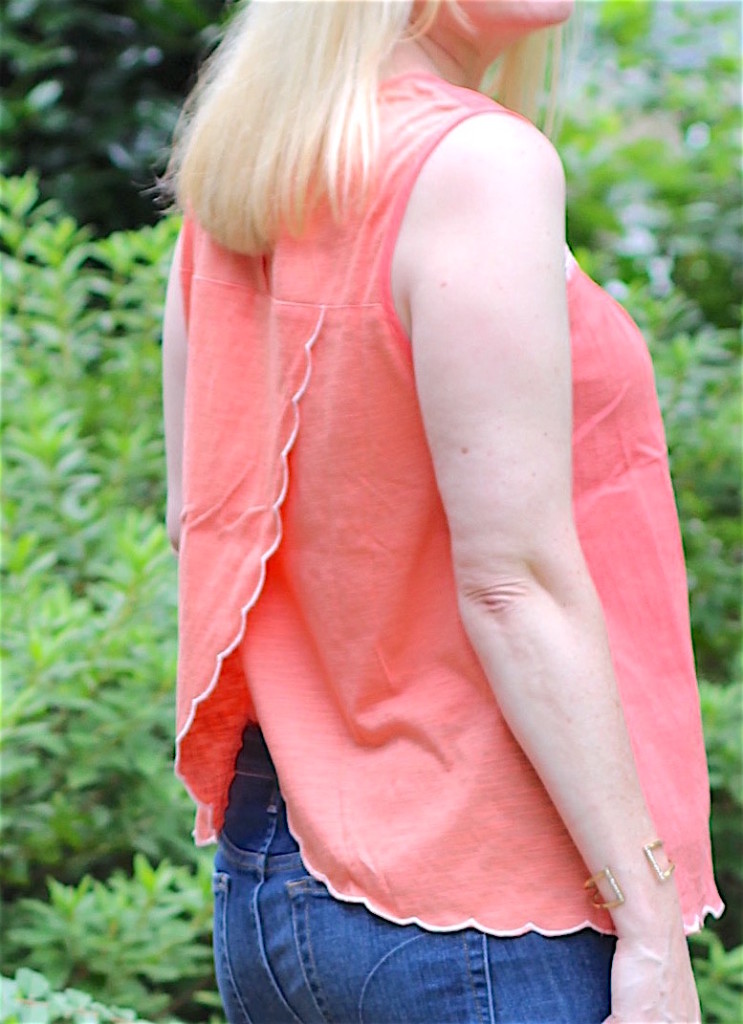 I'm extremely pleased with Golden Tote, the stylist that selected my clothes and the fit of each piece!
Try a Golden Tote today and look great!
* I was compensated with these clothes to conduct a review of Golden Tote. As always, all opinions are my own.