Trendy Amazon Finds Under $35
Amazon has many budget-friendly trendy clothes for all your outfits in your closet! See these Amazon finds, all under $35 and with great reviews.
It's already the middle of Winter and we still have several more weeks in the Winter season! Are you looking to add one or two trendy items to your wardrobe to freshen it up a bit? Or, are you using the Simplified Style® eBook and need to add a couple of trendy pieces to your outfits?
Amazon is known for their great deals on products and quick shipping! I can't tell you how many things I have bought on Amazon. It's my first choice for shopping for books, but do you shop for clothes on Amazon? I have bought a few clothes on Amazon and they are some of my favorites to wear!
When buying clothes on Amazon, I recommend checking the Customer Reviews on the item's page to see how other people like the item. Find out the shipping time of the item: you don't want to wait weeks before your item arrives! Stay away from bad reviews! Also, check the sizing to make sure you order the correct size.
I have found several trendy pieces on Amazon that you are going to love! All these items have great reviews! Also, see the customer try-on videos on the left side of the item's page, very helpful for seeing how the item fits.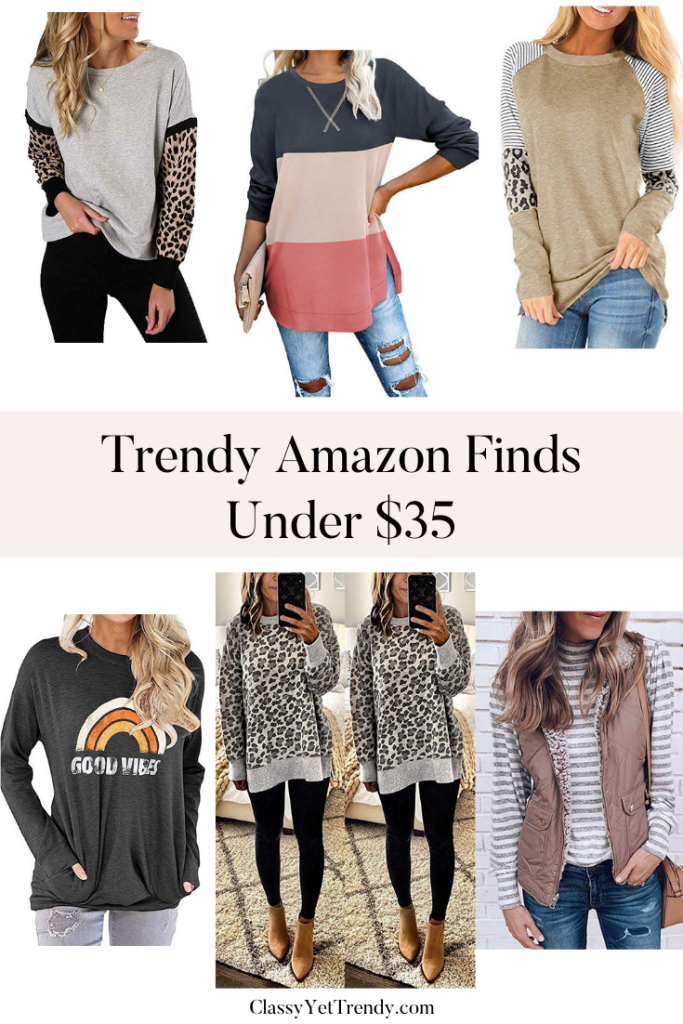 Shop The Post:
Leopard Sleeve Sweatshirt – I shared this pullover sweatshirt in today's Classy Yet Trendy newsletter! I discovered this the other day while looking at fashion styles on Amazon and thought it was the cutest top. It's comes in several color combinations too! Since the gray/leopard combo is all neutrals, you could wear this with regular jeans or colored jeans. If you wanted to wear it with leggings, just add a longer black or white tee underneath the sweatshirt for coverage.
Colorblock Pullover Tunic Top – This is a darling tunic style that comes in 14 colors! I especially love the beige/leopard "color block 1" combo. This would look great with skinny jeans and either flats, booties or tall boots. Also wear it with leggings.
Block Tunic Top – Isn't this top just adorable? It features stripes and leopard print on the sleeves, plus is a tunic style, so it can be worn with jeans or leggings. Be sure to see the customer try-on video on the left side of the screen (the "A-khaki" color).
Good Vibes Long Sleeve Tee – This one caught my eye with its different color choices. It even has pockets! So cute!
Leopard Print Tunic Sweatshirt – This top is all COZY! Plus, at just $20.99 it's budget friendly too.
Sherpa Fleece Zip Up Reversible Vest – This one comes in several color choices and such a great layering piece to wear in the Winter.
Other Amazon Favorites:
Pink Camo Pullover – Camo is one of my favorite patterns to wear, especially as a trendy item such as this one. The combo of pink and army green camo is just perfect! They have it in other colors as well: blue, light green, pink, red, dark gray and light gray.
Chunky Checked Sweater – My favorite colors are the beige and the khaki. Plus, it's a great price point at $29.99! This top will look fabulous with jeans or pants.
Open Front Leopard Cardigan – Long leopard cardigans started trending in the Fall and are still on trend this Winter. It is a featured piece in The Teacher Capsule Wardrobe: Winter 2019 Collection!
Click on any of the items below to go directly to the item's page: