4 Ways To Wear Slim Boyfriend Jeans
Do you have a pair of boyfriend jeans?  I don't, but I'm thinking about getting a pair.  About a month ago I went in Madewell looking for a pair of olive skinny jeans that I had seen online.  I was looking for buy a pair for my fall capsule wardrobe, like a pair featured my E-Book, The Essential Capsule Wardrobe: Fall 2016 Collection.  While I was Madewell about to try on the olive jeans, I saw a pair of their Slim Boyfriend Jeans.  Hmm, "slim", not regular boyfriend jeans.  The sales attendant said that was a slimmer version of boyfriend jeans and I may like them.  I tried them on too, just to see how they fit.
In the past I have tried on regular boyfriend jeans.  Since I have curvy hips, regular boyfriend jeans just don't fit my hips.  The few pair I have tried on were too loose in the waist, made my upper thighs look big and I just felt frumpy in them.  BUT, Slim Boyfriend Jeans fit differently!  I actually like them.  The "slim" cut fits my body more.  They actually feel like skinny jeans, but loose enough in the leg to have a relaxed look.  Since I only went in Madewell for the olive jeans, it wasn't in my budget to buy the slim boyfriend jeans at the time.  I highly recommend slim boyfriend jeans!
Several retailers have "slim" boyfriend jeans.  My favorites are from these online stores: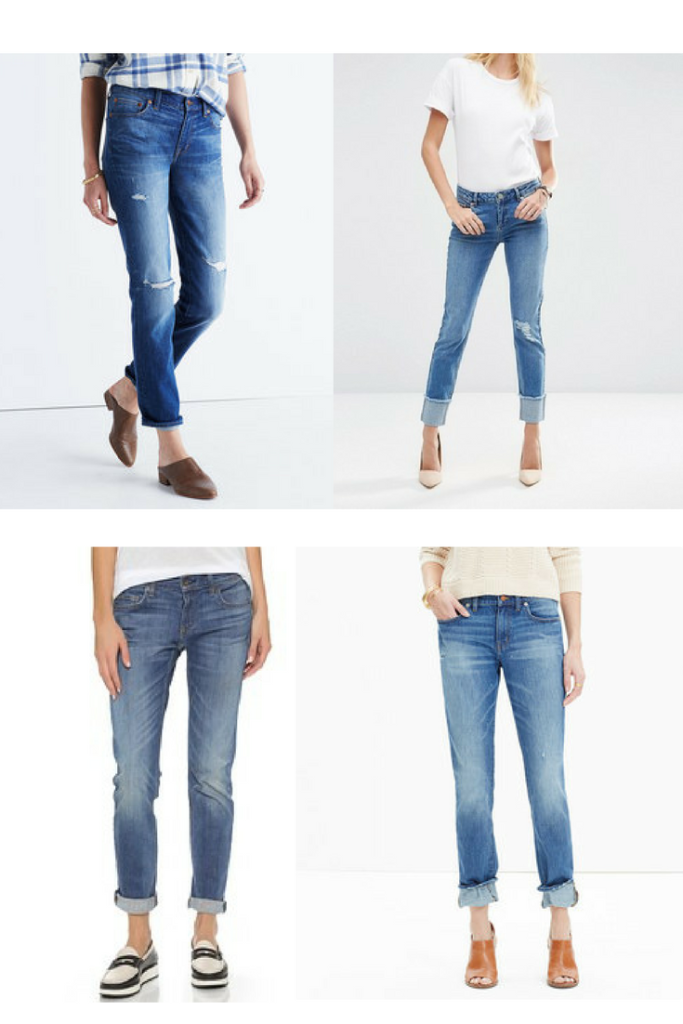 images via:
Slim Boyfriend Jeans @ Shopbop
 This style of jeans inspired me to create these 4 outfit ideas: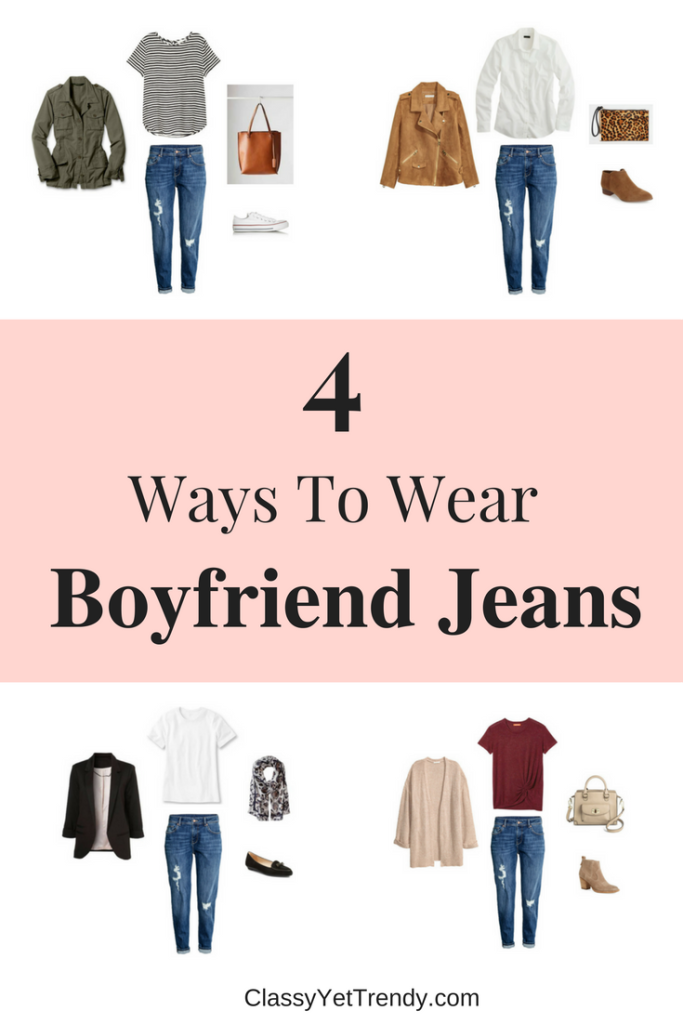 Outfit #1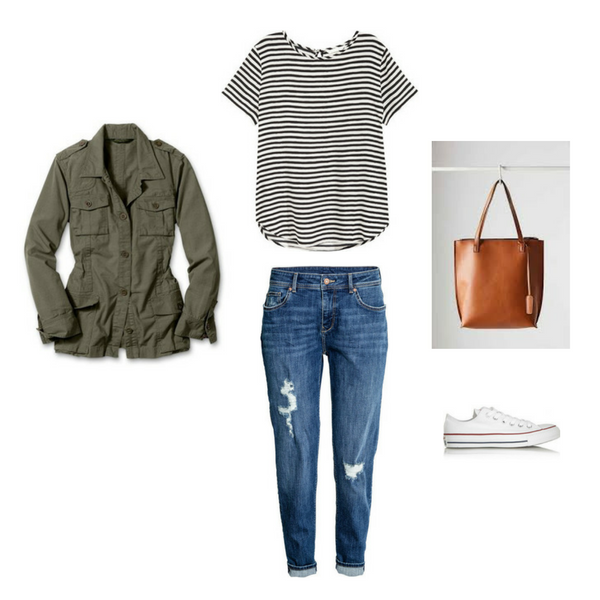 This outfit features the slim boyfriend jeans, a striped short-sleeve tee, olive utility jacket, brown tote and Converse sneakers.  This is the perfect weekend outfit!  See shopping sources below.
Outfit #2
You can wear the slim boyfriend jeans with a white button-up shirt, faux suede jacket, leopard clutch and ankle boots.  When you wear this outfit shopping, out to lunch or on a date, you'll look fabulous!  See shopping sources below.
Outfit #3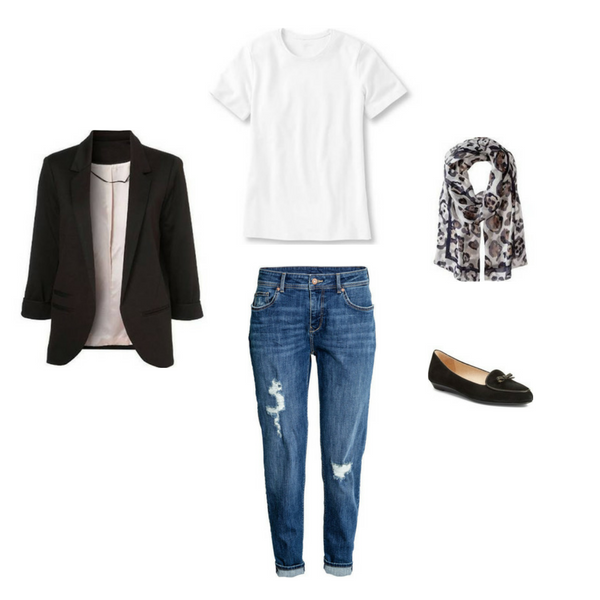 This outfit could be worn just about anywhere, whether to work or on the weekends.  It features the slim boyfriend jeans, a black blazer, white tee, leopard scarf (I just bought this and it looks beautiful), and black loafers.   See shopping sources below.
Outfit #4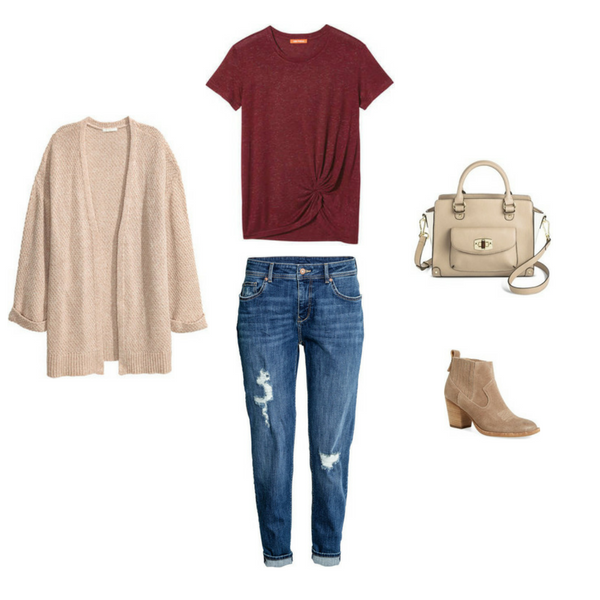 You know I'd have to fit a cardigan in with these outfit ideas!  Taupe is one of the most versatile color of cardigans because it's a neutral color.  Wear it with the slim boyfriend jeans, burgundy gathered tee, taupe cardigan, taupe handbag and ankle boots for a polished casual look.  See shopping sources below.