How I Have Made $3,000/Month From My Blog
Find out how I make money blogging every month and how you can too!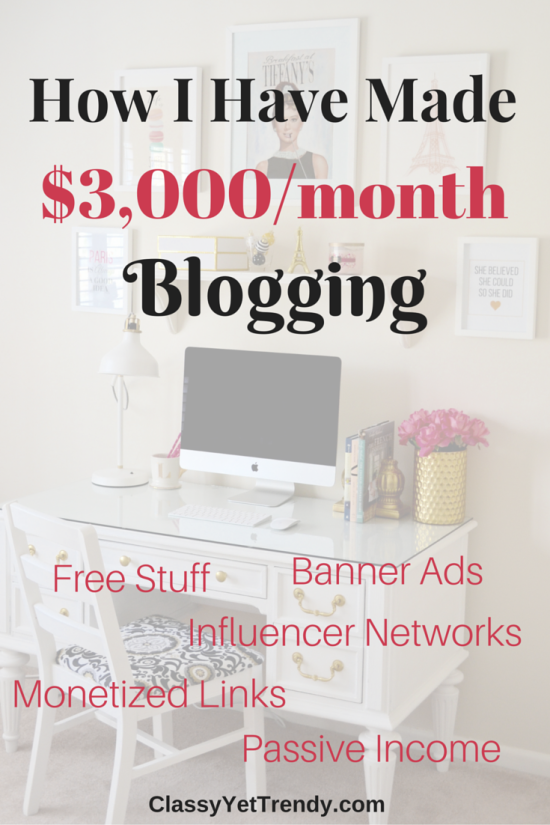 For several years I wanted to have a website.  I didn't know what type of website to create, but I knew I wanted to make extra income with it.  Two years ago while browsing the internet, I saw a "blog".  I thought this was a neat concept that turned a usual website into more of a "daily diary".   I was on Pinterest one day and saw a few posts on how to monetize your blog.  I discovered that you can make money from blogging!
Since I've always loved clothes and creating outfits, that's what I wanted to blog about.  I setup my blog on Blogger, the free blogging platform.  I bought a blog template and installed it.  I was ready to start blogging!  I setup a Google Analytics account and linked it to my blog.  During my first couple of weeks blogging, there were about 100 people visiting my blog (a.k.a. pageviews).  I added Google Adsense ads and applied for a Shopsense affiliate account.  Now, I participate in campaigns with various networks, utilitize ads from 2 ad networks, collaborate with companies for free products and have written three e-Books.
My blog has grown to almost 200,000 monthly pageviews and one month I made approximately $3,000.
I have a full-time job and a family so my time is limited.
I could make much more if blogging was my job!  
If you are interested in starting a blog of your own, I created a tutorial that will help you start a blog of your own for cheap, starting at only $3.49 per month (this low price is only through my link) for blog hosting. In addition to the low pricing, you will receive a free blog domain (a $15 value) through my Bluehost link if you purchase at 12 months of blog hosting. FYI, you want to be self-hosted. This is essential if you want to monetize your blog as you will appear more professional and this will help you monetize your blog tremendously.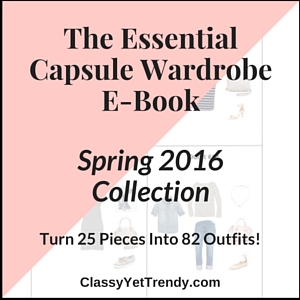 Affiliate Programs

Shopstyle Collective by Popsugar – This is my favorite way to make money.  Everytime a reader clicks on one of these links, I get $.05 per click.  Here's how it works:  I add my Shopsense links to a blog post.  When a reader click on a link, instead of them going directly to the retailer's website, the link goes through Shopsense telling Shopsense that I am referring that link to the retailer's website.  I get a $.05 commission for that link.  Shopstyle has links for hundreds of retailers.  They not only have links for fashion items, but also home decor and kitchen products as well!

RewardStyle – This program is similar to Shopstyle.  I don't use this one although I applied last year.   You use a personalized link through RewardStyle that tracks if anyone from your blog purchases the item.  If so, you can make a small 4-10% commission.  They carry many popular brands including Nordstrom, Kate Spade, Gap etc.

Amazon Associates – I'm a member of Amazon Associates.  You can earn a commission on anything Amazon sells.  If you have ever bought anything from Amazon, you know the wide variety of products they sell.  Just think of the possibilities of how much money you could make from commissions, especially for higher-priced items!
Other Affiliate Programs:
ShareASale – They have hundreds of participating companies, both retailers and small businesses.  Once you are a member, just apply to become an affiliate of any company, grab one of their banners or create your own product links for your website.
Commission Junction – This is similar to ShareASale.
Acceleration Partners – This is also similar to ShareASale.
Ad Networks
Google Adsense – I joined this ad network last year.  You can actually sign up with Adsense when you start your blog, but I signed up with BlogHer in the beginning.  You place ads on your blog and you get paid when your account reaches $100.  You can't choose what ads will display, this is determined by Google.
Media.net – Media.net is the ad network powered by Yahoo! and Bing. Their ads look like little colored keyword blocks.  Media.net pays monthly with Paypal, but like Adsense you have to have met that $100 minimum in a month's time to get a payment.
Sovrn – I'm participating in this ad network in addition to Google Adsense.  You can create different size ads for your blog and place them wherever you need them to be displayed.  I've made more money on this ad network than the others and is my favorite.
AdThrive – I discovered this ad network through reading a couple of posts on blogger income reports.  I have applied to this one recently.
BlogHer – This was the first ad network I signed up with when I started my blog.  They are picky about who they accept, but if you are accepted you can make a little bit of money.  They have very strict guidelines about where you place your ads.  They discourage participating in network affiliate programs because they don't want them interferring with their ads.  Once you sign up, you are locked into a one year contract.  Once my year was up, I did not renew.  I wanted to have the freedom to run my blog as I wanted to.  On a good note, they have a collaborations program as well, so you can make extra money.  If I had not committed myself in a contract with them in my first year of blogging, I would have probably made more money during my first year.
Influencer Marketing Networks

Social Fabric/Collective Bias – This network has a wide range of clients and lots of participating bloggers.  They will send you emails every time there are new campaigns.  They always have several campaigns on the dashboard to apply to, but that doesn't always mean you'll be accepted to a campaign.  You "pitch" your idea to a campaign and if they accept you create a blog post and/or share on your social media channels.  The payout is anywhere from $100 to $300 per campaign.  I've participated in The Big Game campaign and was a fun post!

Clever Girls Collective – I'm a member of this network also.  They also send emails letting you know of new campaigns.  They have a dashboard where you can view all the new campaigns and campaigns you are participating in.  The payment per post varies from $100 – $300+ depending on what is involved in the project.  They are also an excellent network to work with.  See these campaigns I've participated in.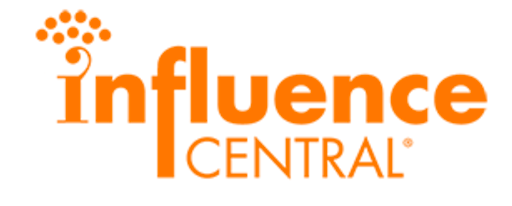 Influence Central – I recently joined this network and have participated in a few campaigns, such as Grove Collective and Orvis.  They also send emails letting you know of new campaigns.

Pollinate Media – This was the first influencer network company I joined.  I have done one campaign with them.  You need to have at least 20,000 monthly views to join.  When you apply for campaigns, it's difficult to be accepted all the time.   See the DripDrop Hydration Powder campaign I participated in.

Collectively – They will email you when new campaigns.  I participated in this e.l.f. Cosmetics campaign with them and received some great products!
Acorn Influence – I just joined this network, but haven't worked on any campaigns.
Other Influencer Networks:
I'm not a member of these networks, but they are worth mentioning!
Company/Blogger Collaborations
You may not earn money from participating in company/blogger collaborations, but you can get free products!  I've participated in several collaborations and they are not only fun, but also builds your resume as a reliable blogger.  Be sure to setup a contact page on your blog, which includes your email address or a contact form.  Companies will contact you and offer you a free product(s) to promote on your blog in the form of a blog post.  I always go above and beyond a promotion and share on all my social media channels and share the post on blogger linkups.
You can also contact companies to see if they would like to collaborate.  Just send an email and offer a collaboration proposal.  You never know, they just may want to pariticipate!
Passive Income
If a few of your blog posts are popular, or have even gone viral on Pinterest, turn them into a Webinar Series or an E-Book!  The most popular posts on my blog are those that help people improve their lives by offering helpful tips pertaining to personal style.   I have written three E-Books on how to create a capsule wardrobe with many outfit ideas.  Setup a shop and sell an e-Book or offer membership to a webinar series to make extra income using your blog!
There you have it!  These are the types of ways that I make money from my blog.  There are more ad networks and influencer networks out there.  If you would like to find out more to participate in, just to to Pinterest and search for "ad networks" or "influencer networks".  If you devote a little time and and are passionate about blogging, then you can certainly make money from blogging!