1 Piece 4 Ways: Navy Striped Skirt
See how to wear J. Crew Factory's Navy Striped Skirt 4 Ways!
I was browsing on J. Crew Factory's site the other day and I saw this midi navy striped skirt.  They also have it in red stripes, but the navy caught my eye.  Since I have kept a capsule wardrobe in my closet for almost two years now, I rethink the way I see clothes.  I used to think, "oh, that's pretty, I think I'll buy it."  Now, when I see any piece of clothing, my very first question is, "how many other items can go with it?"  My wallet is thicker too!  By shopping responsibly, I'm able to eliminate frivolous spending.
So, back to the skirt.  I wished I had discovered this skirt earlier and I would have included it in The Essential Capsule Wardrobe: Summer 2017 Collection.  You can wear this navy striped skirt with SO MANY other clothes.  Let's see just a few ways to wear it…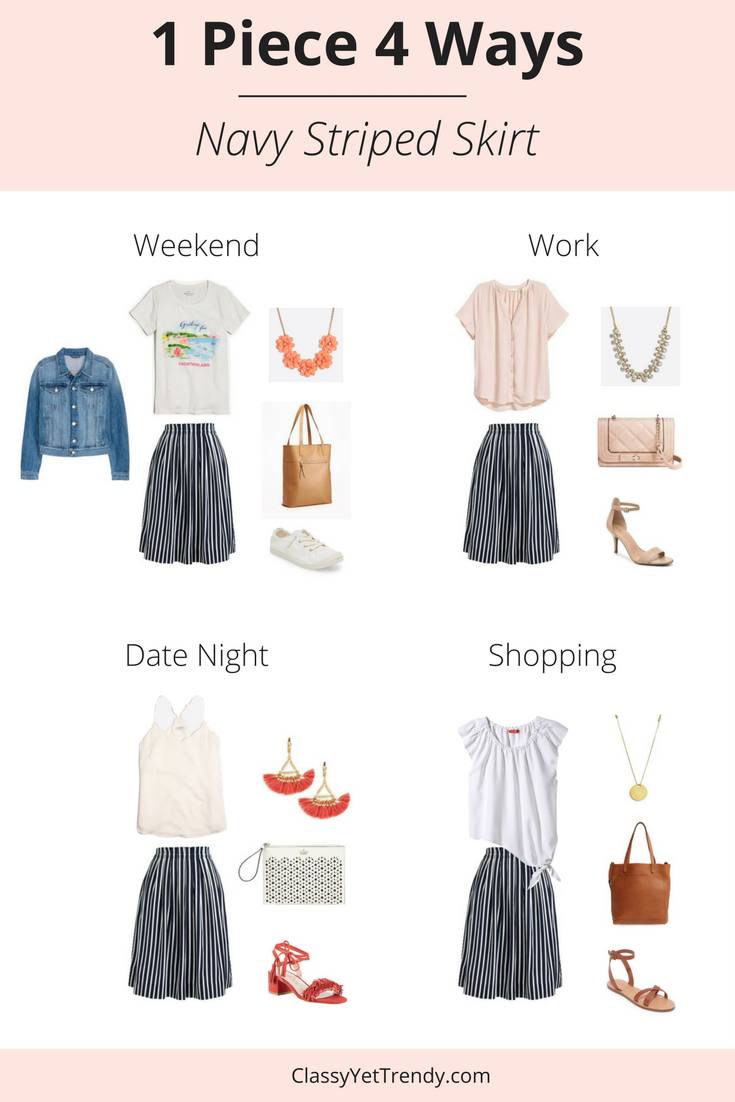 These different ways to wear one skirt is the same concept as in my capsule wardrobe e-books.  You can really make the most of your wardrobe by choosing pieces that will go with several other items in your closet.  This skirt could also be worn with a solid color tee, a lightweight sweater and a short cardigan.
What outfits would you create with this skirt using items in your closet?
Shop The Post: