Best Places To Shop For A Capsule Wardrobe + New Jewelry (TW #121)
See the best places to shop for a Capsule Wardrobe!
If you want to really make a wardrobe interchangeable and have the most outfit possibilities, you need a capsule wardrobe system.  When decided to revamp my closet about 3 years ago, I never dreamed how happy I would be getting dressed everyday.  A neat and organized closet, all your favorite clothes and dozens of outfits to wear is just a few advantages of owning a capsule wardrobe!
You may seen a few of my capsule wardrobe pins on Pinterest or read about capsule wardrobes on the internet or in books, but if you're new to the concept, you may be "thinking where do I even begin creating one?"  If you're just starting out, I have a blog post on "How To Create a Capsule Wardrobe: A 5-Step Visual Guide".   Or, you can reference one of my Capsule Wardrobe e-Books, where complete seasons of  capsule wardrobes are created for you: recommended clothes and shoes (even accessories), DOZENS of outfit ideas, plus more!  I publish several types of capsule wardrobes each season, according to different clothes styles and lifestyles.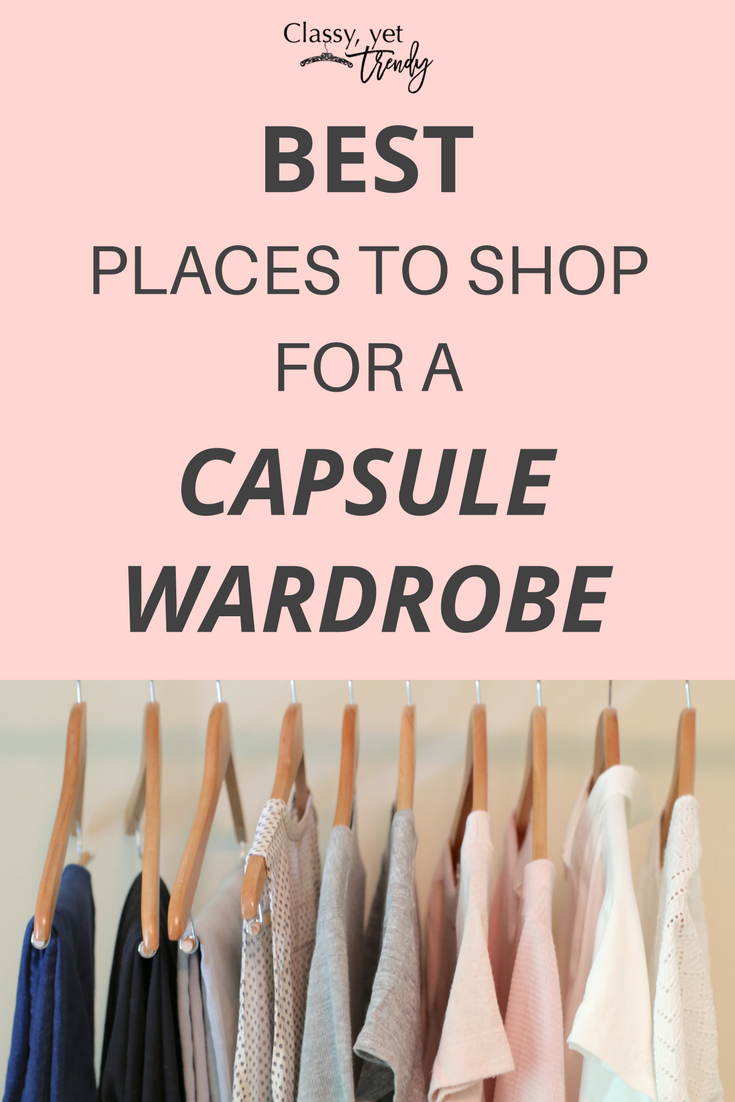 The key to building a capsule wardrobe is making sure the majority of the clothes in your closet can coordinate with one another.  That's where you can get the most outfit possibilities.  Imagine just one top being able to coordinate with all the pants, skirts and jeans in your closet!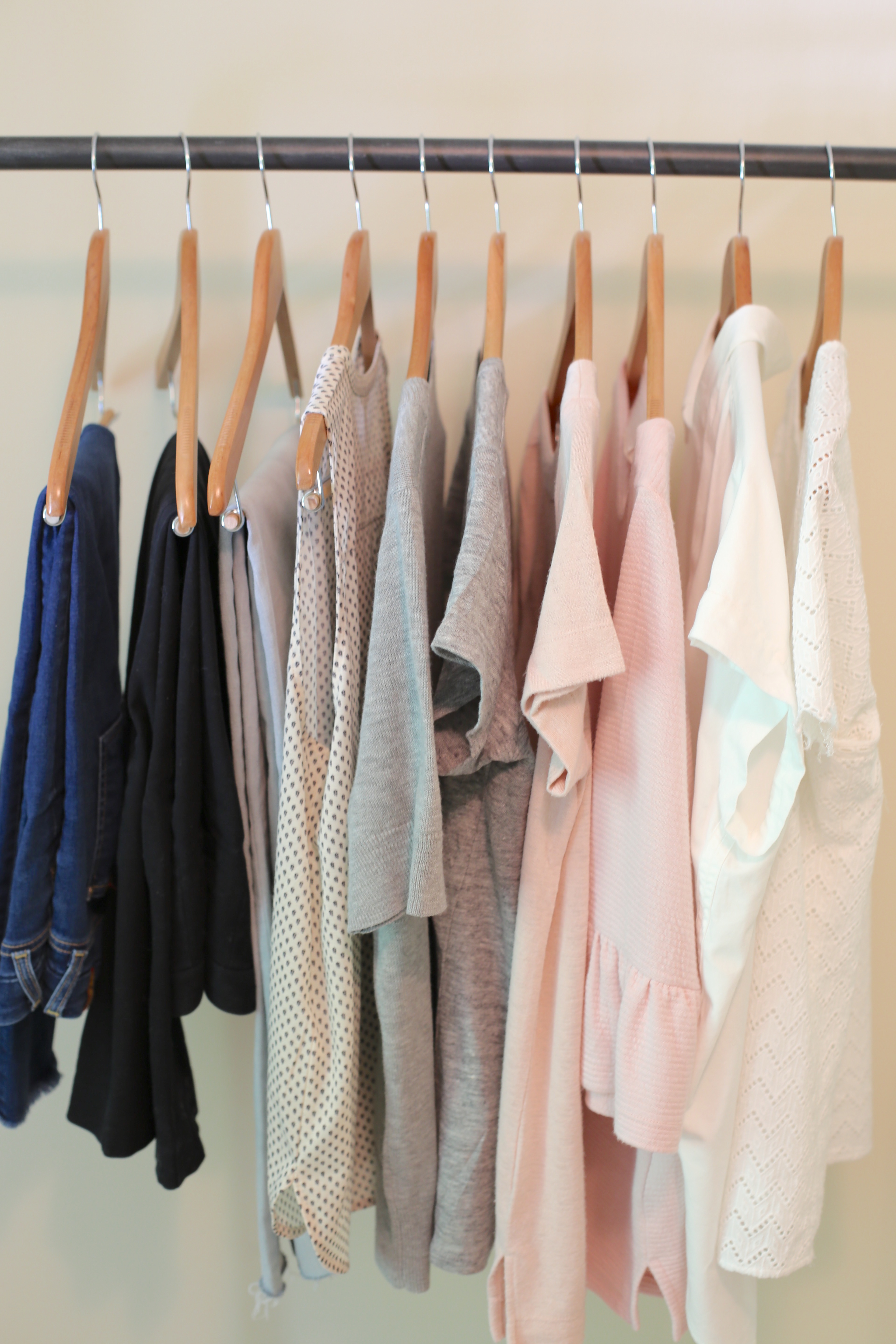 A few tops and bottoms from my Spring 2017 capsule wardrobe!
Since I've been using a capsule wardrobe system efficiently for almost 2 years, I know what works well and what doesn't.  Here are my favorite places to find clothes for my capsule wardrobe (click on the images to shop):
Madewell: This store has lots of basic essentials, like tees and jeans that I have purchased for my capsule wardrobe.  Their "Whisper" tee in crew neck and v-neck are wardrobe staples and I love their high rise jeans!  I also have the Courier Chambray Shirt and the Central White Shirt (pictured above) and love wearing them.  Even though the prices are little on the high side for some of their clothes, their clothes are worth it.  They last for a long time.
J. Crew: They have beautiful clothes and shoes!  They also have several tees and jeans that you may like, but they tend to have more trendy clothes.  As a rule of thumb, I avoid buying too many trendy items, maybe 1 or 2 a season, as most tend to go out of style quickly.  Continually buying trends can lead to overspending, which goes against the capsule wardrobe concept.  Some trends, like the cold-shoulder top and frayed hem jeans are back again this year, maybe since they aren't too trendy looking.
J. Crew Factory: This has been one of my favorite stores for about 6 years now.  The majority of their clothes will stay in style for a long time and their clothes are made well too.  The short sleeve gray sweater and eyelet top are from here.  I've had the eyelet top for about 3 years now and have worn it in the spring and summer seasons.
Loft: This is the sister-store to Ann Taylor.  I LOVE Loft clothes!  They are well made and fit great.  The blush short sleeve top above is from here.  I purchased this top last year and it's still going strong this spring again.  A few of their clothes have patterns and styles that don't work too well for capsule wardrobes, but their cardigans are perfect.
H&M: I like some clothes from here and some I don't.  You have to be picky about which ones to buy; make sure the fabric quality will last.  I decided to invest in the sleeveless black dot pattern top (shown above) for my spring and summer capsules.  I think it will work well into early fall too.
Gap: They have great basics that fit well in a capsule wardrobe.  The black ankle pants from above are from here.  I wear them once almost every week!
Old Navy: If you're on a budget, you may like shopping here!  Some of their clothes quality could be better,  so if you're looking to invest in pieces that will last, choose wisely.  I have two pairs of Pixie Ankle Pants and love how they fit.  Their Rockstar Jeans fit great too (my gray pair is in the photo above).
Target: They have great clothes, especially if you're on a budget.  I've found some great pieces here.  I recommend shopping here in person so you can compare the fabric quality of the pieces you are thinking of buying.
Nordstrom: I discovered this store about 3 years ago, from a few fellow bloggers.  They are a fabulous department store with beautiful clothes and shoes!  They have a lot of trendy clothes which are well-designed, with good fabrics and different price points.  I love their high end jeans brands (my frayed hem jeans are shown above) and the blush bell-sleeve top (shown above) are from Nordstrom.  I bought these budget-friendly white jeans last year and they fit perfectly and aren't see through!
Everlane: If you need basic essentials or love the minimalist style, Everlane is the brand you'll fall in love with.  I received their linen scoopneck gray tee this week to replace the one that was accidentally put in the dryer and shrunk a couple of weeks ago.
Boden: They have beautiful clothes.  I purchased a denim shirtdress last year and I received several compliments on it.  I've recommended their short sleeve striped tee in a couple of my capsule wardrobe e-books this summer.
Where do you like to shop?
Do you have a few favorite stores you shop at for your capsule wardrobe?
_________________________________
New Jewelry!
I found a brand of jewelry that is beautiful!  It's Chloe + Isabel and the pieces I have shown below is the Bianca Convertible Pendant Necklace.  It's two pieces in one, so you can wear them together or separately.  Chloe + Isabel jewelry is hypoallergenic, nickel-free and lead safe.  Their jewelry also has a lifetime guarantee.  If anything ever breaks or loses their plating, the company will replace them.  My friend Nicole has her own Chloe + Isabel store online.  See New Arrivals, pieces under $50 and a Bridal Shop.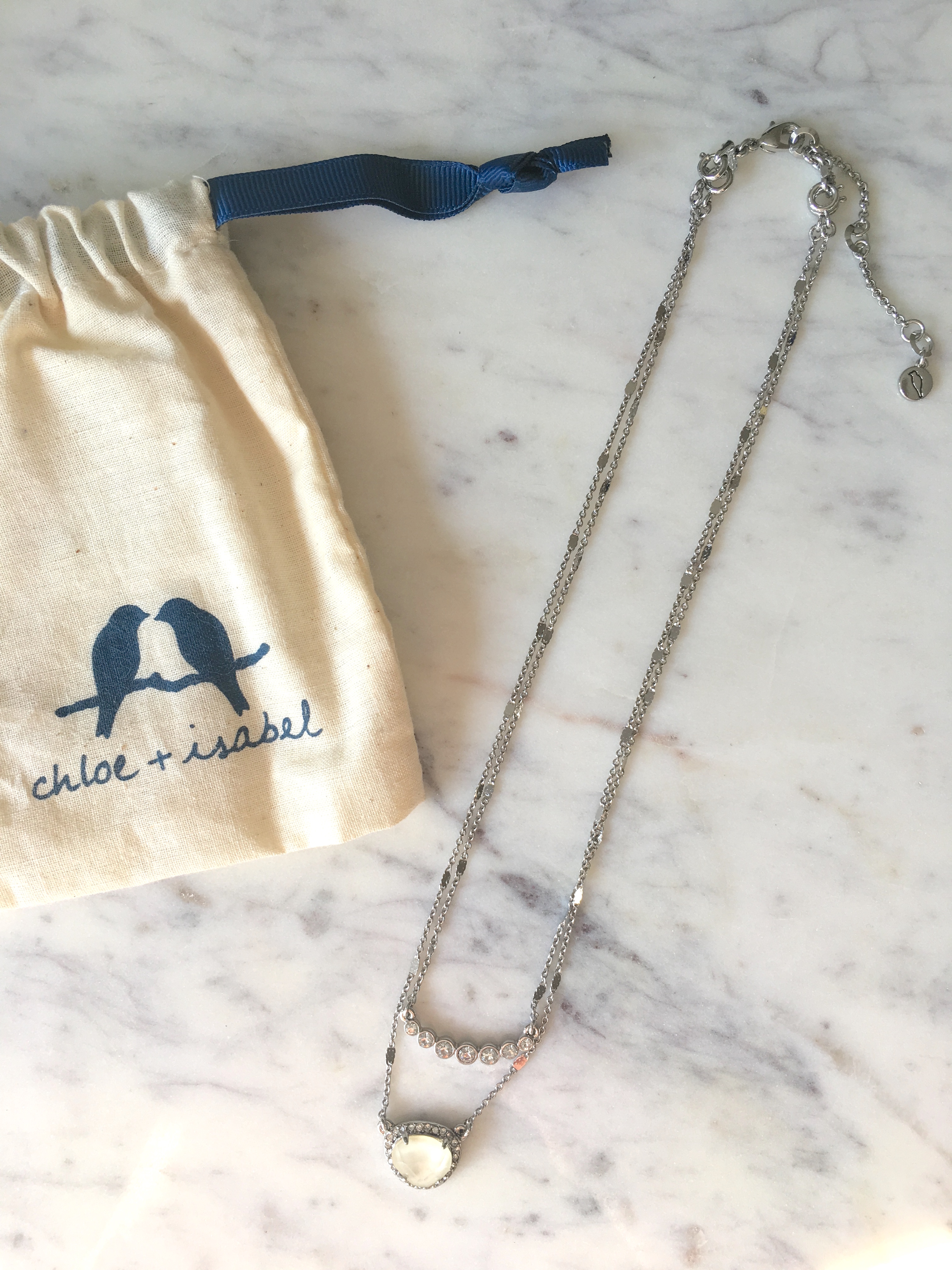 The two featured bloggers from the last linkup are:


1.  Please follow your Host 
2. Link up to 5 posts: 
it can be about fashion, style, beauty or lifestyle

(linkup to your blog post and not your main page)
3. Please include a link back to this post or place my linkup button in your post.
4.  Now, add your post(s) below!  I hope you enjoy the linkup and enjoy meeting other bloggers!
Each week I feature 2 bloggers from the previous link,
so link-up your blog posts for your chance to be featured!