4 Ways To Boost Your Confidence With Your Wardrobe
Do you have a few select clothes in your closet that you just love to wear?  You know, those items that are not only comfortable to wear, but are the right color and you feel like a million bucks wearing them?  The way we dress affects our mood.  Clothes can even boost your confidence!  We're going to find out how…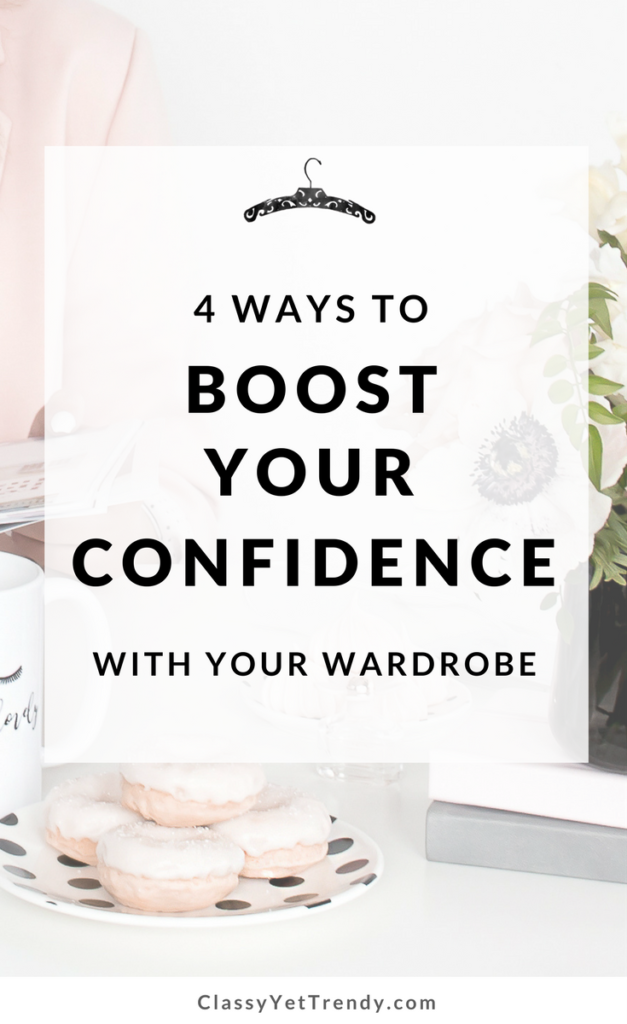 Try this scenario: You are given two outfits to try on. The first one is a slouchy pair of pants in a drab color and a top that is too loose and is an ugly pattern.  Chances are you would feel uncomfortable and instantly feel bad wearing it.  Next, you try on the second outfit.  It fits your body perfectly, is the right color and feels great.  Now, which would you choose?  The right choices of the clothes we buy is so important.  Using a dressing room to try on your clothes lets you not only see how it looks on your body, but you can feel how the item fits your body and if it is comfortable.  When you wear the right clothes for YOU, you can get a boost of confidence!
Here's how clothes can help boost your confidence:
1. Wear Clothes That Fit Your Body Shape
We are all shaped differently, which makes us all unique.  Wearing the right clothes for your body shape can instantly make you look great!  The right clothes can be used to camouflage problem areas and accentuate the good ones.  Here are the types of body shapes and what you should wear according to each:
THE HOURGLASS:
You have a clearly defined waist
You have a clearly defined bust
Clothes to wear:
Wear clothes that follows your body line, defines your waist, enhances your bust and highlights your hips and bottom.
THE PEAR:
Your hips and thighs are broader than your shoulders
Your shoulders are narrower than your hips
Clothes to wear:
Wear clothes to make your shoulders appear broader
Your jackets or tops need to end just above the widest part of your hips or bottom.
Wear volume, pattern and color on your top half so your hips will appear smaller.
THE APPLE:
You have rounded shoulders
You have fullness in your middle area
Clothes to wear:
Wear clothes slightly fitted, but avoid bulk around the middle.
Focus on wearing accessories, like statements necklaces or scarves to take attention off your middle.
THE RECTANGLE:
You tend to wear the same size on your top and bottom
You have a small bust
Have little or no waist definition
Clothes to wear:
Clothes that create the illusion of a waist (waistband, high-waisted pants, belted jackets, peplum tops)
THE INVERTED RECTANGLE:
You wear a larger size on your top than your bottom
Your shoulders are more wider than your hips
Clothes to wear:
Bottoms with patterns, ruffles and volume
Tops that are simple and uncluttered
Straight clothing lines
Shop Favorites For Your Body Shape
2. Pick The Colors Best For Your Skin Tone
Clothes often come in several colors to choose from.  Know which colors look best for your skin tone.  Buying the right colors can seem to make your skin glow, thus making us feel great what we wear!  For a self-color analysis, visit The Chic Fashionista, where you can find out what color season you are.  Or, visit Style Yourself Confidence for all things about color analysis, including a fun quiz!
3. Use a Capsule Wardrobe For An Efficient Closet
A capsule wardrobe is a set number of clothes and shoes that you wear for a season at a time, that can mix and match with one another to create many outfits.  This website is devoted to all things about capsule wardrobes!  See all the posts about capsule wardrobes here.  Using a capsule wardrobe will not only yield DOZENS of outfits, but your closet will automatically be neat, you can get dressed quickly everyday and you will eliminate stress knowing what you will wear.  By utilizing a capsule wardrobe, you will look great wearing your favorite clothes and it will boost your confidence!  See all the capsule wardrobe eBooks available (several styles for each season) in the Capsule Wardrobe eBook Store.  You will love The French Minimalist Capsule Wardrobe: Fall 2017 Collection, with has all neutral color clothes and shoes, all the recommended clothes and shoes picked out for you, 100 pre-made outfit ideas, a convenient checklist, a travel packing guide and MORE!  There's also the popular, The Stay At Home Mom Capsule Wardrobe: Fall 2017 Collection, with all-casual clothes and shoes, perfect for moms and work-from-home entrepreneurs.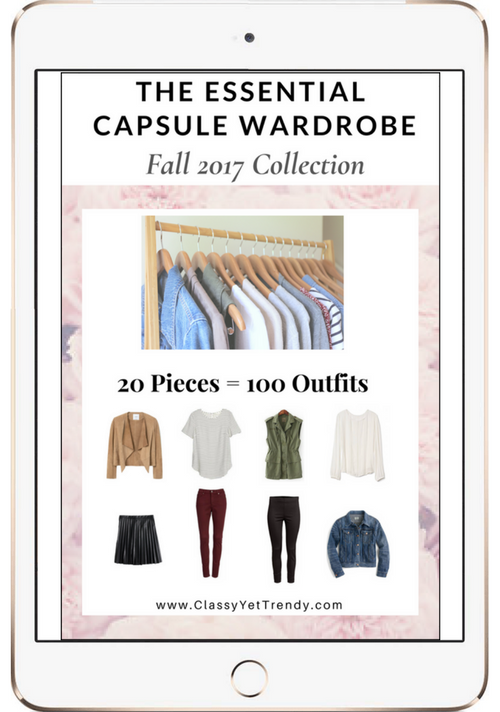 4. Wear Clothes You Feel Great In
Before you purchase that trendy top or pair of jeans, make sure you look fabulous wearing it by first trying it on.  Walk around in the dressing room wearing it and look at yourself wearing it in front of the full-length mirror.  Does it highlight your body shape?  Is it the right color for your skin tone?  If you are using a capsule wardrobe, can you wear it with at least 3 other items in your closet?  If you said yes to these questions, then go ahead and add it to your closet.
Remember, to always love what you wear!  By wearing your favorite clothes that you feel great in will give you that boost of confidence, making you feel like YOU CAN ACCOMPLISH ANYTHING!  So, wear what you love, enjoy your life, while you look great!