Leopard: The Perfect Fall Pattern
A favorite pattern to wear in the Fall is leopard!  Leopard is not only a neutral that you can wear with so many things, the pattern being black and tan fits well with the Fall season.  Leopard print comes in a few shades that can range from beige, to tan, to brown.  Whichever color combination you choose to wear, wear it with confidence, knowing you look great wearing it!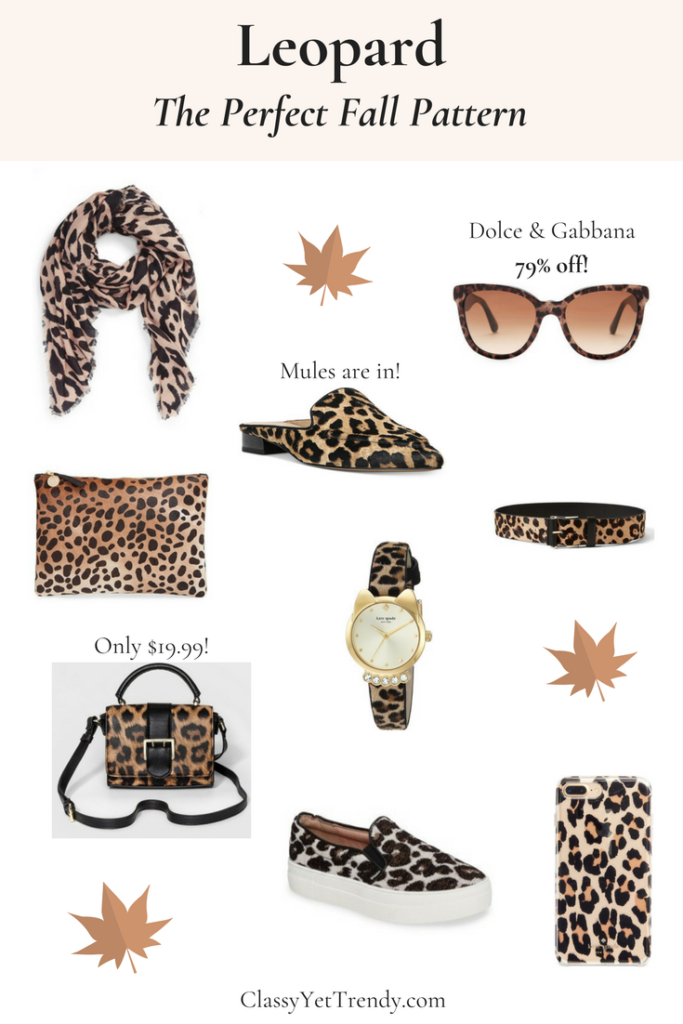 Collage Details:
scarf
sunglasses
mules
clutch
belt
watch
crossbody bag
sneakers
phone case
You can find the leopard pattern on clothes, shoes, bags, jewelry and accessories.  It is even on this pillow and this throw for our home!
What is the most popular way to incorporate leopard print into your wardrobe?  With shoes and accessories!  While you can wear clothes with the leopard print, such as a this skirt or this coat, shoes and accessories are seen more frequently.  It can be a rather loud pattern, so some women choose to add select pieces to their outfits.
This leopard scarf was a best-seller during the Nordstrom Anniversary Sale and is on-trend for this Fall.  If you are needing a pair of sunglasses, this pair of Dolce & Gabbana leopard sunnies are currently 79% off at Nordstrom Rack!  Protect your cell phone with this leopard phone case and keep up with the time with this darling Kate Spade leopard watch.
When it comes to popular shoes for the Fall, mules are in.  This pair of leopard mules is featured in my capsule wardrobe eBooks, The Essential Capsule Wardrobe: Fall 2017 Collection and The French Minimalist Capsule Wardrobe: Fall 2017 Collection (see banner below to go to the Capsule Wardrobe eBook Store).  I also recommend this pair from Sam Edelman and this pair from Nordstrom that flew off the shelves during their sale (it is restocked).
Which items are your favorites?