How To Dress Up Jeans 4 Ways
Jeans are a staple in our closets.  We can always depend on them to go with mostly anything, be comfortable and last for years.  When we think of jeans we think of wearing them with a tee, a sweater or a cardigan.  But, jeans can be dressed up and even worn as a dressy outfit, whether it be to work (depending on your dress code) or on a date.
If you put together a dressy outfit, with a skirt or pants, substitute them for jeans.  The best kind of jeans to wear in a dressy outfit are skinny jeans.  Because skinny jeans fit close to your body all over, you can wear mostly any top with them, whether it's a crew neck sweater, a drape cardigan or a black blazer.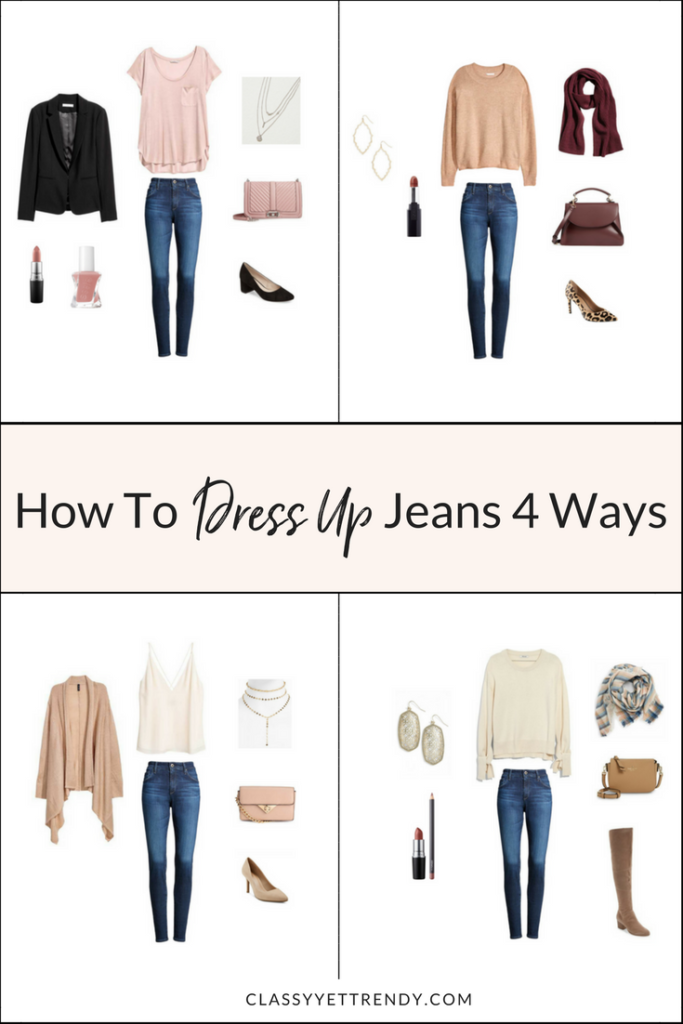 In this post, I'm sharing how to dress up a pair of AG The Farrah High Waist Jeans 4 ways.  These are an investment jean, so if you looking for more budget-friendly jeans, this pair and this pair will be perfect too.
In my Capsule Wardrobe eBooks, just a few clothes and shoes can make 100 outfits!  In the eBooks, a single pair of jeans can make dozens of outfits.  Transform your closet and Dress Better With Less!  Get your copy here!
Shopbop is offering 15% off full price items off your first App purchase using code APP15 through December 31, 2017.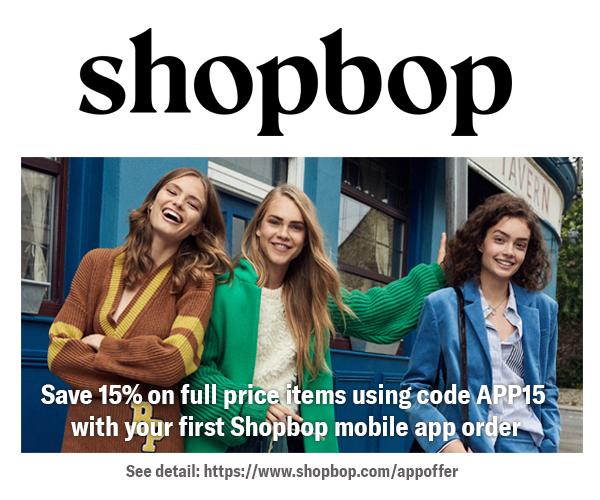 Now, on to the outfits!
Outfit #1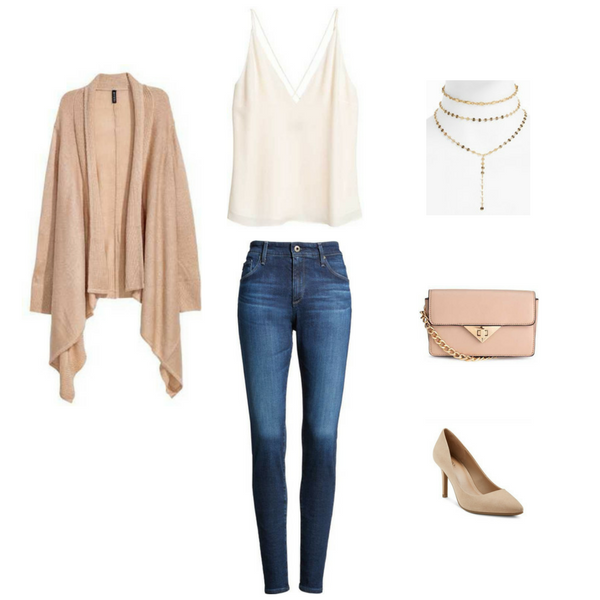 Outfit Details:
cami /cardigan / jeans (mid-priced, budget) / necklace / bag / pumps
Plus-size options:
This outfit would be perfect to wear to work on casual Friday, on a date, to lunch with friends and even on Thanksgiving with family.  The neutral tones of the cami, cardigan, bag and shoes are a contrast to the dark wash jeans.  This Y-Choker Necklace is very on-trend right now, and at a price point of $42, it's an affordable piece of jewelry to dress up your outfits.
Outfit #2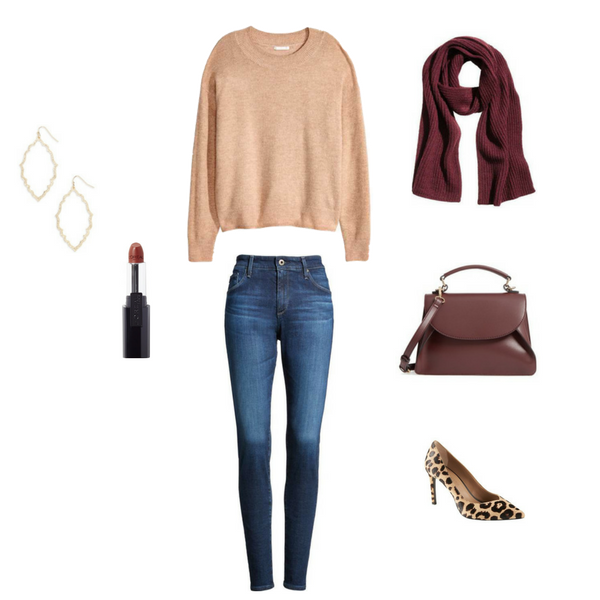 Outfit Details:
sweater / jeans (mid-priced, budget) / scarf / earrings / lipcolor / bag / pumps
Plus-size options:
You could wear this outfit almost anywhere!  This outfit has warm tones of the camel and burgundy and finishes with a pop of leopard on these leopard pumps (with built-in memory foam!).  Add a pair of these etched drop earrings at only $12 and this lipcolor in "Resilient Raisin" and you're good to go!
Outfit #3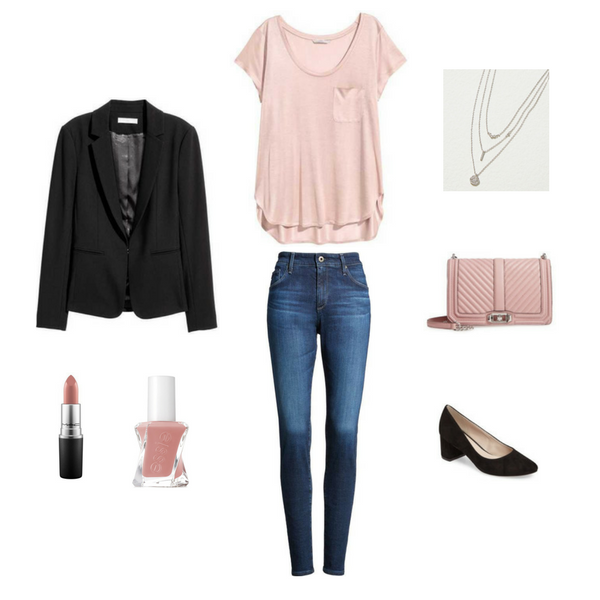 Outfit Details:
pink tee / black blazer / jeans (mid-priced, budget) / necklace
lipcolor / nail polish / pink quilted bag / block heel pumps
Plus-size options:
pink tee (velvet) / blazer / jeans
This pink jersey tee and quilted crossbody in "Vintage Pink" add pops of color to this black blazer and dark wash jeans outfit.  This multi-layer silver necklace matches the hardware on the crossbody bag.  These black block heel pumps add a nice silouette to this outfit.  The soft pink of the lipcolor and nail polish finishes off the pink theme in this outfit.
Outfit #4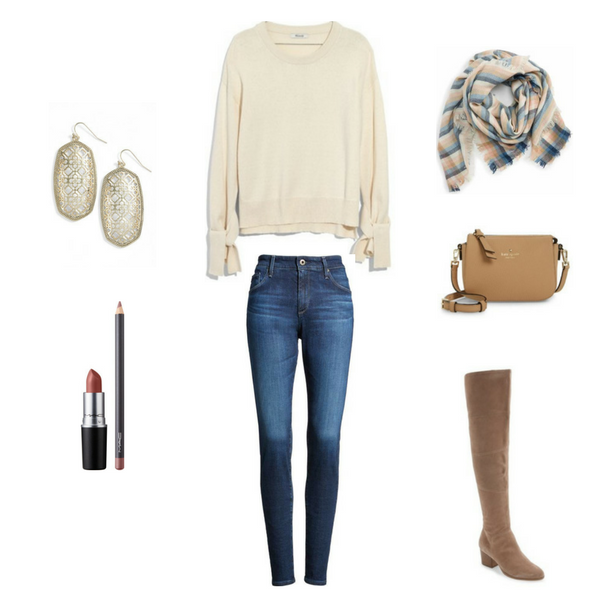 Outfit Details:
tie sleeve sweater / jeans (mid-priced, budget) / scarf / bag
earrings / lipcolor set / over the knee boots
Plus-size options:
tie sleeve sweater / jeans / over the knee boots (wide calf)
Tie sleeve sweaters are popular this Fall.  The tie sleeve feature works well in a capsule wardrobe, since you can wear it so many ways.  You could also wear this sweater with a button-up shirt underneath and also wear it with a skirt, pants or other colors of jeans.  In this outfit, since the sweater is a neutral color, adding this striped scarf and over the knee suede boots adds color and texture.  These pair of openwork statement earrings adds a bit of sparkle.
There you have it…four ways to wear a pair of jeans!  Which one is your favorite?