Fall 10×10 Challenge Review: What I Wore In 10 Days (TW #140)
Monday was the last day of the Fall 10×10 Challenge.  I wore 10 items, in 10 outfits, for 10 days straight.  This was my second 10×10 challenge, the first one being this past Spring (Spring 10×10 Challenge, and What I Wore in 10 Days).  The 10×10 Challenges are a fun way to really test out your wardrobe to see if you can make several outfits with just 10 items.  Being that I'm a capsule wardrobe enthusiast, it was easy to pick 10 items from my Fall capsule wardrobe.  Where it gets tricky is making sure just those 10 items will fit together in 10 different outfits.
I picked 5 tops, 3 bottoms and 2 pairs of shoes.  Out of the 5 tops I picked, only 1 had a pattern, which was stripes.  Since stripes is a neutral pattern, being that it is simple and only two colors, I knew it would go with all the jeans I picked.  I didn't include any layers, since the temps were in the 80's during the challenge.  You can see everything that I chose for this challenge in this post, Fall 2017 10×10 Challenge.  I didn't include plus-size options or budget options in this post, but you can see all the options in my Fall 2017 10×10 challenge.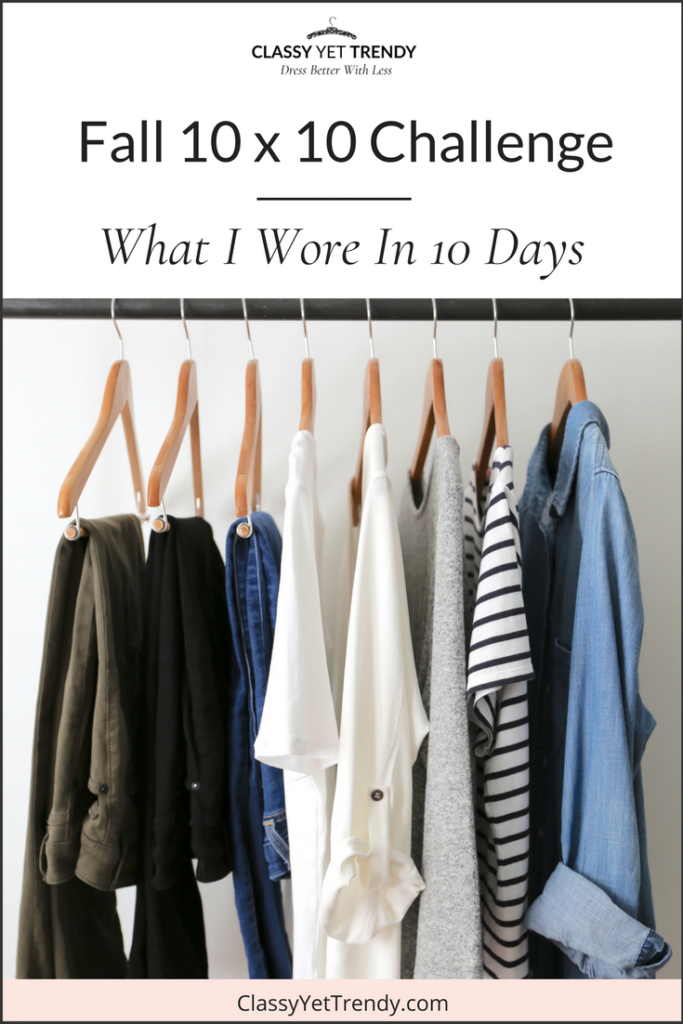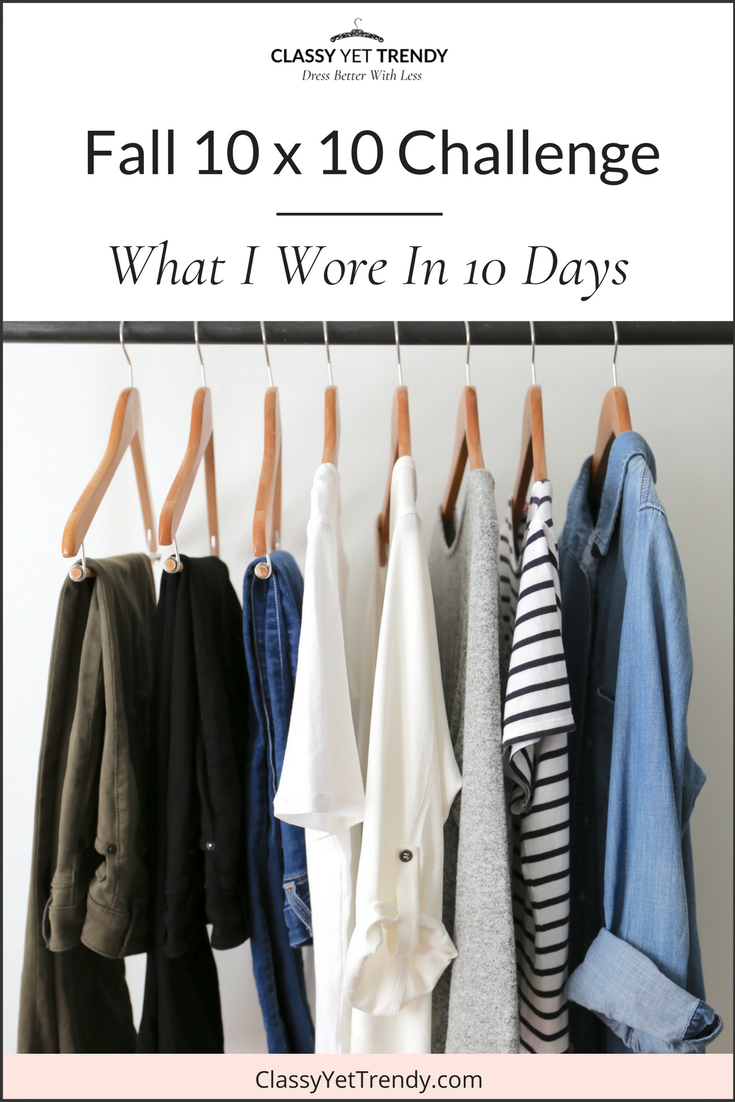 Now, here's what I wore, starting on Saturday, October 7 and ending on Monday, October 16, posted to my Instagram @classyyettrendy.
Outfit #1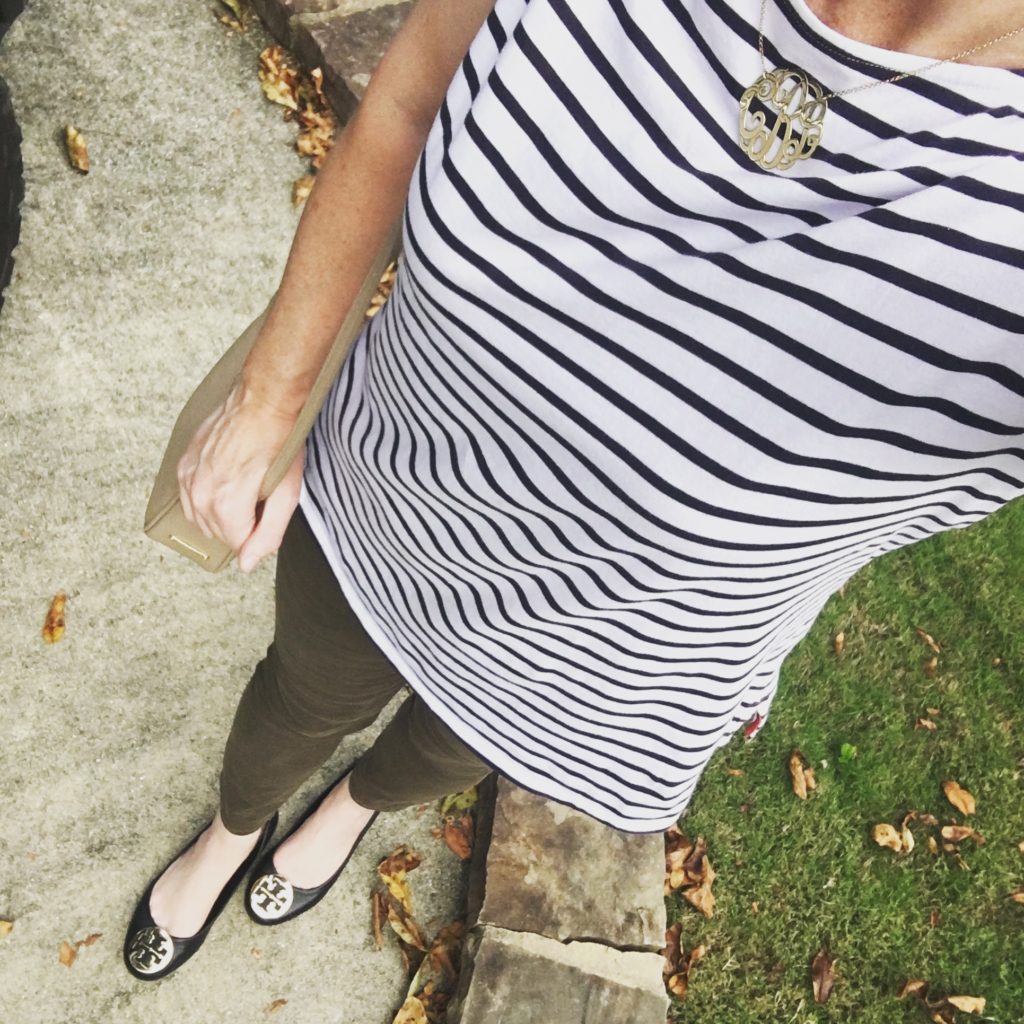 Outfit Details:
This was a good outfit to wear while out in town.  Striped tees and jeans are one of my favorite combos to wear!  And, you'll see I wore these Tory Burch ballet flats several days!  See these ballet flats, including several colors from Tory Burch!
Outfit #2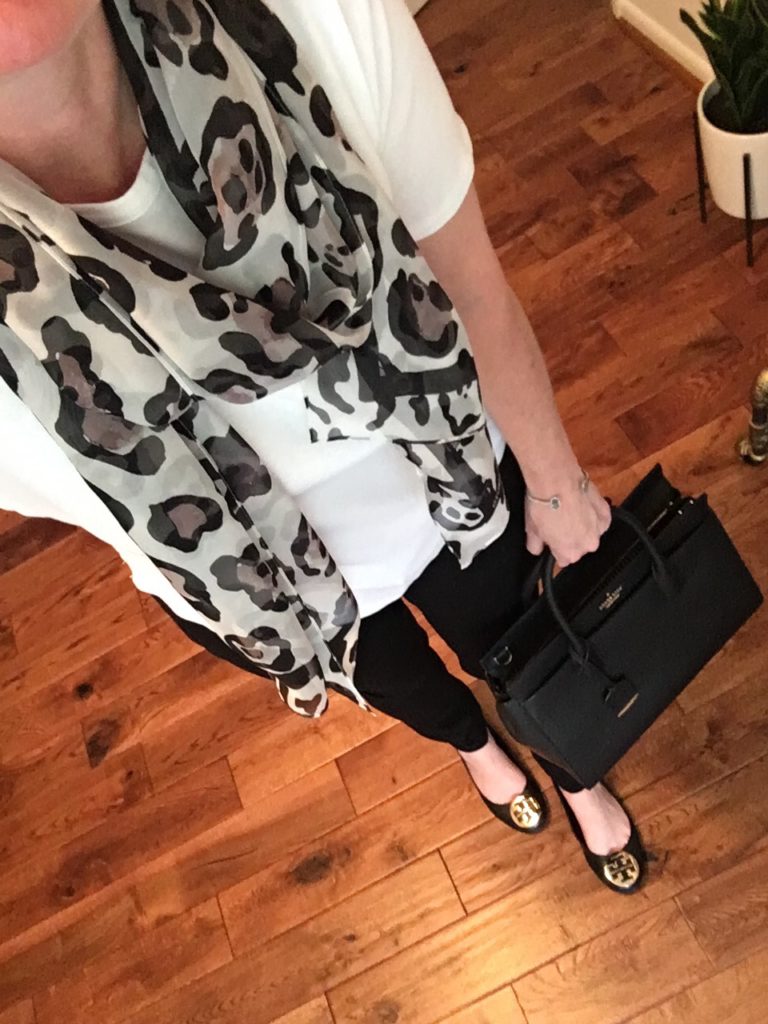 Outfit Details:
This tee and black jeans are always a good combo!  Throw on a scarf and some accessories and it's complete.  I absolutely love Kate Spade bags!  You can find several styles of Kate Spade bags here.  Also, see all these DL1961 Jeans, the brand of jeans I'm wearing in the photo above.
Outfit #3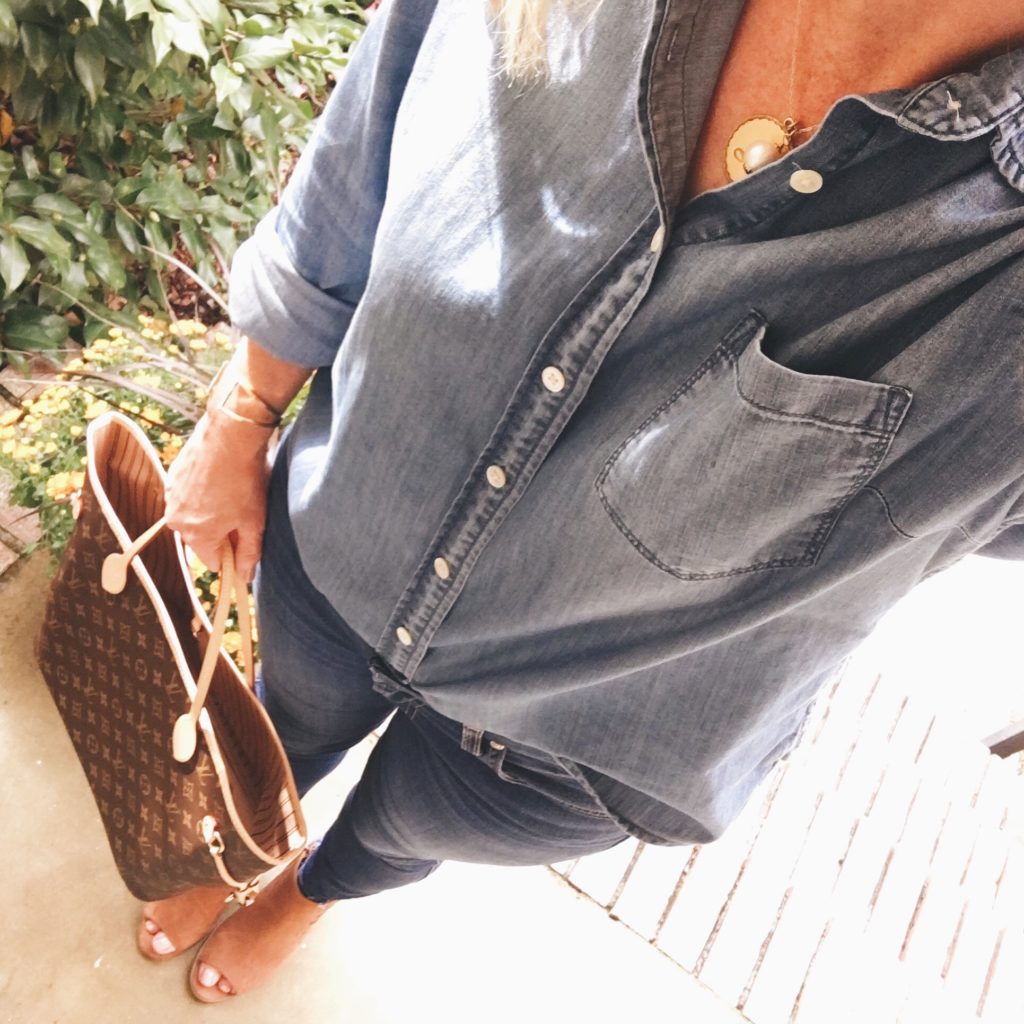 Outfit Details:
I featured this outfit last week in last week's Trendy Wednesday blog post.  You can see more photos of this outfit there.
Outfit #4
Outfit Details:
I featured this outfit in the October 11 Trendy Wednesday blog post.  You can see more photos there.  See several style of ankle booties here!
Outfit #5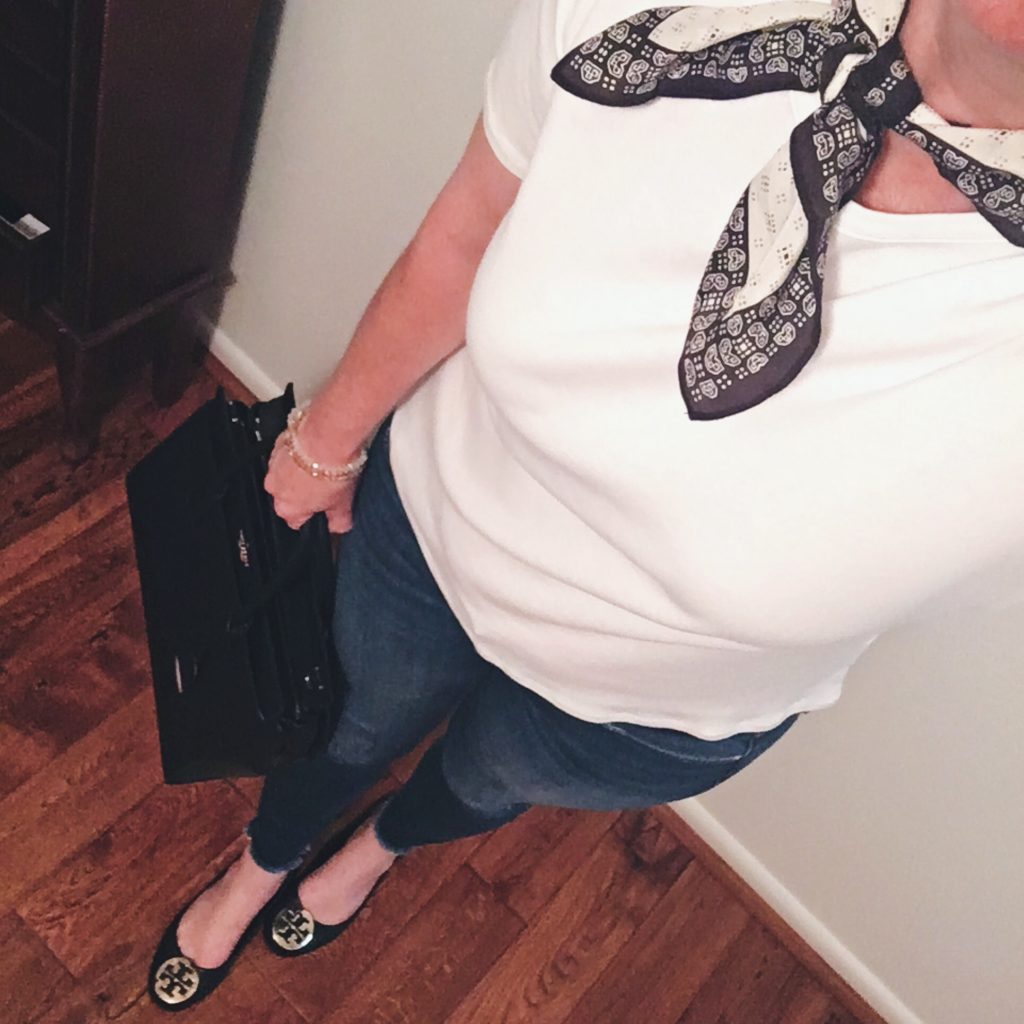 Outfit Details:
I wore this white tee and jeans all day while I worked at home.  When I had to run a couple of errands that afternoon, I added this bandana scarf, a few accessories, then I was out the door!
Outfit #6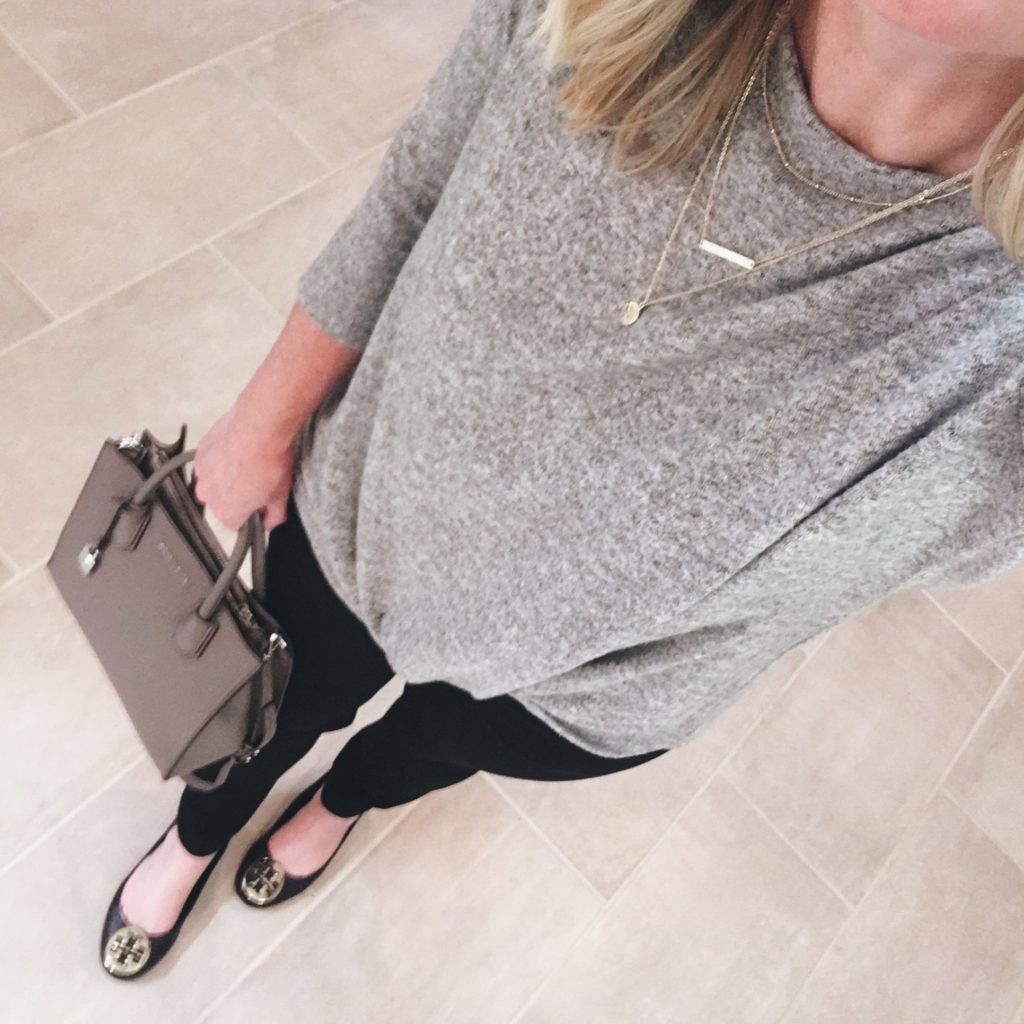 Outfit Details:
I worked at home  mostly all day, so this fleece twist top, black jeans and flats were comfy!  The Michael Kors Mercer bag has been a favorite of mine ever since I bought it.  It's the perfect size, as I can wear it as a handbag or carry it as a crossbody.  Shop all these Michael Kors bags here, including several colors of the Mercer bag, like in the photo above.
Outfit #7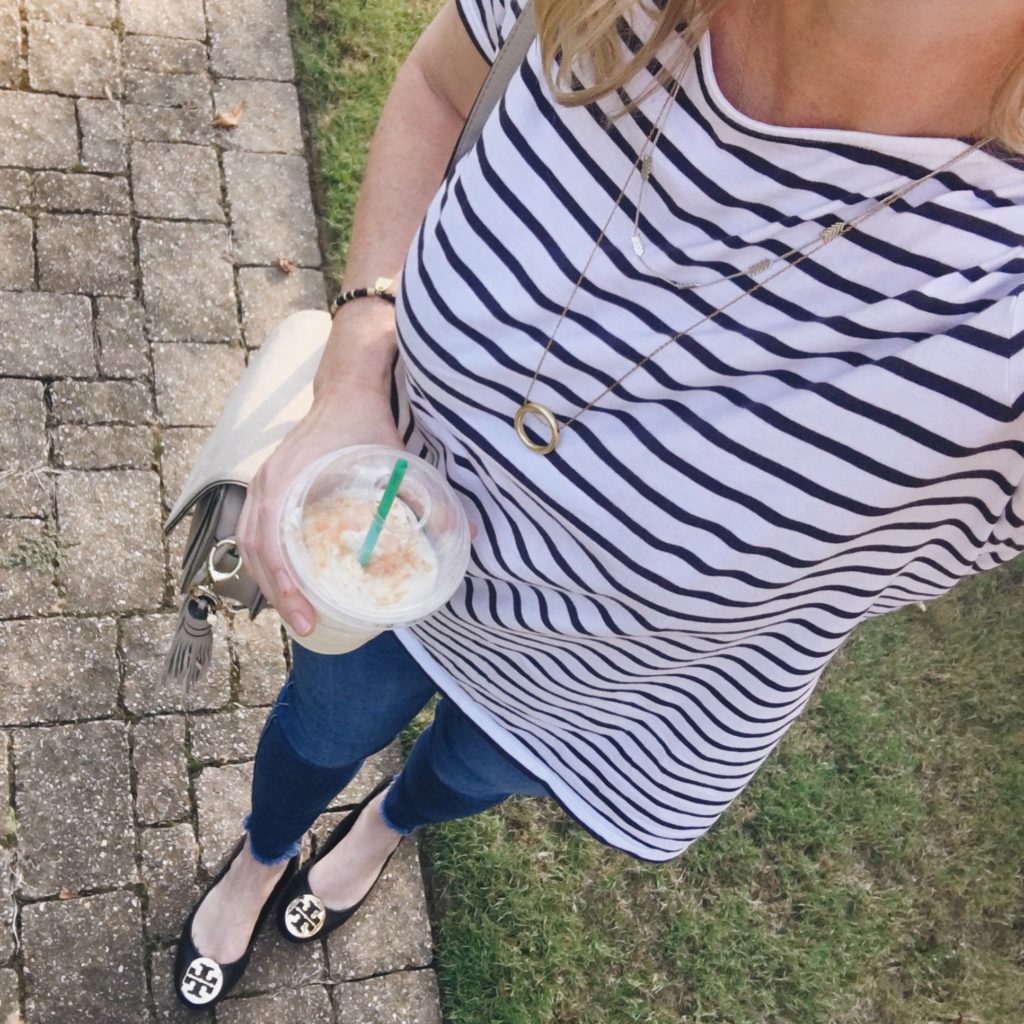 Outfit Details:
I ran a few errands, then after I picked up my daughter from school we went to Starbucks for an after school snack.  I got the Maple Pecan Frappuccino.  It was a little too sweet for me.  My favorite is the Java Chip Frappuccino!
Outfit #8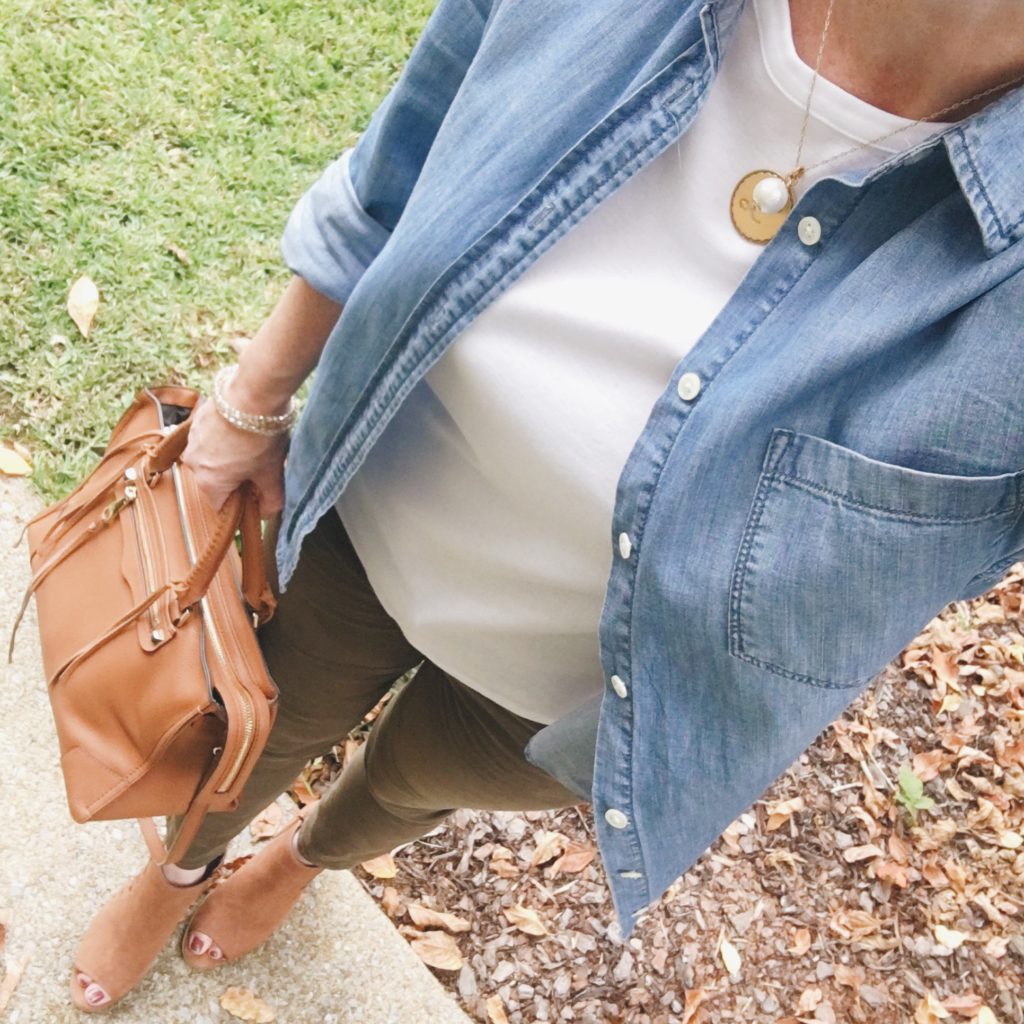 Outfit Details:
I wore the chambray shirt as a light layer over the white tee because it was breezy and cool outside!  The cognac satchel with the cognac ankle boots pulls the outfit together.
Outfit #9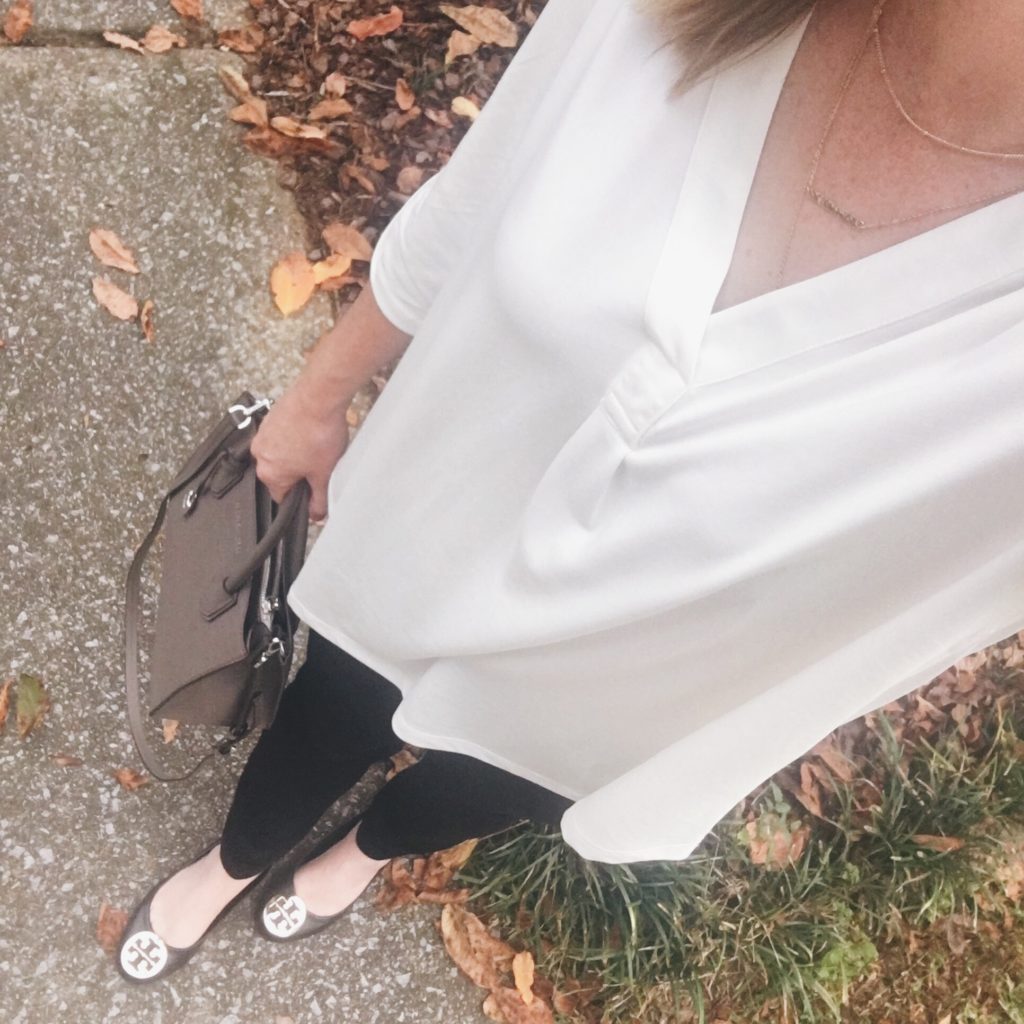 Outfit Details:
I wore this outfit on our way to Etowah, Tennessee for our train ride through the mountains.  It was a 3 hour train ride alongside the Hiwassee River and up through the mountains.  Here's the Hiwassee Loop tour link  if you are interested!
Outfit #10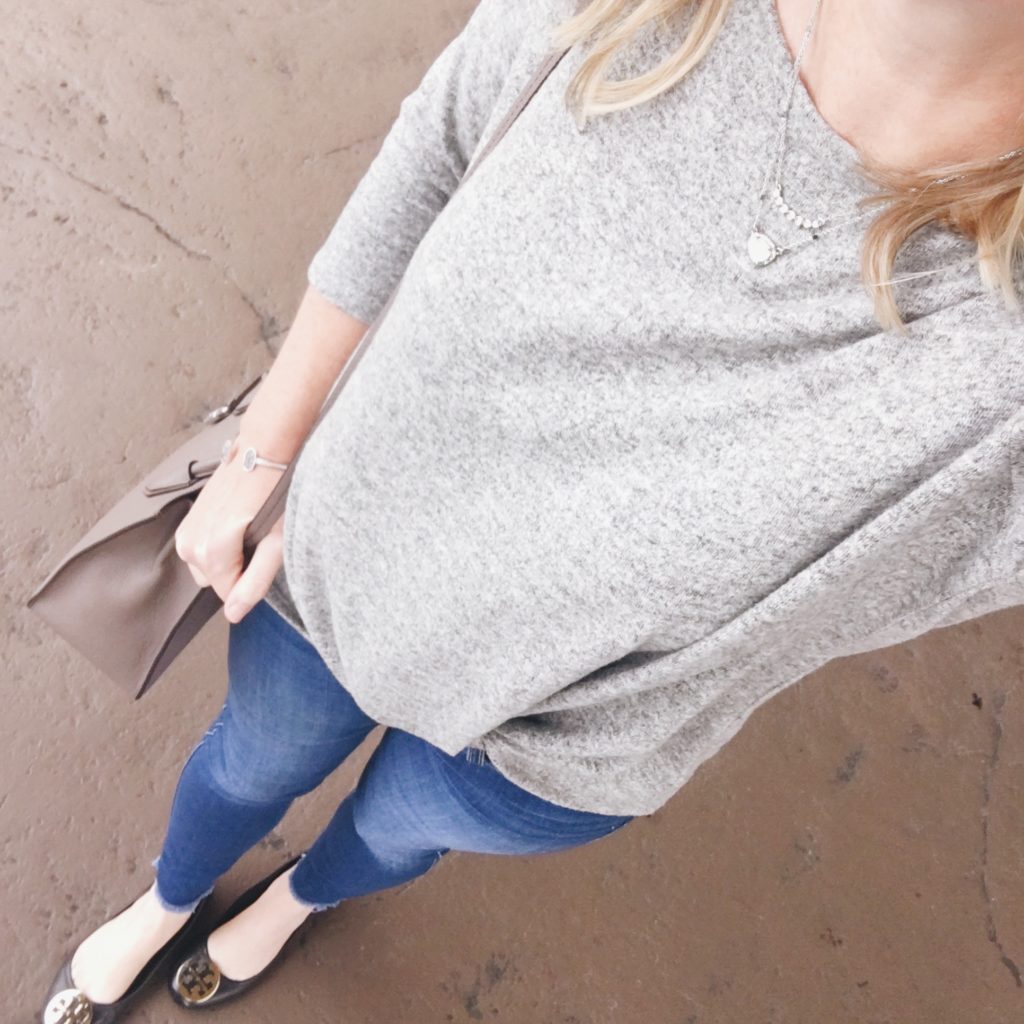 Outfit Details:
I wore this outfit on our way back home from our weekend trip.
Thoughts on the 10×10 Challenge
A big thank you to Caroline, from Un-Fancy, and Lee, from Stylebee, for starting the 10×10 Challenges!  They are also capsule wardrobe enthusiasts and encourage you to check out their sites, lots of good info!  I think this 10×10 challenge was fun!  All the pieces I chose coordinate well with each other.  If  you can tell from the outfits, my favorite pair of shoes to wear were the Tory Burch flats.  Mine are the Reva style from last year, but this year's Minnie style is nearly identical.  They are a bit of an investment shoe, but these are the most comfortable pair of flats I've ever owned and have been worth every penny.  I can walk all day in them as they are super comfy, plus the gold emblem on the toe adds a bit of shine to them!
These olive jeans and black jeans were new purchases for my Fall capsule wardrobe and I love wearing them.  The color and fit of them are perfect and I'll be wearing these a lot more.  I enjoyed wearing all the tops in this challenge as they were easy to coordinate with the jeans.  This pair of 7 For All Mankind raw hem jeans have been a great investment, since they have been in my Spring, Summer and Fall capsules.  They have been one my favorite pairs of jeans ever and plan on wearing them even more.
I can't wait until the Winter 10×10 challenge!  Have you participated in a 10×10 Challenge?

The two featured bloggers from the last linkup are:


1.  Please follow your Host 
2. Link up to 5 posts: 
it can be about fashion, style, beauty or lifestyle

(linkup to your blog post and not your main page)
3. Please include a link back to this post or place my linkup button in your post.
4.  Now, add your post(s) below!  I hope you enjoy the linkup and enjoy meeting other bloggers!
Each week I feature 2 bloggers from the previous link,
so link-up your blog posts for your chance to be featured!