How To Wear Your Easter Dress With Your Capsule Wardrobe
The more you use a capsule wardrobe, you develop a good habit of maximizing the clothes in your closet.  You buy only the clothes you will love to wear and you tend to rely on your Core Closet Essentials as the foundation of your wardrobe.  Your capsule wardrobe includes clothes and shoes that all coordinate with each other to make many outfits and you may use those items in multiple seasons.
Then, Easter comes, you buy a beautiful Easter dress, wear it one time on Easter, and you set it aside in your closet.  Before you push your Easter dress aside, chances are you can wear it many more times!
You may have an Easter dress that looks like this Eliza J Lace Shift Dress, this white Mandarin Collar Shift Dress or this Floral Paisley Short Sleeve Swing Dress (all 3 of these come in both Regular and Petite Sizes).  A few Plus-Size dresses that would work well with your capsule wardrobe are: this lace sheath dress, this lace sleeve fit and flare dress and this embroidered stripe midi dress.
You can certainly add a layer like this denim jacket (currently on sale!), beige tote, ballet flats and pastel scarf from The French Minimalist Capsule Wardrobe: Spring 2018 Collection for a casual look to wear out on a date or go out for supper with your husband.  Of course you can wear it dressy, by adding this navy cardigan, nude pumps and lariat necklace from The Workwear Capsule Wardrobe: Spring 2018 Collection and wear that outfit to work.
Here's some tips on choosing an Easter dress and wearing it with your capsule wardrobe:
Choose a dress with a

simple design

, like a sheath dress, fit and flare dress or swing dress in a color that will coordinate with your capsule wardrobe.
Opt for

minimal or no embellishments

(like embroidery, pearls, or sequins), so it will coordinate with the items in your capsule wardrobe.

Wear your dress with layers,

like a denim jacket, cardigan, trench coat or blazer for several outfit combinations!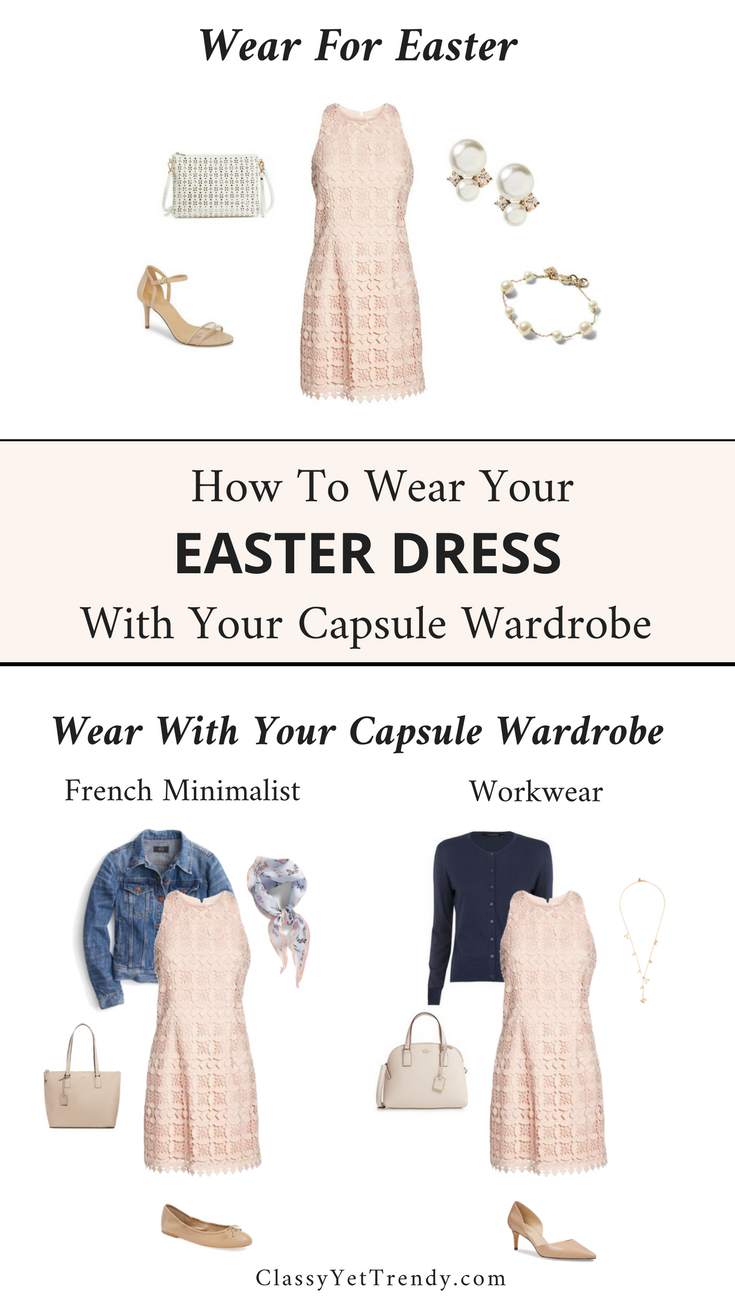 Easter Outfit:
Eliza J Lace Shift Dress
pearl cluster earrings
pearl stationary bracelet
white crossbody clutch
nude sandal heels
French Minimalist Outfit:
(Coordinating Items are from The French Minimalist Capsule Wardrobe: Spring 2018 Collection)
Eliza J Lace Shift Dress
denim jacket
pastel scarf
beige tote
ballet flats (I have these and LOVE them!)
Workwear Outfit:
(Coordinating Items are from The Workwear Capsule Wardrobe: Spring 2018 Collection)
Eliza J Lace Shift Dress
navy cardigan (comes in several other colors too!)
lariat necklace
nude handbag
nude d'Orsay pumps
Shop The Post: