Best Brands of Jeans For Every Budget
Jeans are one of the most versatile articles of clothing you can wear.  They are definitely the most perfect casual wear out there, but you can also dress them up too with a feminine top, blazer and heels!  I've been asked by several of you which jeans are the best ones to buy.  So, I thought I would do a blog post on the best fitting jeans out there for every budget!
I love to wear jeans.  I always seem to reach for them first in my closet when I'm picking out my outfit for the day.  I've tried just about every brand of jeans, so I've figured out which ones fit my body the best.  The jeans I currently own are a mixture of investment jeans and budget jeans.  I don't really have a preference of buying investment jeans over budget jeans.
When you are looking to buy a pair of jeans, here are a few tips on what to look for to make sure you buy a pair of jeans that you will love to wear:
Quality of material: I prefer a pair of jeans that feel good when I'm wearing them, so I avoid denim that is stiff.  I also like jeans that have a bit of stretch to them, so they will hold their shape all day and not stretch out.
Waist Rise: My favorite rise of jeans is "mid rise".  They are the most comfortable to me.  There are also "low rise" and "high rise".
Fit: There are all types of jeans out there: skinny, straight, boyfriend, slim boyfriend, crop, ankle, the choices are sometimes overwhelming!  Choose the fit according to what looks best for your body shape.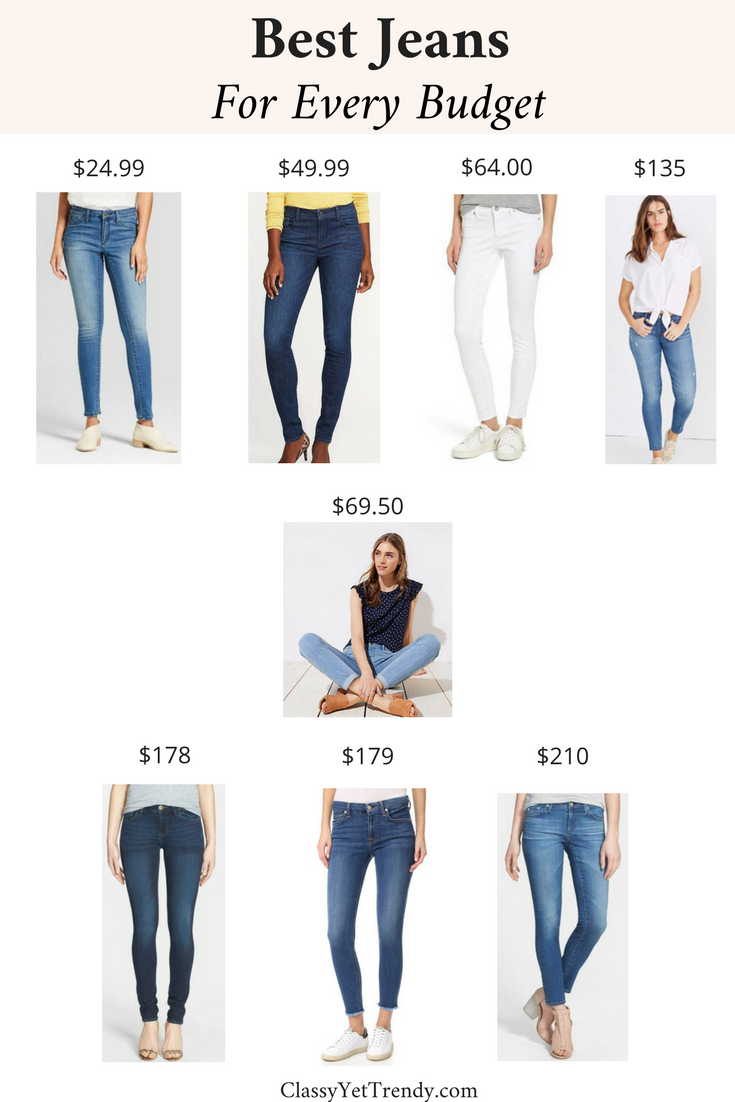 These brands I am recommending are ones I have in my wardrobe and love wearing.  They are all mid-rise, skinny and mostly all are ankle length unless otherwise noted.  Let's start with budget jeans first: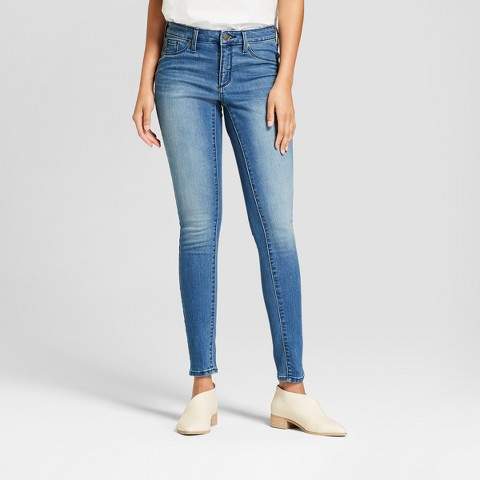 Universal Thread (Target)
Mid-Rise Jeggings – Medium Wash or Dark Wash / Plus-Size
$24.99
When Target released their Universal Thread line a couple of months ago, I was really impressed with the style and quality of the clothes, shoes and accessories.  I tried these jeans on and loved them!  I have them in my Spring capsule wardrobe.  For a $25 pair of jeans, they are great quality for the money!  Since I have an hourglass shape, my jeans have to fit smaller in the waist than in the hips, so sometimes it's hard to find jeans that fit well.  These fit perfectly and I love how the denim material has a bit of stretch so they keep their shape all day.  They are mid-rise with regular length fit.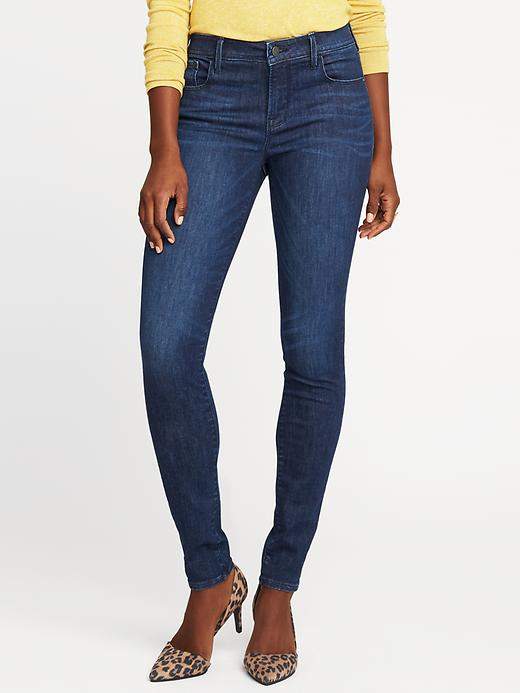 Old Navy 
Mid-Rise Built-In Sculpt Dark Wash Jeans (Regular, Tall & Petite) / Plus-Size
$49.99
I have these jeans in the gray color.  I've had these jeans for about 2 years now and still love wearing them.  They are in my Spring capsule wardrobe.  They were a bit too long, as I bought them in "tall", but cut them off, so they are now an ankle length with a "raw hem".  Since they are "build-in sculpt", they have a bit of stretch to them to hold their shape.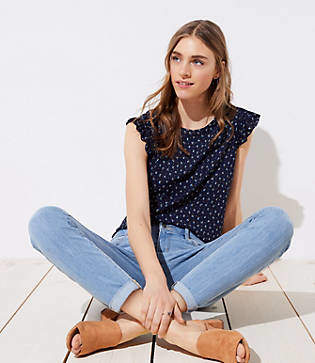 Loft
Curvy Skinny Crop Jeans (Regular & Petite) / Plus-Size
$69.50
When I went to Loft a few weeks ago and posted a Loft Fitting Room Review, I tried these jeans on as well as the Modern Skinny Crop Jeans.  I had never tried on Loft jeans before and was curious to see how they would fit.  Oh my gosh!  I was truly impressed at how they felt when I had them on.  The denim is super soft and being they were "curvy", they fit my waist and hips perfectly.  Needless to say, they went home with me and are in my Spring capsule wardrobe.  Even though they are a "crop" jean, you can roll down the fold, then they become "ankle" jeans.  You can see me wearing them in last week's blog post, Everlane Day Glove Review.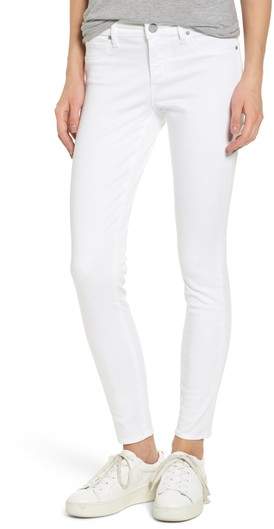 Articles of Society
$64
Even though these jeans aren't a traditional denim look, I had to include these in this post.  I'm always being asked which white jeans I recommend, as it is hard to find ones that aren't "see through".  I've owned a couple pairs of white jeans and tried on several trying to find the perfect pair.  These, in my opinion, are the best ones.  They fit great!  As with any white clothing, I also recommend wearing a "nude" color underwear with them.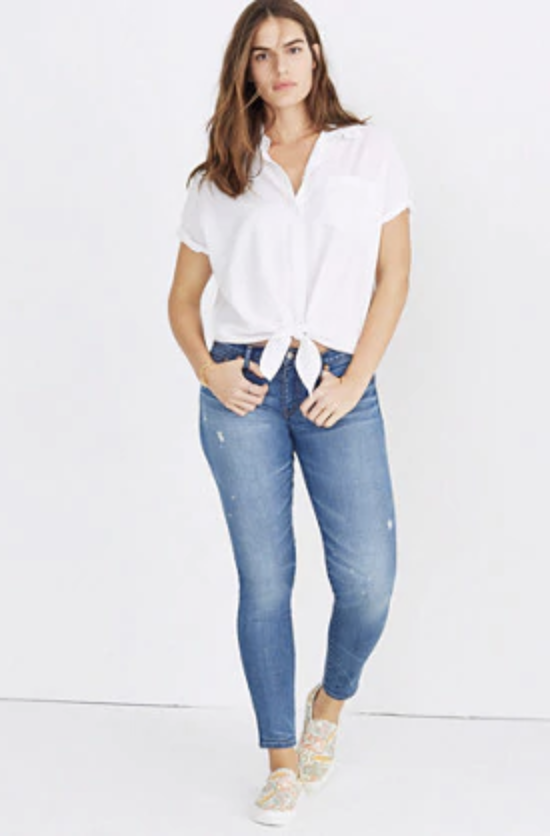 Madewell
8″ Skinny Jeans (Regular & Tall)
$135
Even though I don't own these jeans, I wanted to include them since they are a great pair of jeans.  A couple of months ago I was in Madewell shopping with my daughter (that's her favorite store).  I thought I would try these on.  I have a pair of their slim boyfriend jeans and a pair of their high rise burgundy jeans and love them.  I would have bought these, but because I have a capsule wardrobe and already have a few good pairs of jeans like these I didn't get them.  For a pair of regular everyday jeans, these mid-rise medium wash jeans are perfect.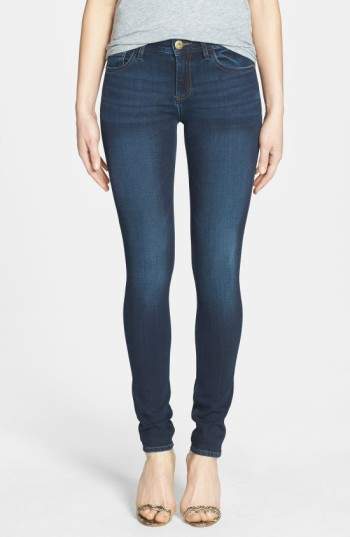 DL1961
'Florence' Instasculpt Skinny Jeans
$178
I have these same jeans in both "black" and "olive" and absolutely love wearing them!  I spotted these jeans online and they look like a great dark wash denim.  They are a regular length jean with a mid-rise and a bit of stretch to them to hold their shape.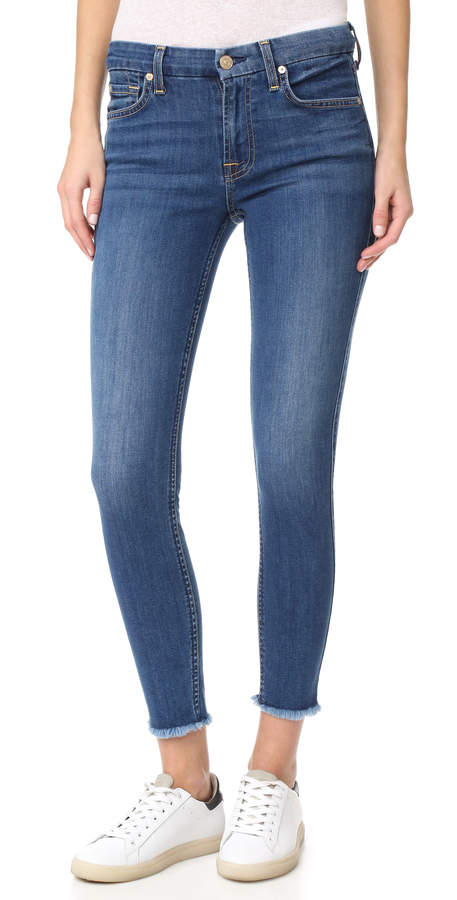 7 For All Mankind
$179
I absolutely love wearing these.  I have had these jeans for a couple of years and they have been in several of my capsule wardrobes.  They are a mid-rise, skinny ankle jean that has a raw hem.  The denim material is a nice medium wash that looks great with any top.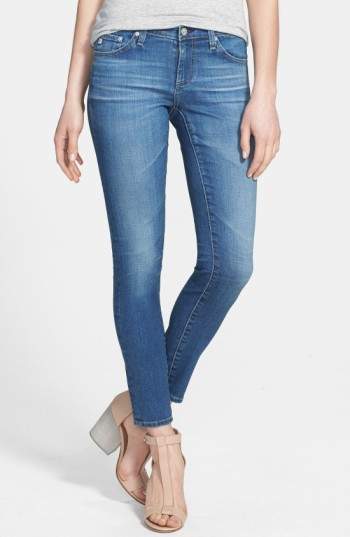 AG
$210
I had always heard rave reviews on these jeans and wondered why.  When I tried them on at Saks a few months ago, I was really impressed with the way they fit.  They fit perfectly from my waist to the length.  They are my favorite investment jean as the denim material is a beautiful shade of blue.  They look great with any top I wear them with an the ankle length looks perfect with any shoe.  I'm going to wear these for years to come!
Shop The Post: