10 Essentials For A Year-Round Wardrobe
Do you use a capsule wardrobe?  I do and I love it!  I've been using a capsule wardrobe for over 3 years now and it absolutely changed my life!  You see, I used to have a closet that was packed full of clothes, so packed, that I couldn't see everything in it.  I couldn't find half the clothes in my closet because I couldn't find them all amongst everything stuffed in my closet.  Getting ready in the mornings took forever, since most of my clothes wouldn't coordinate with one another.  I ran late for work several times because I would change clothes several times before settling on something to wear.  I literally hated getting ready in the mornings because I knew I would be stressed out, even before I got to work!  You can see a photo of my messy and cluttered closet before I started using a capsule wardrobe at the top of all my eBook product pages in the Capsule Wardrobe eBook Store.
Now, I love everything in my closet.  I don't have to think about what to wear, because I know whatever I pull out of my closet from my capsule wardrobe will look great.  I am stress-free and I get dressed in about 2 minutes!
The most common type of capsule wardrobe are seasonal ones, where you change your capsule wardrobe about every 3 months, whenever a new season starts.  I publish 6 eBooks every season, each containing a different style in a complete wardrobe plan.  They are the Essential, French Minimalist, Workwear, Stay At Home Mom, Athleisure and Menswear.  All these wardrobe plans consist of core closet essentials and a few trends popular for the season.
I've had several women ask me if I could create a year-round wardrobe, where there are no trends, just basic essentials, which are classic, timeless and that never go out of style.  I spent several months testing different looks using only core closet essentials.  I also tested several colors, determining which ones are the most versatile.  Having classic and timeless clothes and shoes in a wardrobe that never go out of style are essential to any wardrobe.  Having a wardrobe of only those core closet essentials that can span the whole year and that coordinate beautifully with one another is a wardrobe that will really work for you!  You not only look great, but by using those pieces over and over, you will save money too since you won't have to buy any other clothes or shoes!
The newest eBook, Simplified Style: A Year-Round Core Closet Essentials Capsule Wardrobe is a complete wardrobe plan of 50 clothes and shoes that are all core closet essentials.  It has already sold over 600 copies!  Several women have used this capsule exactly from the eBook.  Other women have customized the capsule by adding a couple of accent colors in a few tops and bottoms.
There are 10 essentials that are perfect for not only a year-round capsule wardrobe, but any capsule wardrobe.  The eBook includes all 10 of these essentials, but there are 40 more in the eBook!  The base color of these clothes and the pair of shoes is black, but you could substitute the black for navy, brown, or another base color (there is a chapter in the eBook on how to do this, along with how to add color to the capsule wardrobe).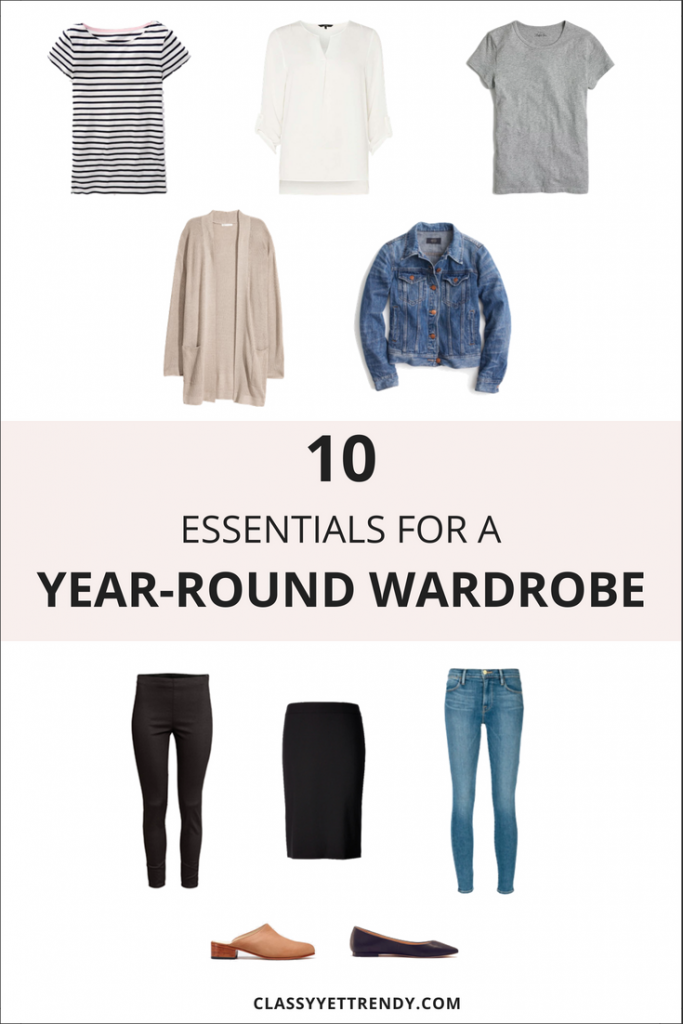 Shop The Post:
1. Striped Tee (regular) / Plus-Size –  There hasn't been a striped tee I haven't liked!  Stripes are a versatile pattern, it's my favorite!  The black/white or navy/white colors are simple and classic.  Having a striped tee that fits well and has a simple neckline can be worn casually with jeans or dressed up with a skirt.
2. Roll Tab Sleeve Ivory Top (regular) / Plus-size – This top is very versatile.  A classic white button-up shirt used to be my favorite type of basic top to wear, but I've found that the roll tab sleeve top is more versatile.  Women with several different body types can easily wear this top.  You can wear it casually with jeans or shorts and you can wear it with a skirt or pants to work.  The material feels great and the design of the top looks polished.
3. Gray Tee (regular) / Plus-size – A gray tee is a neutral color that can go with many other colors.  As with the two tops above, this tee can be casual or dressy as well.
4. Beige Cardigan (regular) / Plus-size – You'll love wearing this color and style of cardigan, since it is a neutral beige color.  I recommend a length that is a bit longer than your hips but doesn't go past your knees.  You can wear this cardigan with virtually any outfit or dress, making your outfit look complete and giving it texture.
5. Denim Jacket (regular) / Plus-size – This jacket is fun to wear and not only adds a bit of color to your outfits but texture too.  It looks great with not only colored jeans but also pants and skirts.
6. Black Ankle Pants (regular) / Plus-size – I love these pants for their versatility.  You can wear them to work with the roll tab sleeve top and heels and you can also wear them out on the weekend with the striped tee and a pair of flats or slides.
7. Black Pencil Skirt (regular) / Plus-size – This little skirt will elevate your style and you'll look fabulous!  My favorite is the pull-on style, since the fabric is more flowy and you can not only wear it to work but it looks great as a casual skirt too.
8. Blue Jeans (regular) / Plus-size – This one is a no-brainer since jeans have been around forever and for good reason…they are comfortable to wear, the blue color goes with everything and they are durable.
9. Brown Mules (investment) / Woven Pattern (mid-priced) / budget-priced – The neutral color, paired with the easy-wearing style is a great combination and looks good with jeans or casual skirts.  It is more of a casual shoe, so if you need a dressier option, a brown loafer would be good.
10. Black Flats (investment) / (mid-priced) / budget-priced – These shoes are great to have since you can wear them with virtually any bottom, whether it be jeans, a skirt, pants and a dress.