Nordstrom Anniversary Sale 2019 Picks For Your Capsule Wardrobe
The Nordstrom Anniversary Sale Early Access is going on now and I have another post featuring items from the sale, this time it's items that you can include in a capsule wardrobe! My family and I will be gone to Florida to the beach this next week so I will do a Nordstrom Anniversary Sale Try-On Session when we return from vacation.
In case you missed them, I published a few blog posts this week about the sale:
How To Shop the 2019 Nordstrom Anniversary Sale
Nordstrom Anniversary Sale 2019 Early Access Picks
12 Items On My Nordstrom Anniversary Sale 2019 Wish List
What's great about this sale is that new items for the upcoming Fall and Winter seasons are discounted at prices you don't want to miss! Right now, cardholders get the chance to shop early before it opens to the public (on July 19).
This sale is perfect to shop if you are using a capsule wardrobe! I had several requests to do a post similar to the post from last year, Nordstrom Anniversary Sale Picks 2018 For Your Capsule Wardrobe so I'm doing a post for the 2019 sale.
There are lots of core closet essentials you can include in your capsule wardrobe, plus several items you can use for your accent colors in your capsule. Plus, the sale also includes hundreds of beauty products, jewelry, men's clothes, kid's clothes, items for your bathroom, bedroom, home decor, rugs, kitchen items and even luggage!
If you are thinking about starting a capsule wardrobe, I recommend my highly popular eBook, Simplified Style: A Year-Round Core Closet Essentials Capsule Wardrobe. This collection includes Over 400 outfits ideas that come from just a few clothes and shoes! There are 2 shopping sources each for Regular, Petite and Plus sizes. There are wardrobe plans for all 4 seasons, travel packing guides for all seasons, checklists, 2 outfit planners, plus a guide on how to create your capsule wardrobe.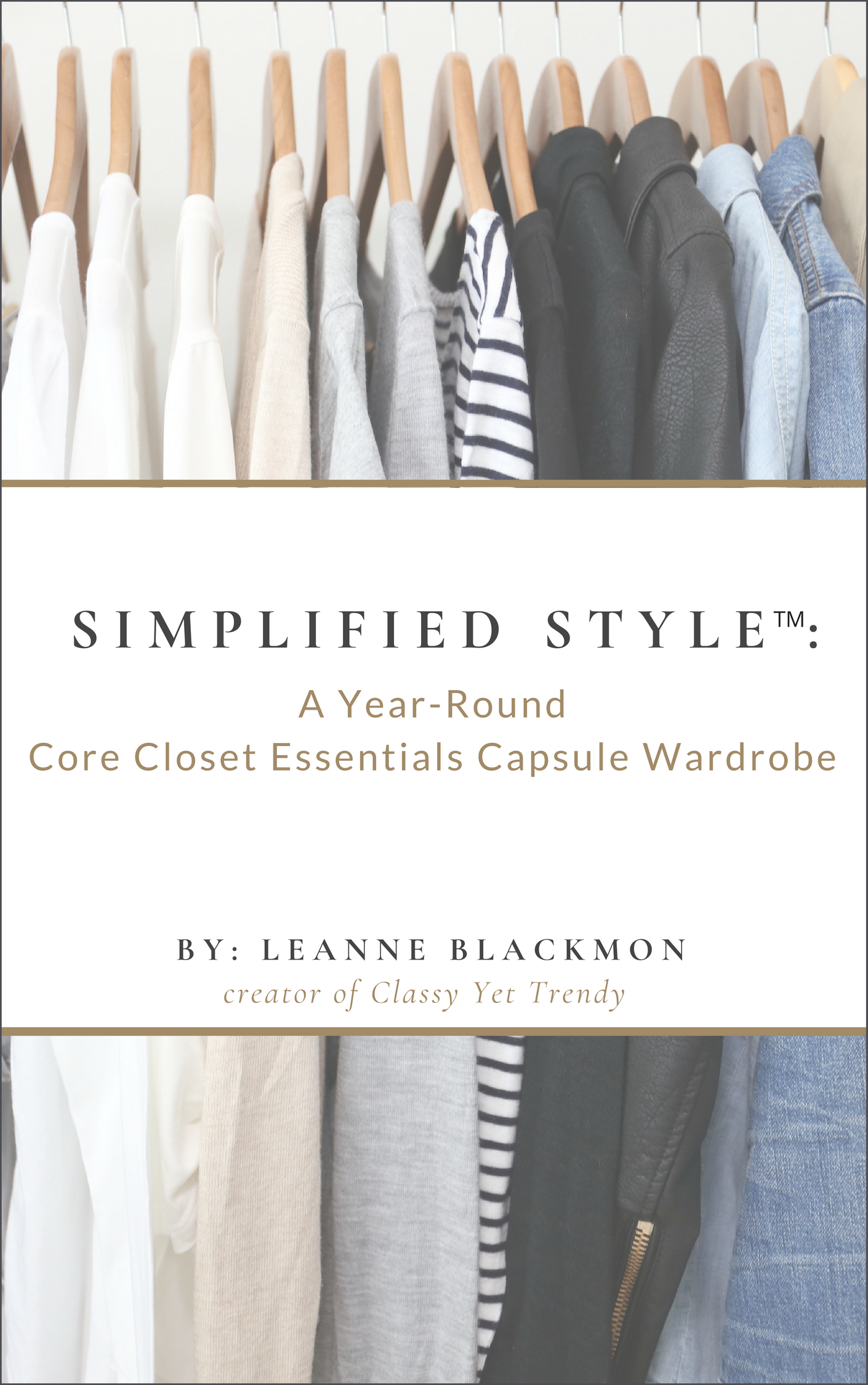 If you are shopping for items to include in your capsule wardrobe:
Shop for neutral color clothes and shoes in solid colors like black, navy, gray, white, beige, tan, camel or brown.
Shop for investment pieces, like a leather jacket, cashmere sweater, boots, booties, etc. are perfect pieces to buy in the sale since they are discounted at great prices.
Shop a few trending items to include in your capsule wardrobe. Nordstrom is a leader in the retail industry with selling new, trending clothes, shoes and accessories.
Now, onto items in the Nordstrom Anniversary Sale that are ideal for a capsule wardrobe…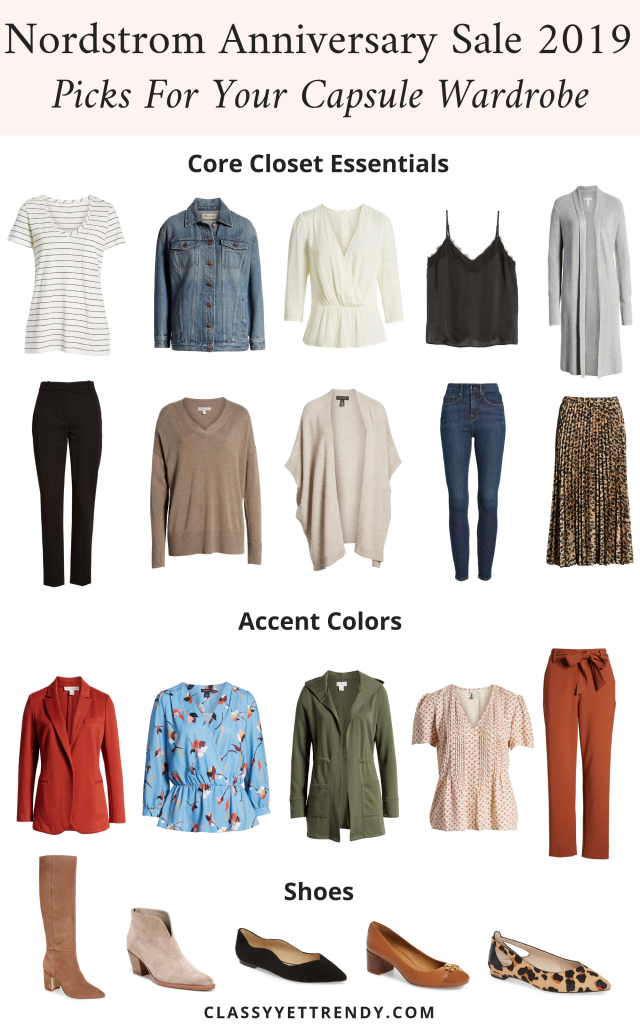 Row 1:
Rounded Neck Striped Tee – A striped tee in a capsule wardrobe always works, especially for casual outfits. The simple, neutral stripes pattern goes with other neutrals as well as all other colors you may have in your capsule. You can wear it with virtually any bottom, whether it's jeans, pants or a skirt. You can even dress it up by adding a blazer or cardigan and heels.
Oversize Denim Jacket – If you've been looking for a longer length denim jacket, this is the one to buy! Denim jackets are so versatile and are popular to wear nearly year-round. You can wear them with nearly any pants or skirt and you may even can wear them in a business-casual outfit.
Ivory Blouse – This top would be a staple in any closet, especially in a capsule wardrobe! The simple styling of this top with the strip of peplum along the bottom will look good by itself in a dressy outfit or add a blazer as a completer piece. Or, wear it with jeans and boots on the weekend as a casual outfit.
Black Lace Cami (non-lace style) – This lace cami was a best seller of last year's sale and it's back! The lace style of this cami comes in 5 colors, with the black or white one being basic essentials. If you don't like the lace trim, you can get the non-lace style instead. Cami's are popular to wear in the Spring and Fall underneath cardigans and you can also wear them underneath a denim jacket, a suede jacket or a blazer. Wear one by itself with dress pants and heels on a date night or with a skirt and sandals at the beach!
Gray Longline Cardigan – This cardigan is popular of this year's sale and you may see a lot of fashion bloggers featuring it in their favorites list! Two colors of cardigans that are must-haves for any cool weather capsule are gray and ivory/beige. These neutral color cardigans will go with practically anything in your closet!
Row 2:
Black Ankle Pants – Every woman needs a pair of black pants in her closet and these are the perfect pair! They are ankle length so you can wear a pair of flats, heels or even booties with them.
V-Neck Sweater – This longer length sweater is a must-have in this neutral color. You can wear it alone or add a shirt or turtleneck underneath for added warmth and style. You an wear this sweater with jeans, pants or a skirt.
Cashmere Ruana – Dressier than your traditional vest, this ruana in this oatmeal color will go with so many tops in your wardrobe. The gray color is also pretty and I also love the blush color too! You can wear this versatile piece dressy or casual.
Dark Wash Skinny Jeans – I always recommend dark wash and medium wash colors of jeans in a capsule wardrobe. This pair of jeans has enough stretch to be comfortable, but yet holds their shape.
Leopard Pleated Midi Skirt (also comes in Black) – How does this skirt work in a capsule wardrobe if it's a leopard pattern? The neutral colors of black and brown! You can wear virtually any solid color top or sweater with this skirt. This leopard skirt would look great dressed up with a cami and cardigan or a blouse and blazer. You could wear also this skirt casually with a chambray shirt and open toe booties.
Row 3:
Knit Blazer (also comes in Black) – This cayenne pepper color blazer will look fabulous in the Fall with your business-casual or professional dress outfits. You can also wear it with jeans, a denim skirt or pants too.
Wrap Front Peplum Top (comes in 12 colors!) – This beautiful piece works well in a capsule wardrobe because of the colors in the top. You could wear this top nearly all year because of the non-seasonal colors. It can be worn dressy or casual with pants or a skirt that matches the colors in the pattern of the top.
French Terry Cardigan – If you don't like the traditional olive utility jacket, this one is for you! It's fabric is soft like a cardigan, but has the look of a jacket. You can wear this piece all day, like a cardigan!
Pintuck V-Neck Blouse – This feminine blouse is a great patterned piece to have in your capsule. The simple pattern will go with so many other colors. You can wear itself with pants, a skirt or jeans or add a completer piece like a cardigan or blazer.
Tie Waist Twill Pants – Tie waist pants have been popular this past Spring and Summer too and looks like they will carry over into Fall in a few Fall colors, like this rust color.
Row 4:
Hiltin Knee High Boot – This boot is a favorite among fashion bloggers covering the sale! It's a gorgeous neutral color boot that can be paired up with skirts and dresses, but you can also wear it over jeans for a casual look.
Havana Notch Bootie – This is a beautiful taupe color boot that has a medium heel and the split style down the top looks so feminine! The neutral color will go well with all your outfits in the Fall, Winter and Spring seasons.
Riza Black Flats – This Sam Edelman shoe is so pretty! Nordstrom has 3 solid colors and 1 leopard pattern of this shoe in the sale. The wavy style on the top of the shoe adds interest so it's not your everyday plain black flat.
Everly Cap Toe Pump – 3 great things about this shoe: it's a block heel pump, it's a neutral color and it's Tory Burch! The Tory Burch Miller sandals and Minnie flats have been so popular for a couple of years and this shoe is a similar style to the Minnie flats, but in a block heel version. You can wear this shoe with your dressy outfits and also can wear them with pants, jeans and your casual skirts.
Ramsey Leopard Flats This is such a pretty shoe and the leopard pattern is a gorgeous design. It's by Cole Haan and is 34% off in the sale, which makes this shoe a great buy!

Shop the Post: