Gray Mini Capsule Wardrobe | 10 Pieces = 18 Outfits
In this post, I am showing how to style 10 pieces using gray as the accent color and create 18 outfits. This is a "mini" capsule wardrobe, which has fewer pieces than a capsule wardrobe for a season.
I have received a few requests from you all to create a capsule wardrobe using only gray pieces and also only beige pieces. I personally enjoy having both gray and beige pieces in my own capsule wardrobe because I like both colors. But for some of you, you enjoy wearing shades of either gray or beige, but not both. So, for those of you that enjoy wearing gray, this post is for you!
About This Gray Mini Capsule Wardrobe
"Gray" is used as an accent color. Even though gray is a neutral, in the right combination it can actually become an accent color! The gray pieces in this capsule are the gray sweater and the gray plaid blazer. All the other pieces in this capsule are

classic and timeless pieces

in neutral colors, which in the best-selling capsule wardrobe collection, Simplified Style®: The Dressy & Casual Collection – A Year-Round Capsule Wardrobe.
The style is "elevated casual" – The blazer, tops and ankle boots elevates this capsule making it slightly more dressy than just casual.
"Black" is the base color of this capsule – When creating a capsule wardrobe, I recommend using either black or navy as your base color to make your capsule cohesive.
How To Dress Up This Capsule For Work
If you want to use this capsule for work, you can change up a few of the pieces easily! Here are the pieces to substitute:
The leather jacket – use a cardigan or another blazer
The black jeans – use black pants
The dark wash jeans – use a black skirt
The medium wash jeans – use either white or ivory pants
The sneakers – use black flats or pumps
Use The Mini Capsule For Travel
Since there are only 10 pieces in this capsule, it is great for traveling! Wear one of the outfits, then pack the rest in your suitcase. If you need to wash anything while you are traveling, I recommend carrying a small bottle of detergent with you. You can use the hotel sink to wash any of the pieces, then hang to dry, ready to wear the next day!
How To Expand This Mini Capsule
If you use this mini capsule and enjoy wearing it, you can expand it for even more outfits to last throughout the season and for multiple seasons! Since most of these pieces are used in the Simplified Style®: The Dressy & Casual Collection – A Year-Round Capsule Wardrobe, you can use the Simplified Style® capsule collection for the entire year in your closet! Simplified Style® includes the classic and timeless pieces that are known to be wardrobe staples that have been in style for years and will be around for years to come. The classic and timeless pieces in Simplified Style® makes over 400+ outfits to wear in all seasons of the year. All 400+ outfits are included in the capsule collection, as well as wardrobe plans for each season, dressy and casual outfit calendars (so you always know what to wear), convenient shopping links and more!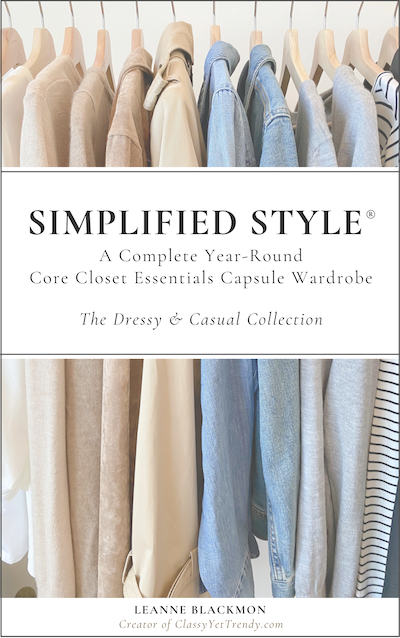 The Gray Mini Capsule Wardrobe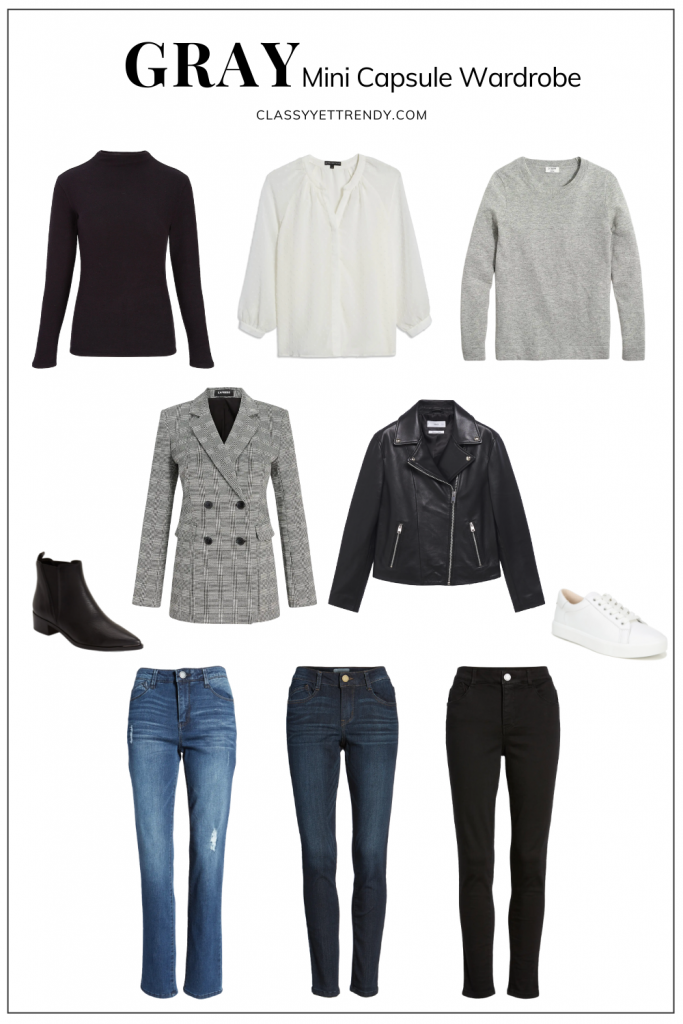 1. Black Mock Neck Top – This top has a simple design that is sleek and stylish. You could also use a black crewneck tee, a black bodysuit or a black turtleneck.
2. White Blouse – A blouse dresses up the capsule a bit and adds a feminine look. You could also use a white crewneck tee, a ruched sleeve top, this ruffle neck top, an ivory sweater or this white button-down shirt my personal favorite! (use code "LEANNEBLACKMON" for $25 off your order at grayson.com).
3. Gray Sweater – Love the classic look of a crewneck sweater! You could also use a gray long sleeve tee (I have the white color tee and love it!) or a gray puff sleeve top.
4. Plaid Blazer – This piece adds texture and pattern to the capsule. This blazer has a gray plaid design, but you could also use a black plaid tweed blazer or this houndstooth blazer.
5. Black Leather Jacket – You can't go wrong with a black leather jacket to give a capsule texture and a bit of edginess to it!
6. Medium Wash Straight Leg Jeans – These jeans are one of my most favorite brands, Wit & Wisdom. I have several pairs of their jeans and love them (and many of you do too as you have told me).
7. Dark Wash Jeans – The indigo color of these jeans blends in nicely with the other pieces in the capsule. These are a jeggings style, which are stretchy and comfy, yet hold their shape.
8. Black Skinny Jeans – These jeans hug your legs but still offer stretch so they are comfortable. I have these jeans myself and love wearing them. If you would rather use pants instead of these jeans, these Black High Waisted Trousers are back in stock and I highly recommend them. I have these pants in my own closet and they are my favorite pair of pants! Trust me, you.need.these.pants.
9. Black Ankle Boots – These are the best pair of black boots I have owned. I have had these in my own closet for a few years and they still look and feel great. Also, love these Lufti Chelsea Boots and these Ellie Chelsea Boots.
10. White Casual Sneakers – Now, you can not only wear casual sneakers with jeans and shorts, but many women are wearing them with pants, dresses and skirts! I have these Veja Campo Sneakers and these Sam Edelman Aubrie Sneakers in my own Fall Capsule Wardrobe and wear them every week, sometimes several times a week (both pairs are very comfortable right out of the box).
Shop The Capsule Pieces:

Accessories For This Capsule
Simple jewelry and a Chanel-inspired black bag are the accessories for this capsule. I added this gold halo pendant necklace, these gold halo stud earrings and this gold tennis bracelet as the jewelry. This Chanel-inspired black bag is gorgeous and looks similar to the classic flap style (if it says "waitlist", you can request the bag). This is a popular budget-friendly bag and sells out often, but they restock it. If it gets chilly, you could add this Buffalo Check Scarf or this gorgeous Gray Cashmere Tassel Scarf.
Shop The Accessories: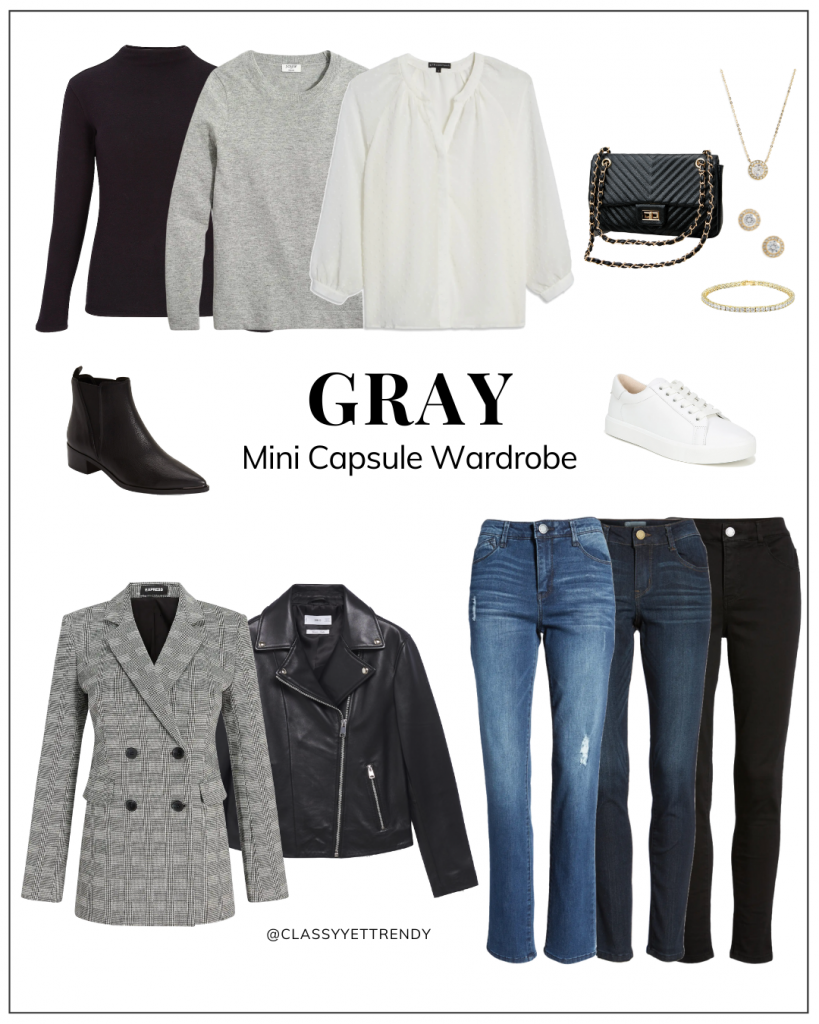 The 18 Outfits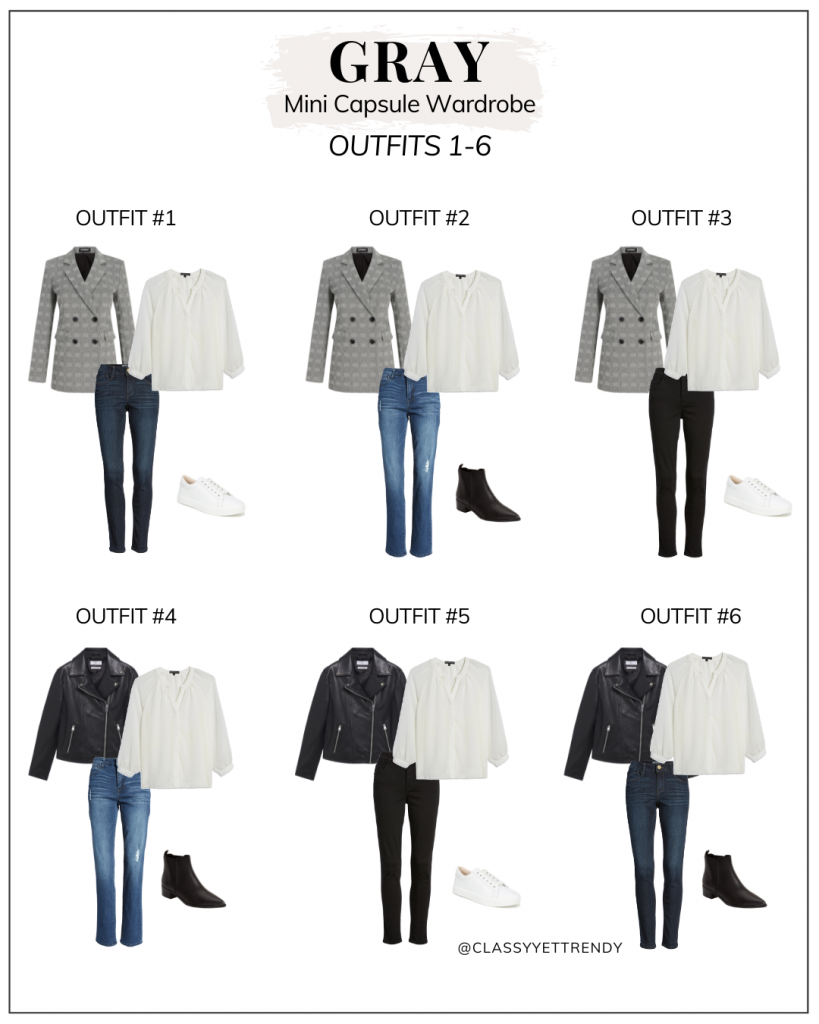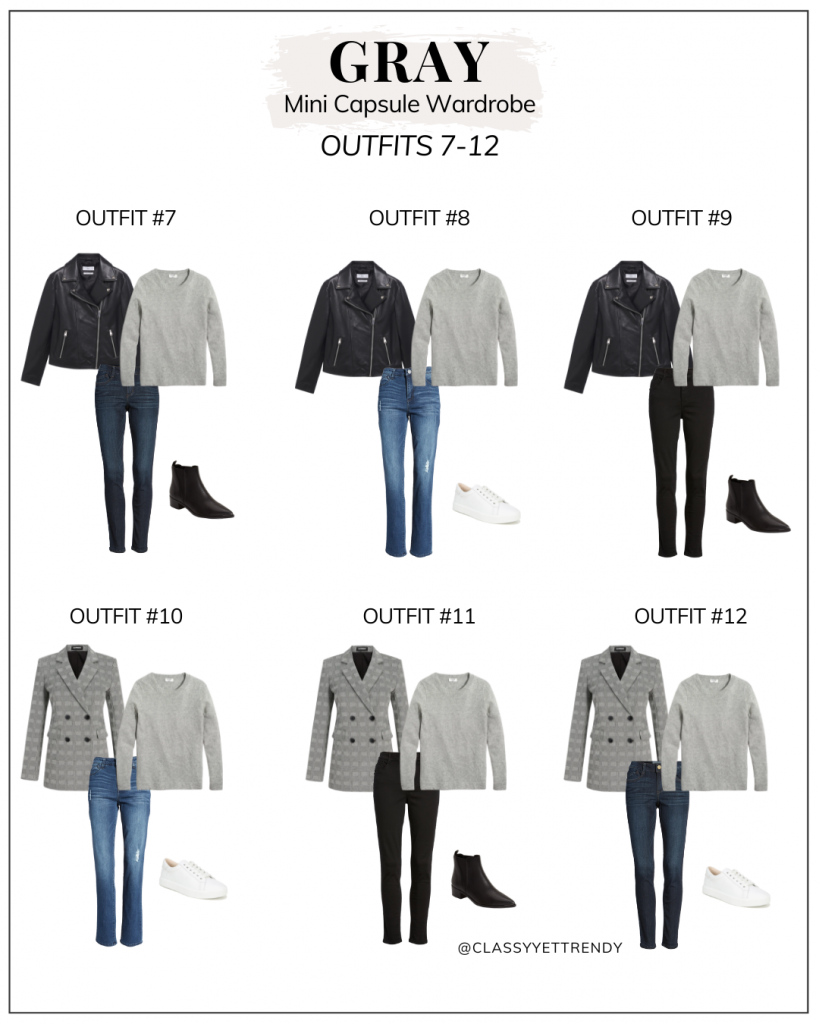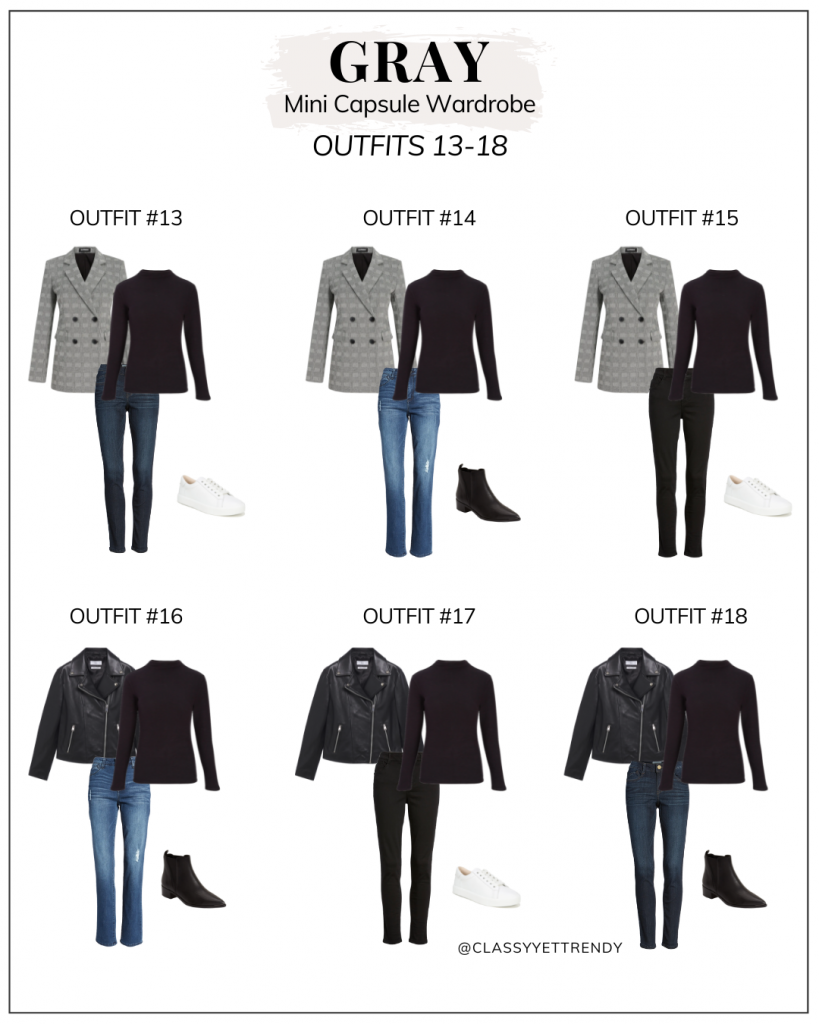 I hope you enjoyed this post!
Thank you for visiting the Classy Yet Trendy blog!
A Bit Of Inspiration For Your Day:
"In the same way, let your light shine before others, that they may see your good deeds and glorify your Father in heaven." – Matthew 5:16