Enjoy The Outdoors With Nordstrom
Thank you to Nordstrom and LTK for sponsoring this post. As always, all opinions are my own.
There's nothing like enjoying the outdoors in the crisp, cool Fall weather! Being that the temperature has cooled down and the Summer humidity is gone, it's a great time to be outdoors.
One of my favorite ways to dress is athleisure style! Athleisure style is comfortable and is easy to wear. Athleisure style has gained popularity in the past few years. What is athleisure style? It is a mix of pieces you would wear to the gym, like a sweatshirt, track jacket, leggings and sneakers and everyday pieces from your closet, like a tee, cardigan, denim jacket and utility jacket. I especially like to wear athleisure outfits on the weekends or when I'm doing outside activities like camping or walking on a nature trail.
In today's post, I'm sharing an athleisure outfit from Nordstrom! Nordstrom is my go-to store when it comes to finding what I need for my wardrobe. If there is anything I am looking for, chances are Nordstrom will have it! Since I do about 90% of my shopping online, shopping at Nordstrom online is convenient, reliable and they have free shipping and free returns. I love shopping in their stores too, so whenever I am close to a Nordstrom, I have to go shop there!
I first became aware of Nordstrom when I started this blog in 2014. I couldn't believe everything they carried. Over the years, I have bought many things from Nordstrom, including clothes, shoes, beauty products and home items. Two of my favorite brands at Nordstrom is Zella and Halogen!
Nordstrom has their own exclusive brands, Nordstrom Made, such as Halogen, Zella, Caslon, Nordstrom Signature, Treasure & Bond and more. If you are wondering what brands are at Nordstrom, here is a complete directory of all the brands.
This past Sunday after church, my Hubby and I changed clothes, ate lunch at a local restaurant, then went walking on our city's boardwalk. The city where we live has a river that runs through it and our city is built around it. A few years ago our city built a beautiful wooden boardwalk which is about a half mile long and runs adjacent to the river . It's nice to walk alongside the river and there are benches and fishing piers all along the way. My hubby snapped a few photos of me wearing my athleisure outfit.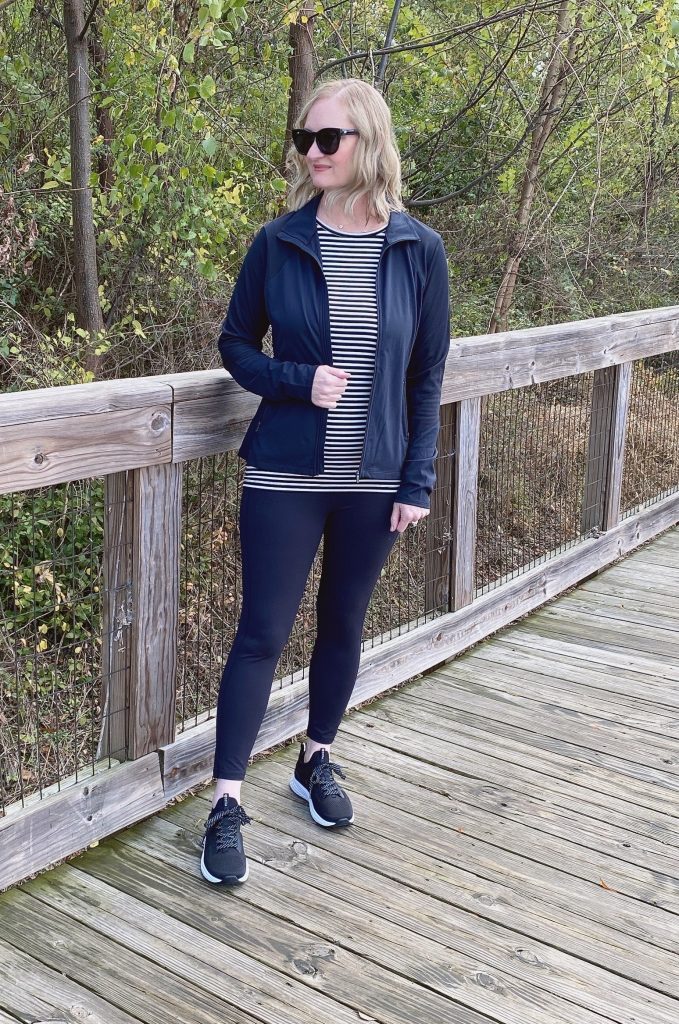 Zella Studio Lite Ribbed Detail Track Jacket | Halogen Striped Long Sleeve Modal Tee
Zella Live In High Waist Pocket 7/8 Leggings | Zella Lifestyle Lace-Up Sneakers
What I'm Wearing
Zella Studio Lite Ribbed Detail Track Jacket – I recently added this track jacket to my closet. I replaced my old track jacket with this Zella Track Jacket and I love the way it fits! My normal size in jackets is a Large, but I sized up to an XL since it is a slim style and I like to wear tops underneath.
Shop All Zella at Nordstrom here
Halogen Striped Long Sleeve Modal Tee – With athleisure style, you can wear regular t-shirts with your leggings, jackets and sneakers. I recently added this long sleeve tee to my closet and it is so soft! It's a jersey-type material, so it is stretchy and soft to the touch. I'm wearing a Large in this tee. What I like about this Halogen tee is that it is long enough to cover your backside when you wear leggings. You can leave it untucked like I did in the photos or you can do a half tuck in the front. These tees look great with not only leggings, but jeans, pants and skirts too! I have a few other Halogen tees in my closet and they are all size Large.
Shop Halogen at Nordstrom here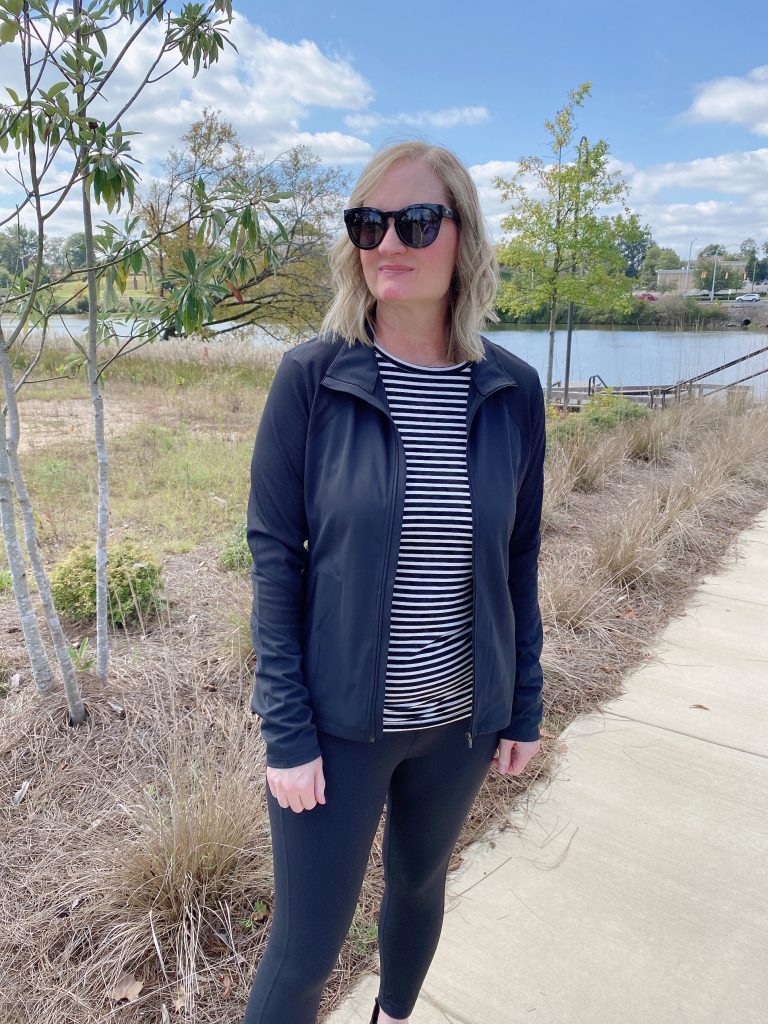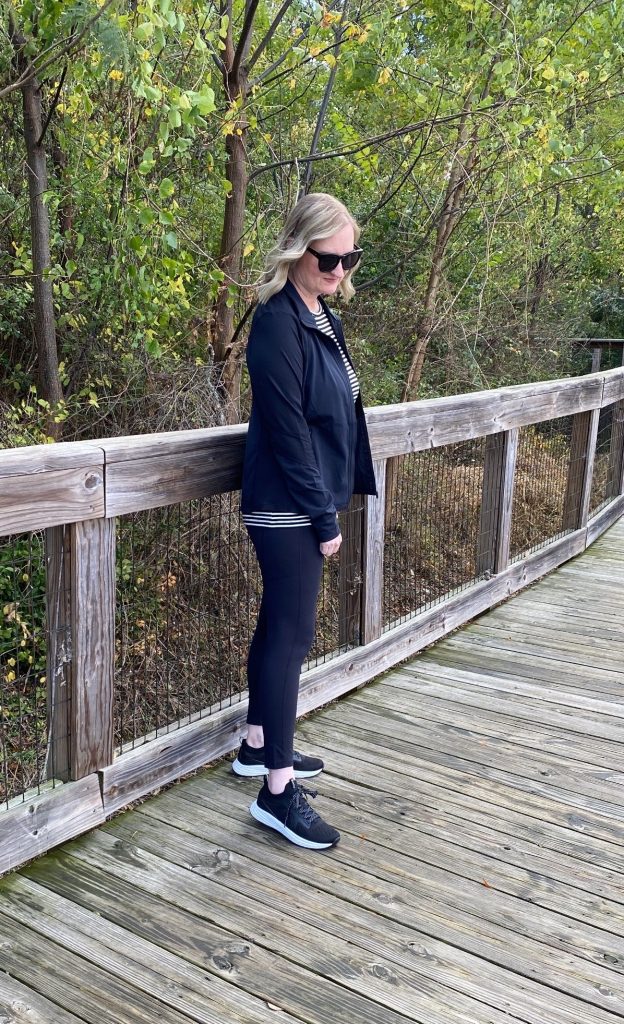 Zella Live In High Waist Pocket 7/8 Leggings – I have worn these Zella leggings for several years now and since I love wearing them so much, I replaced them recently with a new pair! They have a high waist which stays up all day, pockets on either side of the top of the thighs, which is handy for keeping your keys for phone! When I'm on my daily exercise walks around our neighborhood, I keep my phone in one pocket and listen to my music through my ear buds. These leggings fit true to size and I'm wearing my normal size Large.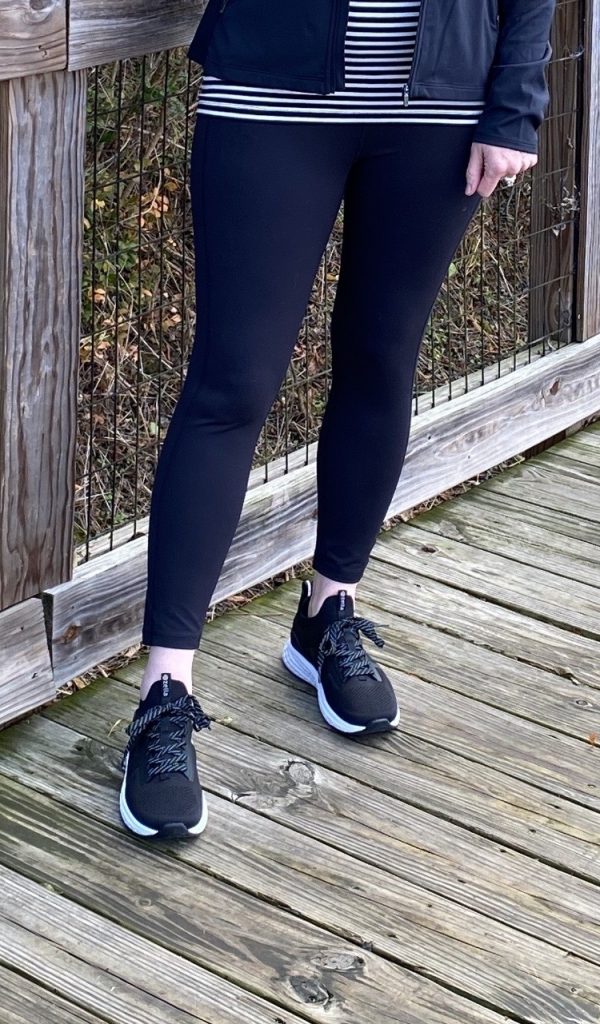 Zella Lifestyle Lace-Up Sneakers – These shoes are a recent find and I absolutely love them!  They are very comfortable right out of the box and are much less than the popular name brand sneakers!  They fit true to size and I'm wearing my normal size 9. I'm wearing the "black-white" color and they also come in gray and blush pink colors! I highly recommend these sneakers! The sneakers I am wearing are the lace-up sneakers, but Nordstrom also has these Zella Running Sneakers and these Lifestyle Slip-On Sneakers. Don't forget your socks! I bought this pack of Zella socks last year and love wearing them.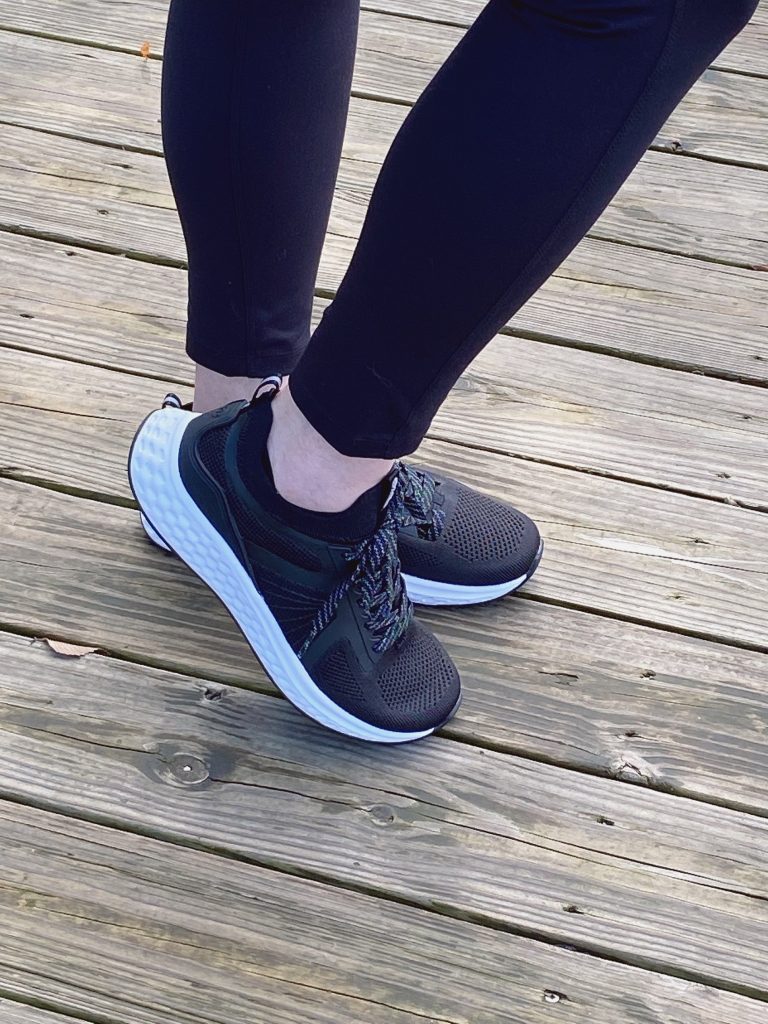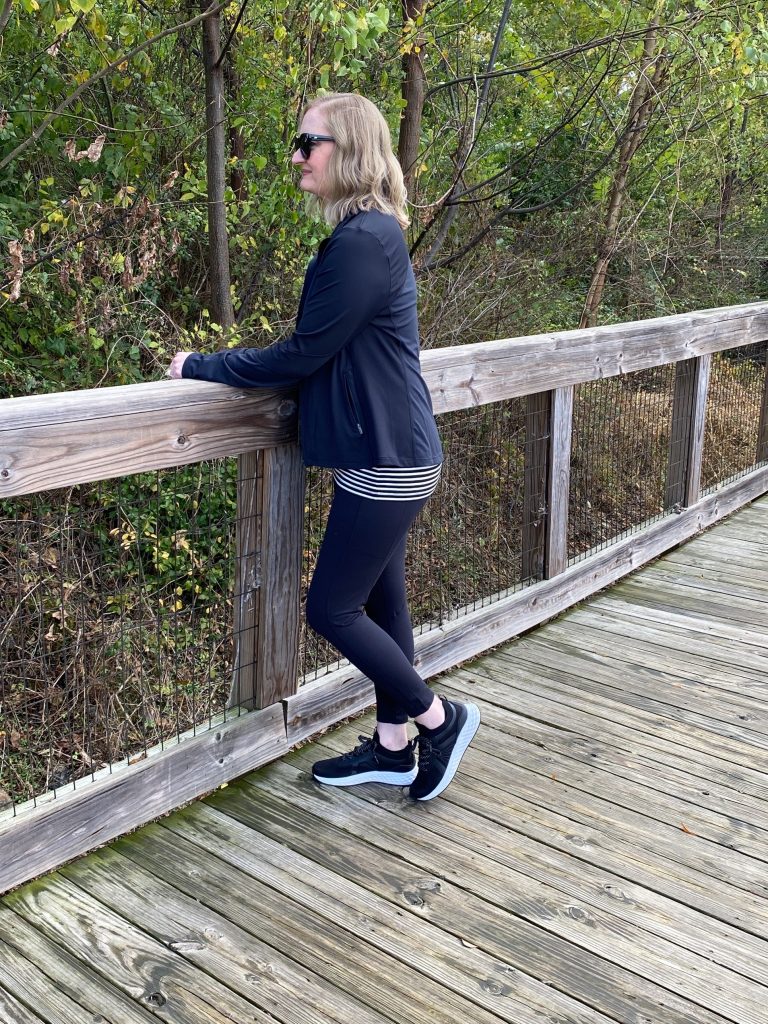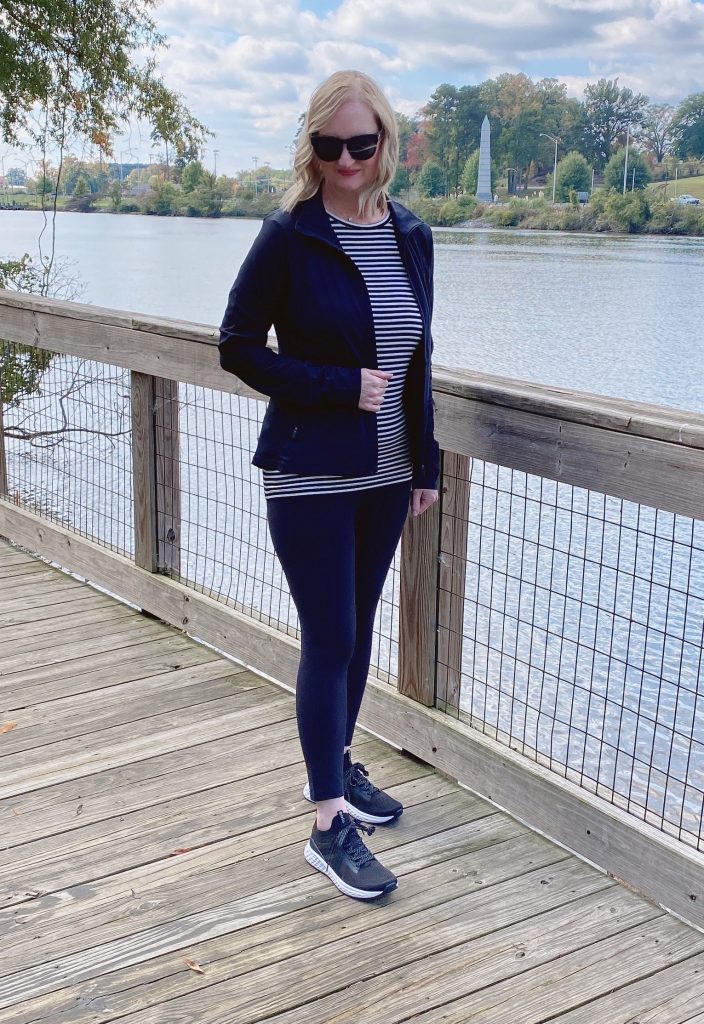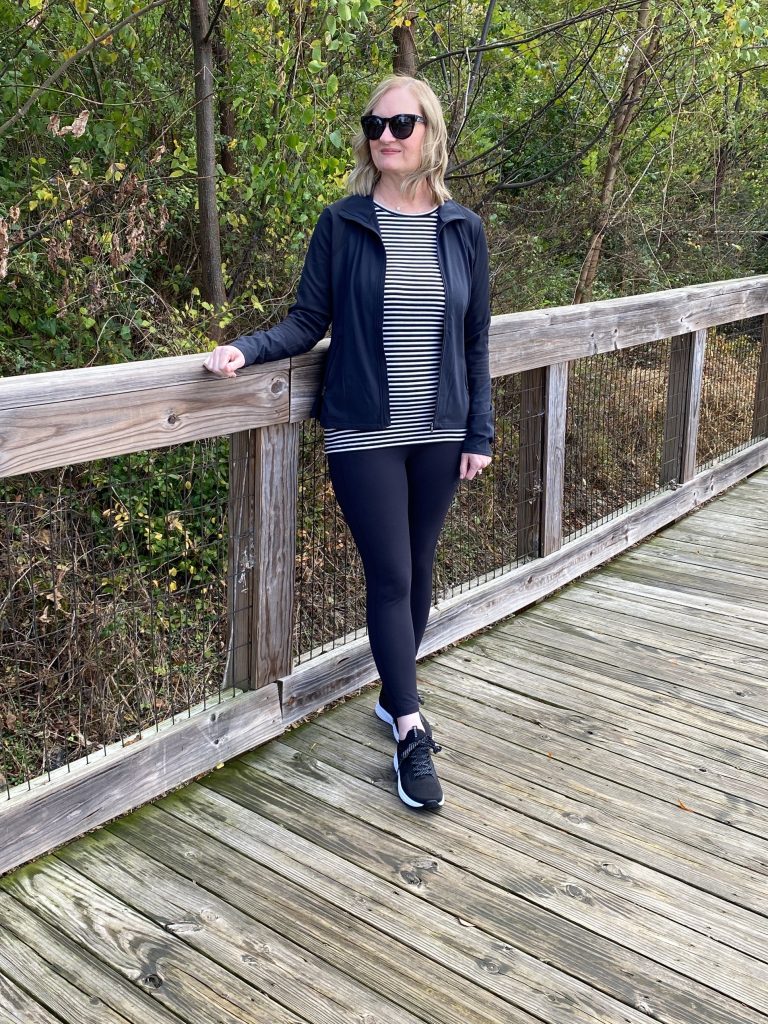 Shop The Post

Thank you for visiting the Classy Yet Trendy blog!