4 On-Trend Jeans & Outfit Ideas
See these 4 on-trend jeans with outfit ideas!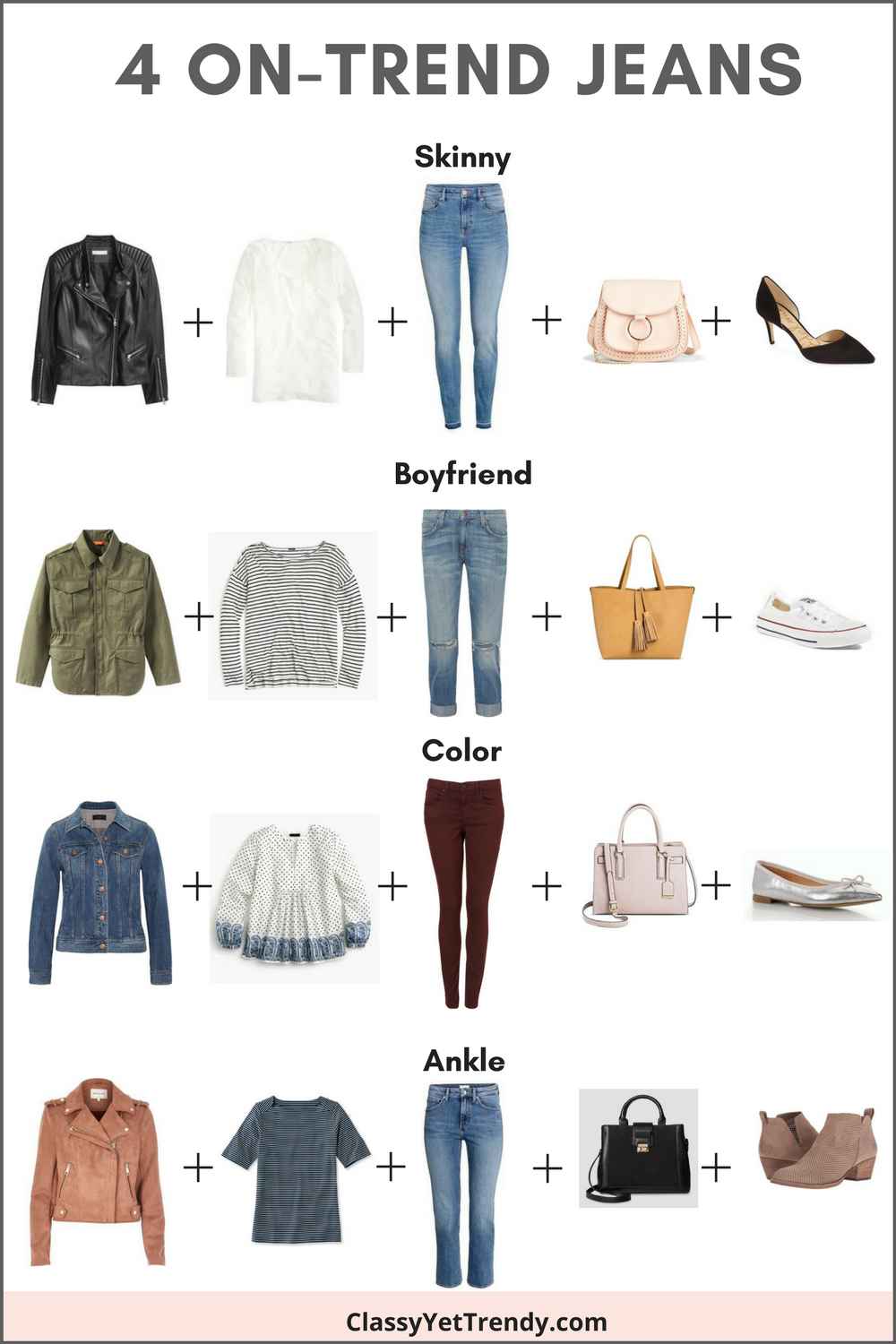 Four jeans are on-trend this year and looks like they will stick around for quite a while longer: Skinny, Boyfriend, Ankle and Colored Denim.  All of these jeans can be worn casual or dressy.
Skinny jeans are probably the most versatile jeans.  Because of their slender shape, they can be worn with all kinds of tops, whether they are tight fitting, slightly loose or tunic style.
Boyfriend are a relaxed style of jean.  This style of jean is so comfortable.  I don't have a pair of these in my closet, but I plan on getting a pair of slim boyfriend jeans.  The slim fits more like a skinny jean but still has the relaxed fit in the leg.
Ankle jeans look great with booties, sneakers or pumps.  Wear your favorite pair of shoes and the shorter leg length will show them off!
I added Colored Denim to the list because these jeans are a great way to expand your wardrobe.  Instead of wearing just blue denim, add a pair of black, burgundy, gray or olive jeans and you'll have more outfit possibilities!
Outfit #1: Skinny Jeans

These skinny jeans look great with a white tee, black faux leather jacket and black pumps.  The black faux leather jacket with the dressy style of the heel makes this outfit have an edgy look!  If you're looking for skinny jeans with a perfect fit, make you look great and last quite a while, shop these Paige Skinny Jeans!
Outfit #2: Boyfriend Jeans

These boyfriend jeans look great with this striped top, utility jacket, tote and sneakers.  You could wear this outfit shopping, going out with friends or going to a ball game.  You can shop these Rag & Bone Boyfriend Jeans.
Outfit #3: Colored Denim

Wear these burgundy jeans with this Polka Dot Popover Top (new from J Crew), denim jacket, handbag and silver ballet flats and you'll have an outfit perfect for almost any season!  I'm definitely adding this polka dot top to my spring capsule wardrobe!
Outfit #4: Ankle Jeans

Don't you just love this faux suede jacket?  It also comes in gray!  Add this boatneck top, black handbag and tan booties to your ankle jeans and you're all set!