6 Essentials For French Chic Style
See which essentials are in a French woman's wardrobe!
When it comes to style and dressing effortlessly, French women are experts!  Their simple, yet chic sense of fashion is iconic.  If you search for "french outfit" or "french style" on Pinterest, you'll see hundreds of outfit ideas.  Most of the women are wearing classic essentials that you probably already have in your closet!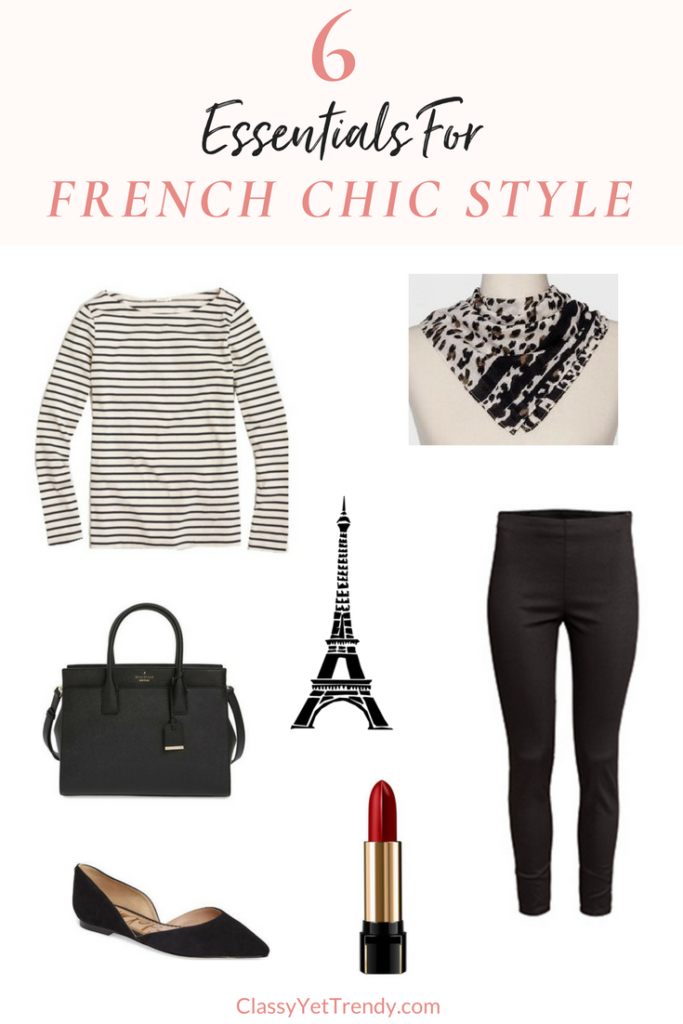 Have you read "Lessons From Madame Chic: 20 Stylish Secrets I Learned While Living In Paris", by Jennifer Scott?  This is one of a few books that I review in the blog post, Essential #Girlboss Fashion and Style Books.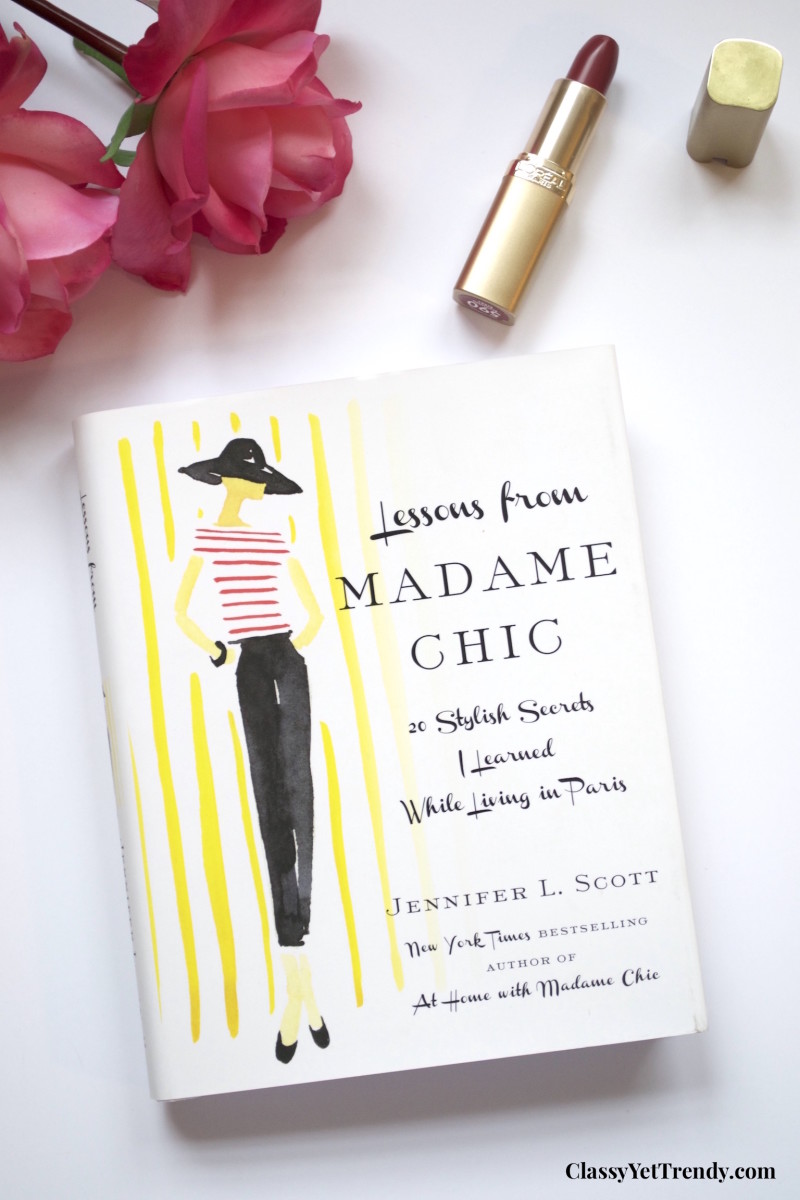 In this book, Jennifer Scott lives for a while as an exchange student in Paris, France.  Used to her casual life in California, she learns about how the French live with elegance and learns a "less is more" approach to life.  She learns the way French women dress, their sense of fashion and the way of life for Parisians.  It's a great book that I recommend reading!
This items in this post are included in the style of the capsule wardrobe in The French Minimalist Capsule Wardrobe: Fall 2017 Collection.  The eBook expands on this post and recommends 20 clothes and shoes, along with 100 outfit ideas for a complete wardrobe of the Fall season.  Most items you probably already have in your closet!  Get your copy here and transform your closet!
Find out how to make many outfits using just a few items in your wardrobe with this eBook!
(click on the image below to get your copy)

If you have these 6 essentials, then you already have a complete Parisian Chic outfit:
1. Striped Top
This top is iconic of a French fashion.  What's great about this top is that is a neutral-color item that can be worn with many other clothes in your closet.  The simple black (or navy) and white colors with a basic pattern of stripes can mix and match with mostly any other item in your wardrobe.  I recommend having two of these tops in your wardrobe: a short sleeve striped top for the warm months and a long sleeve striped top for the cooler months.  Here's a striped top that's under $15 that's looks very chic!  You can wear them alone with practically any bottom, like pants, a skirt or jeans.  You can also add layers over them, like a denim jacket, a vest, blazer or utility jacket.
2. Ankle Pants
Did the French start this style of pants?  The shorter legs of these pants makes them fun to wear!  Wear a pair of flats to dress them up a bit, or opt for heels for a dressy look.  The most popular color to wear in these pants are black, but you can choose navy or white too.  These mid-rise pixie pants have a great casual vibe and these dressy ankle pants are perfect to wear to the office.  Are you on a budget, but need a great pair of dressy ankle pants?  These dressy ankle pants are budget-friendly and still look fabulous to wear to work!
3. Black Flats
Here's another icon of French fashion…black flats!  The simplicity of the style of this shoe, along with the comfort of wearing it, makes it a necessity of having a pair in your wardrobe.  These d'Orsay black flats look feminine and these simple black flats are budget-friendly.  How beautiful are these bow flats in black leather or black suede?
4. Structured Bag
The structured bag is essential to a French outfit.  The simple, yet chic design of this bag is always in style.  You can get it in black, but this blush color bag is gorgeous too.  This faux leather bag is budget-friendly, while this Cameron Street Satchel is a great investment that will last for years to come.
5. Bandana Scarf
Bandana scarves are great to wear in warm weather, when you don't want to wear a heavy necklace or if you want to add a pattern or color to your outfit.  Popular colors that French women wear are either red or pink, but there are so many choices, you can pick which are your favorites.  This leopard print bandana scarf is a featured accessory in The French Minimalist Capsule Wardrobe: Fall 2017 Collection eBook.  At only $5.99, you need this one for your wardrobe!  This black polka dot bandana is so cute and this coral/cream bandana is gorgeous.  If you are looking for a red bandana with a pretty pattern, this patterned bandana scarf is so soft.
6. Bold Lipcolor
Nothing finishes your French look like wearing a bold lipcolor.  The most eye-catching color is red, but you can wear rose, coral, a deep wine or even a bold nude, depending on your preference.  If you don't wear lipstick, try a tinted lip balm that will add just a touch of color.

Here are a few pins from Pinterest on French fashion: