Core Closet Essential: The Chambray Shirt (Trendy Wednesday #155)
See several ways to wear this basic essential!
Last week I started a series here on the blog…The Core Closet Essential Series.  Each week, I am featuring a Core Closet Essential.  Just to review, what is a Core Closet Essential?
A Core Closet Essential is a basic article of clothing, usually a solid neutral color, that will go with many other items in your wardrobe.
For you to have the most outfit possibilities in your wardrobe, it needs to have mostly core closet essentials.  What makes a capsule wardrobe work so well, is that it uses mainly core closet essentials.  With a capsule wardrobe having a limited number of items per season, having clothes that will mix and match each other, will give you many outfit possibilities.
Today's featured core closet essential is the chambray shirt: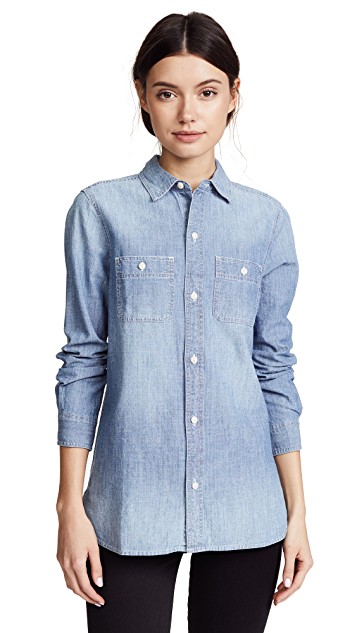 Before I owned a chambray shirt, I read reviews about them from a few fashion bloggers.  I had read that they were comfortable to wear and looked great in casual outfits and even dressy outfits.  I bought my first one at J Crew Factory about 4 years ago.  I wore it so much that I basically wore it out and had to replace it with another one!
A button-up chambray shirt, like this Madewell Ex-Boyfriend Chambray Shirt, is the most common style, but if you're not crazy about that style, you can wear a popover style, like this Ruffle Yoke Chambray Top (plus-size option) or this Raglan Popover Chambray Shirt (plus-size option).
So what do you look for when buying a chambray shirt?  I've bought about 4 chambray shirts in the last 4 years and I've seen several in stores with different styles and materials.  The chambray shirt I have in my wardrobe currently is the one I bought from J. Crew last year, similar to this year's Everyday Chambray Shirt.  The material appears slightly thicker on this year's version.  I've seen the Madewell Ex-Boyfriend Chambray Shirt in person and I love the color and style of the shirt and the texture of the chambray material.  Madewell's clothes are slightly more expensive, but they are well worth the investment.
"When selecting your core closet essentials, look for quality fabric and a well-made style, so they will last you for several years."
Here's what you need to look for when buying a chambray shirt:
Short sleeve and long sleeve: The best chambray shirt to have in your wardrobe is a long sleeve one, as you will be able to wear this style mostly all year.  In the warmer months you can roll up the sleeves and even tie the waist.  In the cooler months you can layer it under a sweater, cardigan, blazer or jacket.  If you find you like the chambray style so well, I recommend this short sleeve Madewell Central Shirt in Roberta Indigo.   I have the light wash style from last year that I've worn with jeans and shorts and I love it.  You can see me wearing it here on our trip last year to Savannah, Georgia.  Here's this year's short sleeve version you may like: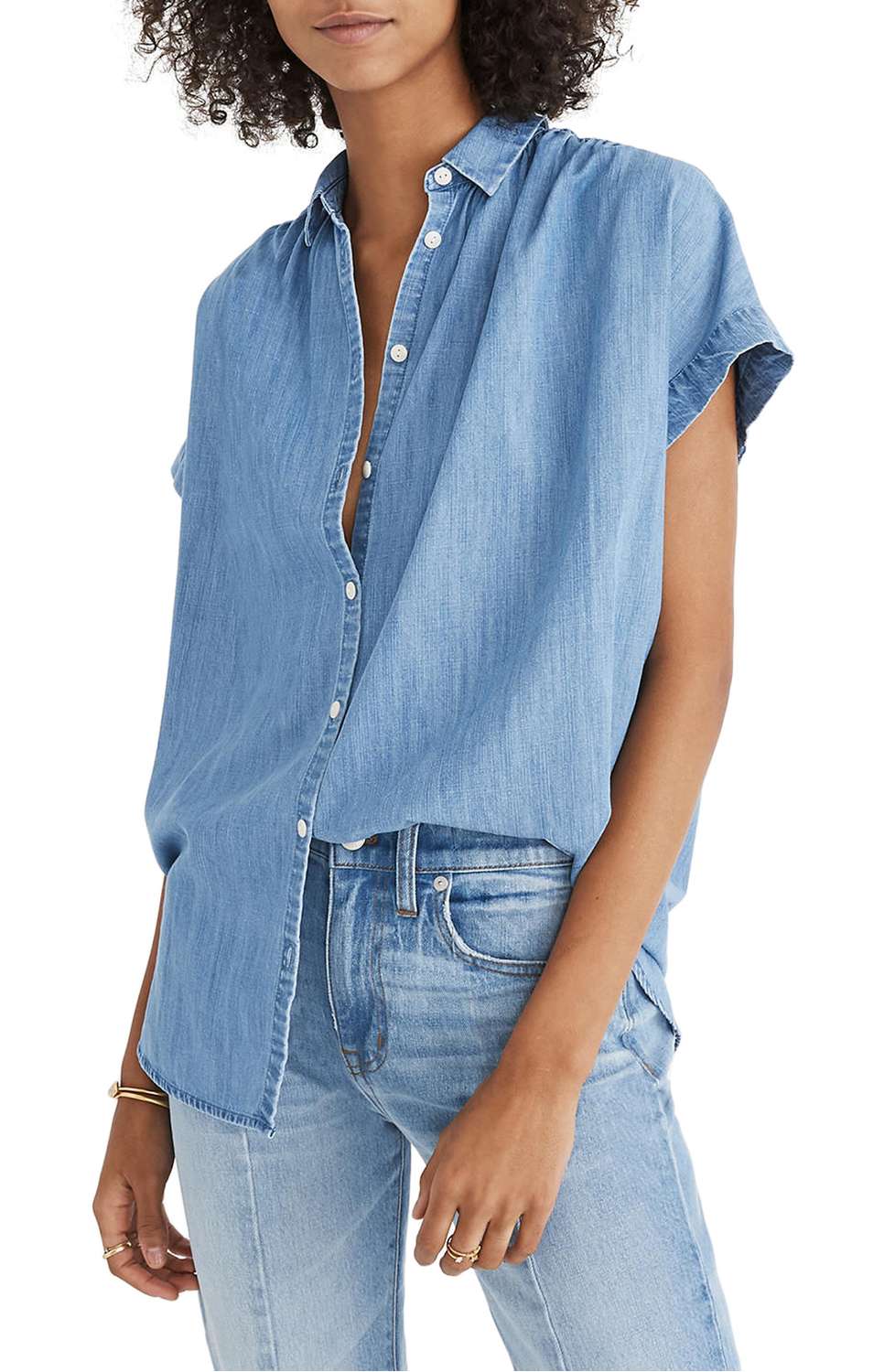 Madewell Short Sleeve Central Shirt
Straight sleeves: To get the most wear in many outfits, opt for chambray shirts with straight sleeves with no flare sleeves or ruffles on the sleeves.  By having one with straight sleeves, you'll be able to roll up the sleeves in the warmer months and you'll also be able to wear it under cardigans, jackets and blazers, yielding the most outfits.
Normal Shirt Length: You'll want to choose a chambray shirt with a normal shirt length, which will stop just below your waist, at your hip area.  Any longer than that, a tunic style, will look awkward with anything other than jeans or pants.
Slim fit: Avoid buying chambray shirts with a wide fit, like "oversized".  Sometimes that type of fit will make you look frumpy.  You want one with a slimmer fit, for a more fitted look.
Avoid pocket flaps: You'll want to avoid buying a chambray shirt with flaps on the pockets of the chest.  If you can, avoid a chambray shirt with pockets at all.  A more smooth front will look better under sweaters and will look less stuffy.  I'm loving this Classic Chambray Shirt from LL Bean!
Here are a few chambray shirts I recommend:

If you are needing outfit ideas using a chambray shirt, my new eBook, The Essential Capsule Closet: The Complete Capsule Wardrobe Guide will teach you everything you need to know about creating your own custom capsule wardrobe.  It includes a step-by-step visual capsule wardrobe creation guide, all the core closet essentials you need for your wardrobe, 30 outfit ideas, 20 color palettes, worksheets, a monthly outfits planner, plus more!
One of eBooks of the Spring 2018 season, The French Minimalist Capsule Wardrobe: Spring 2018 Collection is a complete wardrobe plan, that features a chambray shirt in the 25-piece collection!  All the clothes, shoes and accessories you need for an entire season of outfits is included, plus convenient shopping links, a checklist, a travel packing guide and more!
Here's a few ways I've worn a chambray shirt here on the blog.  You can see all my blog posts about chambray shirts here.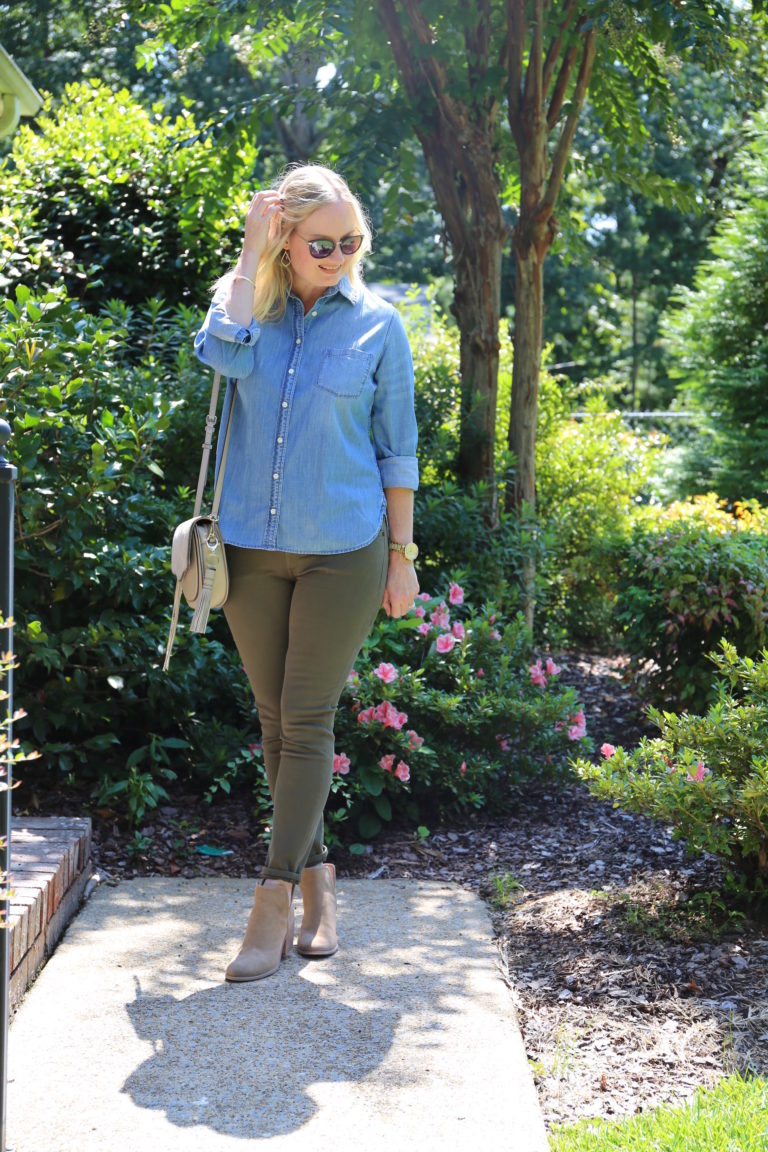 (original post: Chambray and Olive)
SHOP THE OUTFIT:
chambray shirt (similar)
olive jeans (exact)
booties (similar)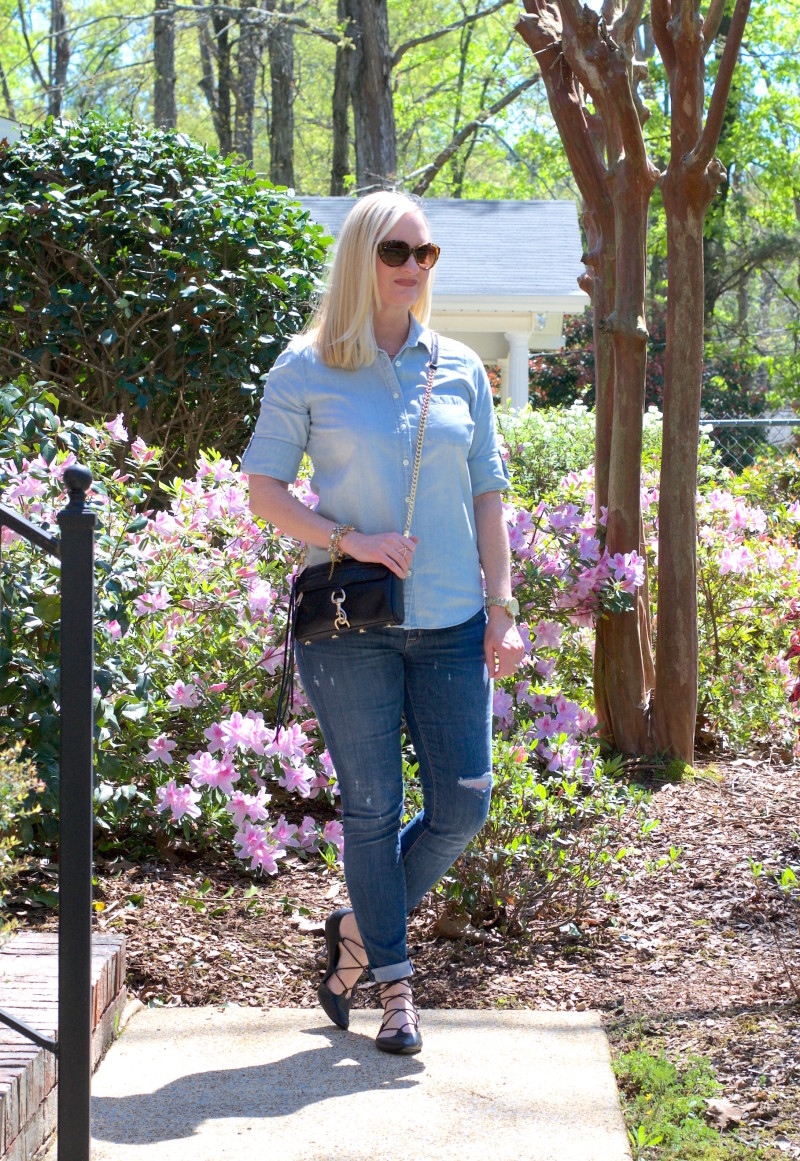 (original post: Chambray and Distressed Denim)
SHOP THE OUTFIT:
light wash chambray shirt (similar)
distressed jeans (similar)
crossbody bag (exact)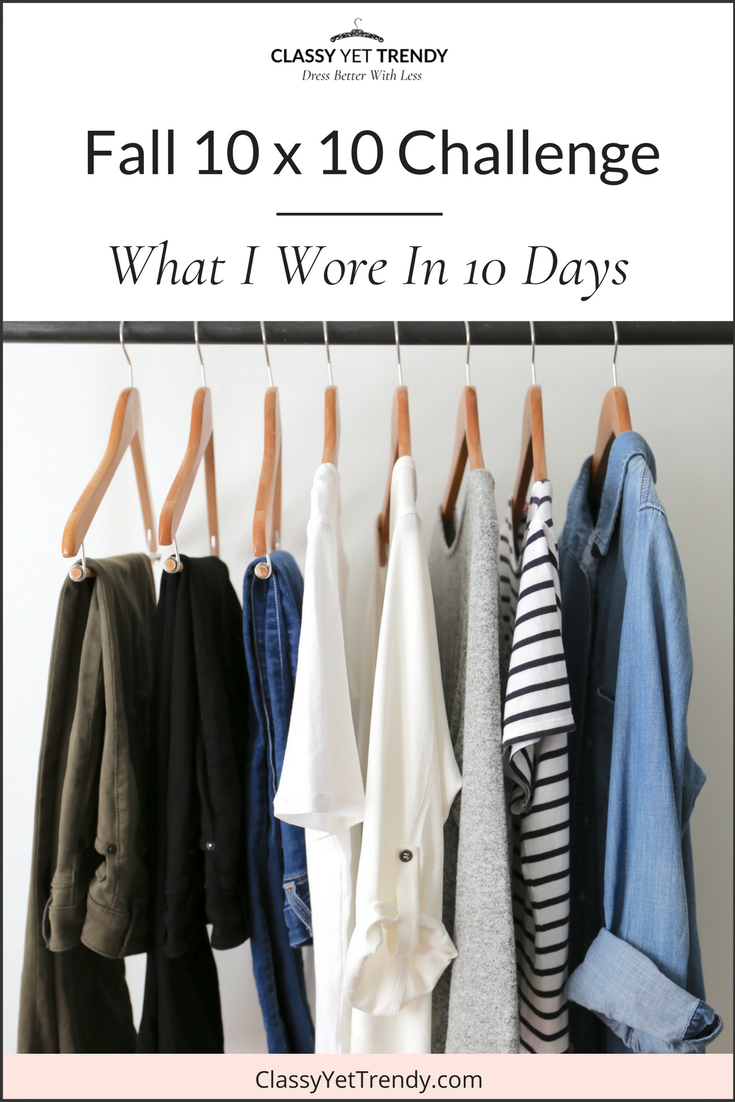 (original post: 10×10 Challenge)
SHOP THE POST (left to right):
olive jeans (exact)
black jeans (exact)
raw hem jeans (exact)
white tee (exact)
roll tab white blouse (similar)
gray fleece twist top (similar)
striped tee (exact)
chambray shirt (similar)
A few outfits on my Instagram account wearing a white tee: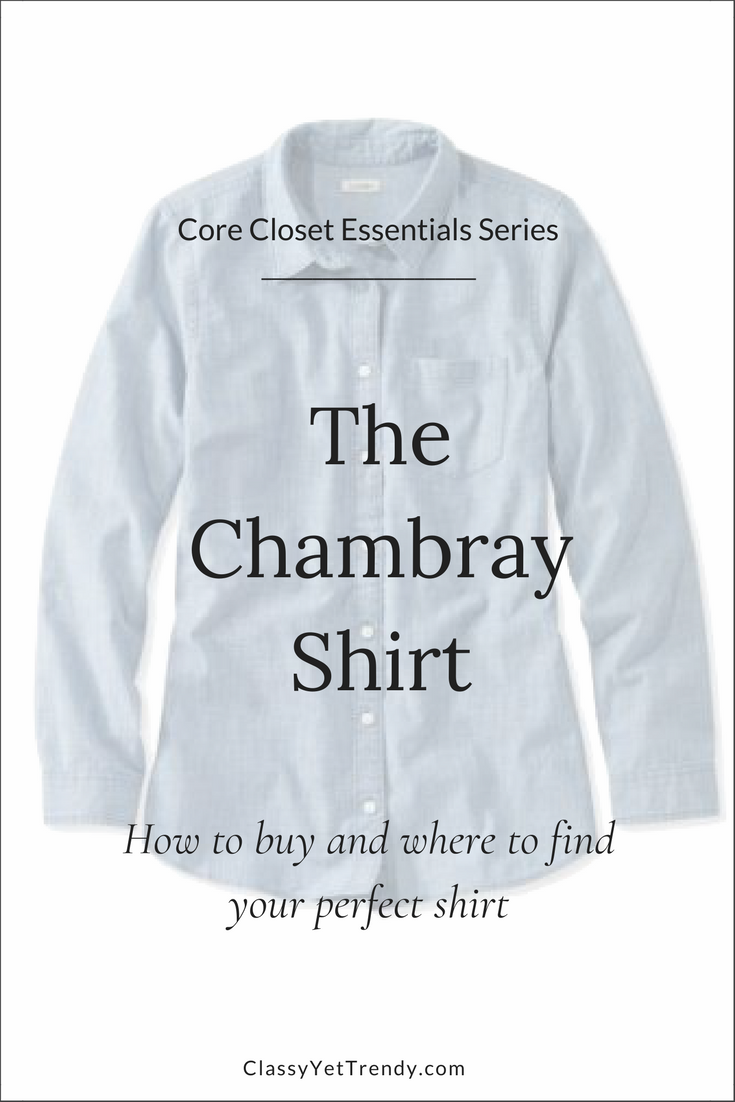 The two featured bloggers from the last linkup are:


1.  Please follow your Host 
2. Link up to 5 posts: 
it can be about fashion, style, beauty or lifestyle

(linkup to your blog post and not your main page)
3. Please include a link back to this post or place my linkup button in your post.
4.  Now, add your post(s) below!  I hope you enjoy the linkup and enjoy meeting other bloggers!
Each week I feature 2 bloggers from the previous link,
so link-up your blog posts for your chance to be featured!