Valentine's Day Favorites For Mom & Kids
Add a bit of Valentine's Day for your and your kids wardrobes: tops, tees, pj's and accessories in red and pink!
Valentine's Day is coming up soon! Other than Christmas, it is my favorite holiday, probably because it's my birthday! Don't you just love (no pun intended!) the colors red and pink and all the cute images of hearts and cupids associated with Valentine's Day? Let's not forget the candy…chocolates, conversation hearts and Reese's Cups in the shape of hearts, yum!
It's also a great time to wear Valentine-themed items, like tees, sweatshirts, scarves and jewelry. I have found several Valentine's Day items for Moms and Kids that you will love! I absolutely love this adult and kid Baby Yoda Tee Set (a boy or girl can wear the small tee) and this "Love" Gingham Heart Tee Set.
You will like this cozy Heart Embroidered Sweatshirt (Regular & Plus sizes) that you can wear with jeans or pants or wear it on your off day with some soft leggings at home snuggled up on the couch! This Abstract Hearts Scarf will complete your outfits for Valentine's Day. Add this pair of budget-friendly and comfy Red Microsuede Ballet Flats to brighten your outfit! And, put the finishing touches on your outfits with this hydrating Luminous Shine Lipstick in red, pink or coral and this Valentine Leather Drop Earrings (my favorite are the red/pink hearts design).
You may also like:
How To Clean Out Your Closet
How To Create a Core Closet
How To Create a Classic Wardrobe
The 10 Item Wardrobe (Makes 48 Outfits)
For the Kids, they will love wearing this darling Animal Print Pink Sweater! This Heart Plush Sweater and Heart Print Leggings will make a cute outfit. Add this cute Heart Stud Earrings and Heart Pendant Necklace to complete their outfits. If your daughter needs a dress to wear, this Polka Dot Pink Tulle Dress is so cute with the tulle on the skirt and this Heart Print Dress is just too precious! For baby, this Heart Knot Handband will look darling in those Valentine photos and they can wear it with this Heart-themed Bodysuit and Pants. Especially for a boy is this darling Valentine's Day Denim Suspender Set complete with a little red bowtie!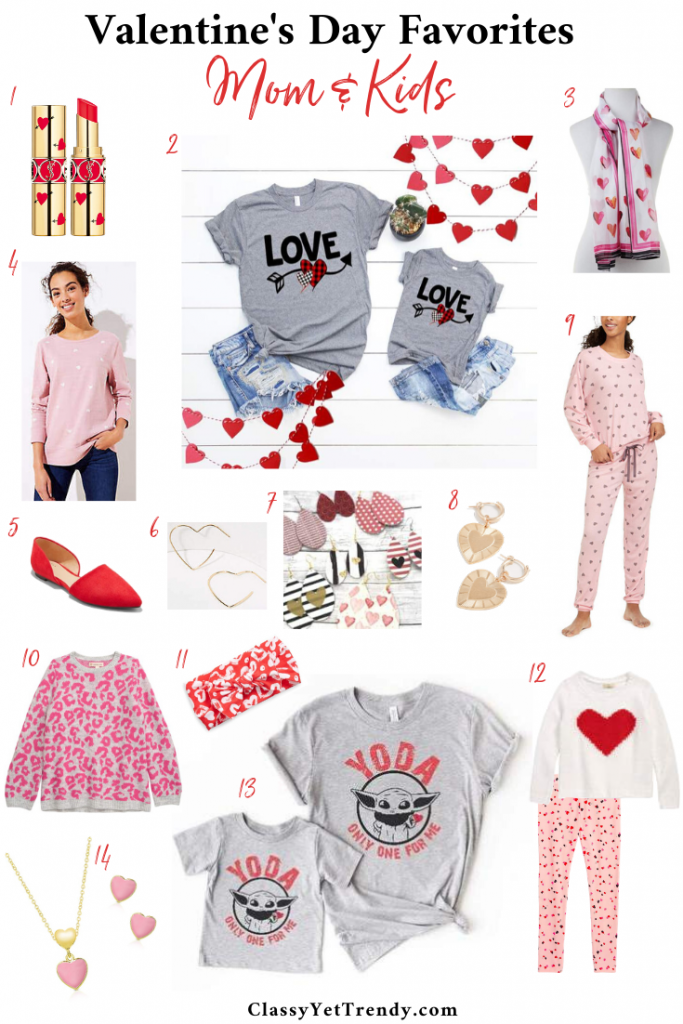 Shop The Post:
1. Luminous Shine Lipstick
2. "Love" Gingham Heart Tee Set
3. Abstract Hearts Scarf
4. Heart Embroidered Sweatshirt (Regular & Plus sizes)
5. Red Microsuede Ballet Flats
6. Heart Hoop Earrings
7. Valentine Leather Drop Earrings
8. Gold Heart Charm Earrings
9. Heart Pajamas Set
10. Animal Print Pink Sweater
11. Heart Knot Handband
12. Heart Plush Sweater and Heart Print Leggings
13. Baby Yoda Tee Set Just Darling!
14. Heart Stud Earrings and Heart Pendant Necklace
Shop More Valentine's Day Favorites:
You may also like:
How To Start A Capsule Wardrobe: A 5-Step Visual Guide
4 Ways To Add Color To Neutral Outfits
10 Athleisure Essentials For Your Closet