Tory Burch Spring Event Sale Favorites 25% & 30% Off!
Tory Burch is having a Spring Event Sale where you can get 25% – 30% off, best-selling items are included! And, let me tell you, there are LOTS of good things in this sale! There are several handbags, shoes, clothes and accessories, like small leather goods and jewelry on sale. When you spend $200 to $499, you receive 25% off. Items/colors labeled "Included in the Spring Event" are the ones on sale. When you spend $500 or more, you receive 30% off. Hurry, the sale ends March 28.
I first discovered the Tory Burch designer brand a few years ago when I started blogging. I went to a Tory Burch boutique store and fell in love with all the handbags. They were of exceptional quality and the designs were gorgeous. My first Tory Burch bag was a tote bag and I loved carrying it to work to my previous job when I worked as an accounting controller.
If you are looking for a bags that will coordinate with all your outfits, I recommend the Robinson Convertible Shoulder Bag, the Kira Pebbled Chain Wallet or the Robinson Small Tote in the "Gray Heron" colors. The Gray Heron is a neutral color that you can wear year-round and it will match your outfits.
A complete capsule wardrobe for your closet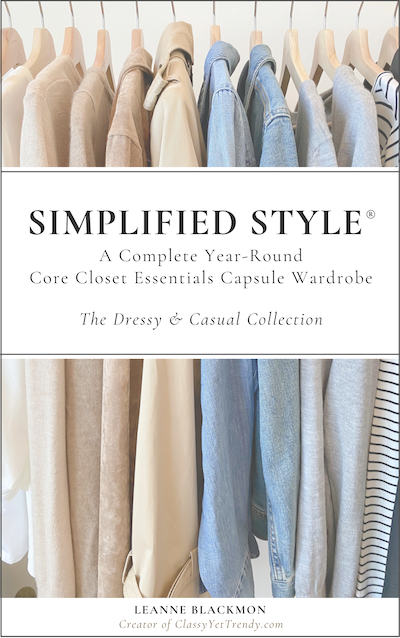 Several years ago, I had read great reviews about the Minnie Ballet Flats, so I bought a pair. I wore them so much that I had to replace them with a new pair! Now I have them in "black" and the "royal tan" (tan is on sale) colors and enjoy wearing them every time. See how I styled the flats below…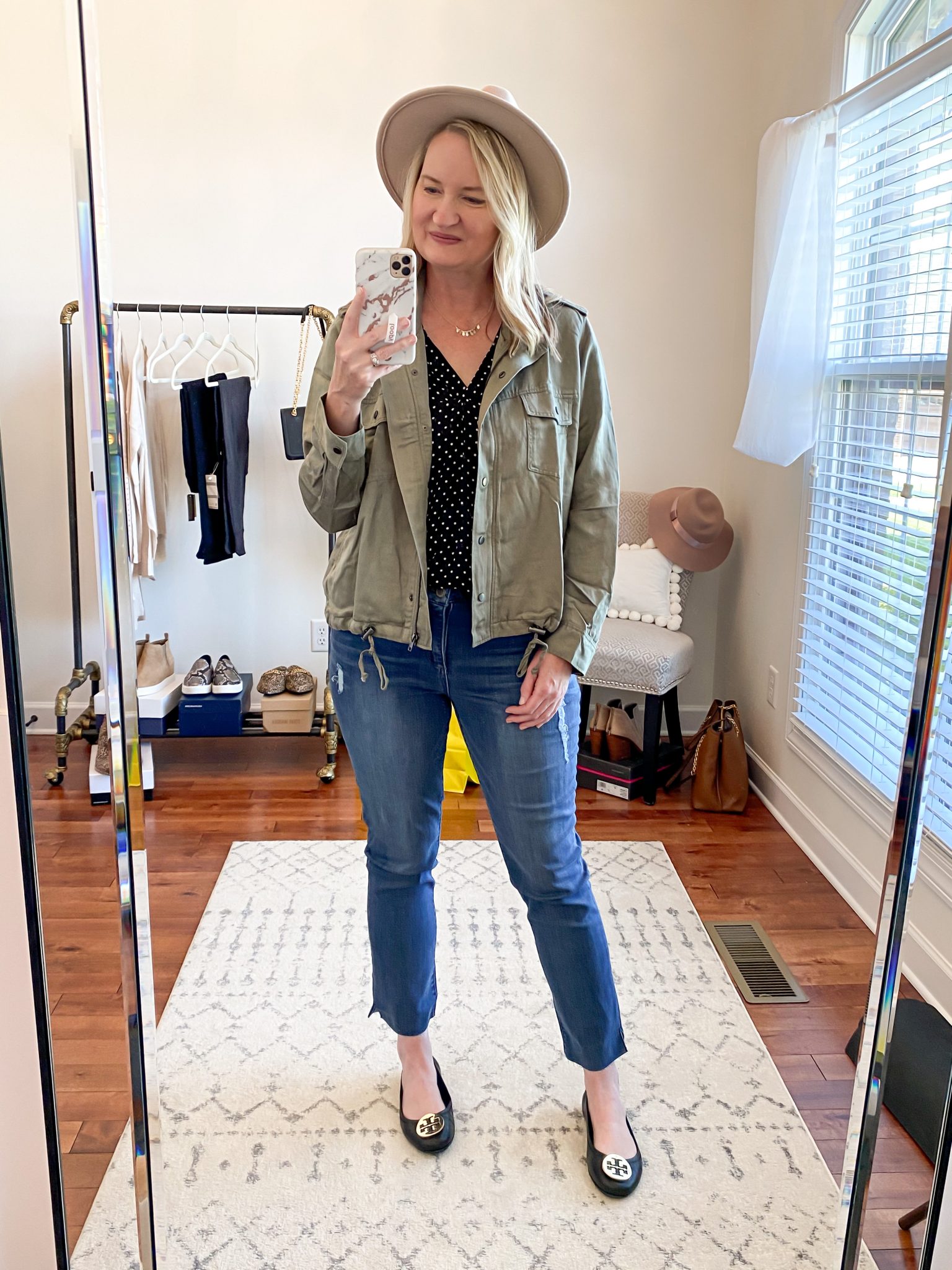 Outfit details in the "Nordstrom Anniversary Sale Try-On Session"
The Minnie Ballet Flats in the "royal tan" color are on sale.
I'm wearing the Minnie Ballet Flats in the "royal tan" color (this color is included in sale)
You may also like:
How To Create a Core Closet
How To Create a Classic Wardrobe
How To Dress Like a French Woman
How To Find Your Personal Style
In 2019, I bought the Kira Tote and ya'll it is simply gorgeous! See the tote with my outfit below from Instagram (the "devon sand" color is on sale). You will love this tote as it has 2 open compartments on either side with a zip compartment in the middle, plus it has a magnetic closure. I wear this tote 3 ways: on the crook of my arm (shown below), carry by the handles or on my shoulder.
I have the Miller Sandals and they are so pretty (wearing them below)! Here are all the Miller Sandals to choose from and the ones on sale are labeled "Included in the Spring Event".
Tory Burch Sale Favorites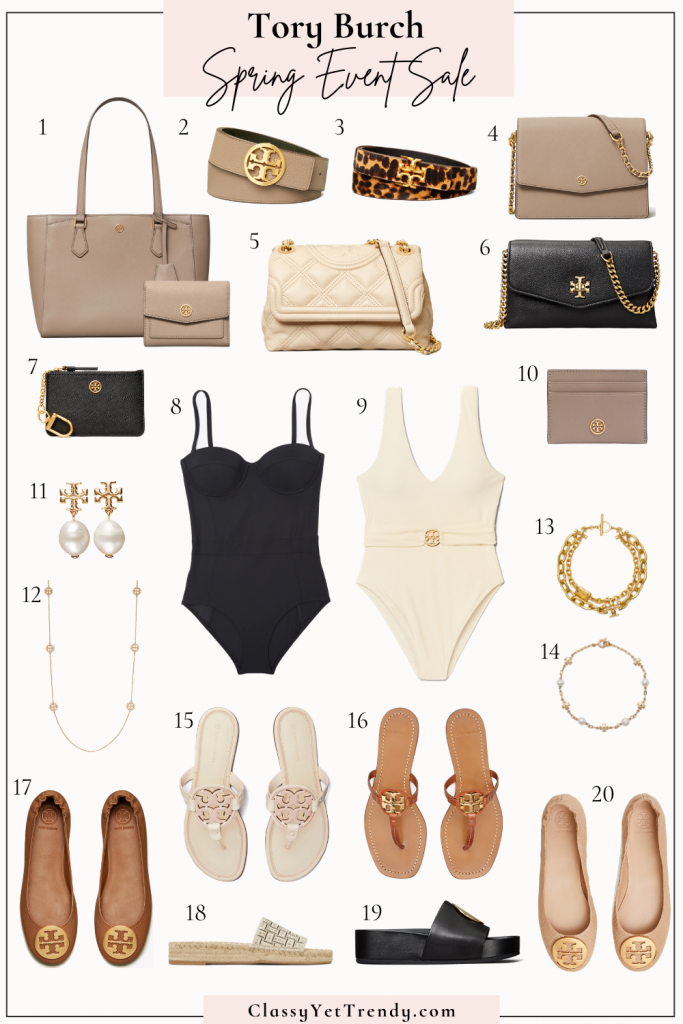 1. Robinson Small Tote / Robinson Mini Flap Wallet
2. Reversible Double "T" Belt
3. Kira Leopard Belt
4. Robinson Convertible Shoulder Bag LOVE this bag! (the ivory, taupe and black colors are all on sale!)
5. Fleming Soft Convertible Shoulder Bag
6. Kira Pebbled Chain Wallet Great Day or Night Bag!
7. Robinson Card Case Key Ring
8. Lipsi Black One-Piece Swimsuit Love this classic style!
9. Miller Ivory One-Piece Swimsuit So pretty!
10. Robinson Card Case
11. Kira Pearl Drop Earrings LOVE LOVE these!
12. Miller Pave Long Necklace
13. Torsade Statement Necklace
14. Kira Pearl Chain Bracelet
15. Miller Logo Sandal I have these in the "makeup" color and LOVE them!
16. Mini Miller Thong Sandals
17. Minnie Ballet Flats I have these and LOVe them!
18. Tory Espadrille Slides So pretty for the Spring & Summer seasons!
19. Petos Slides LOVE these sandals!
20. Minnie Quilted Ballet Flats
Shop The Post:
I am seriously considering buying the Robinson Convertible Shoulder Bag, the Reversible Double "T" Belt and the Kira Pearl Chain Bracelet! I have been eyeing the Robinson Convertible Shoulder Bag for a while now and everytime I see it I think it is simply gorgeous. What are your favorites?
A Bit Of Inspiration For Your Day:
"One thing I ask from the Lord, this only do I seek: that I may dwell in the house of the Lord all the days of my life, to gaze on the beauty of the Lord and to seek him in his temple." – Psalms 27:4