The Spring season is in full swing and the latest trends are in the stores!  Retail stores are recovering from the pandemic as I am seeing more styles available and size availability is much better! Since it is the beginning of the season, now is the time to incorporate a few trends in your wardrobe. If you use a capsule wardrobe, you may want to add one or two trending items which will coordinate with your basic essentials. If you don't use a capsule wardrobe, feel free to add a few of these trending items to freshen your wardrobe for the Spring season!
Adding a couple of trending clothes or shoes to your wardrobe is a great way to change up your wardrobe a bit.  If you are on a budget, just adding a pair of trending shoes, like these Sam Edelman Briar Slide Sandals, can instantly elevate your outfits!  
As a blogger, I see what real women are wearing everyday on social media such as Instagram, YouTube and Pinterest and I stay up-to-date on which is trending so I can pass along the info to you all! I like to add a few trends to my capsule wardrobe every season, whether it be a trending top, jewelry, a handbag or shoes.
Here are several trends that are popular for the Spring season…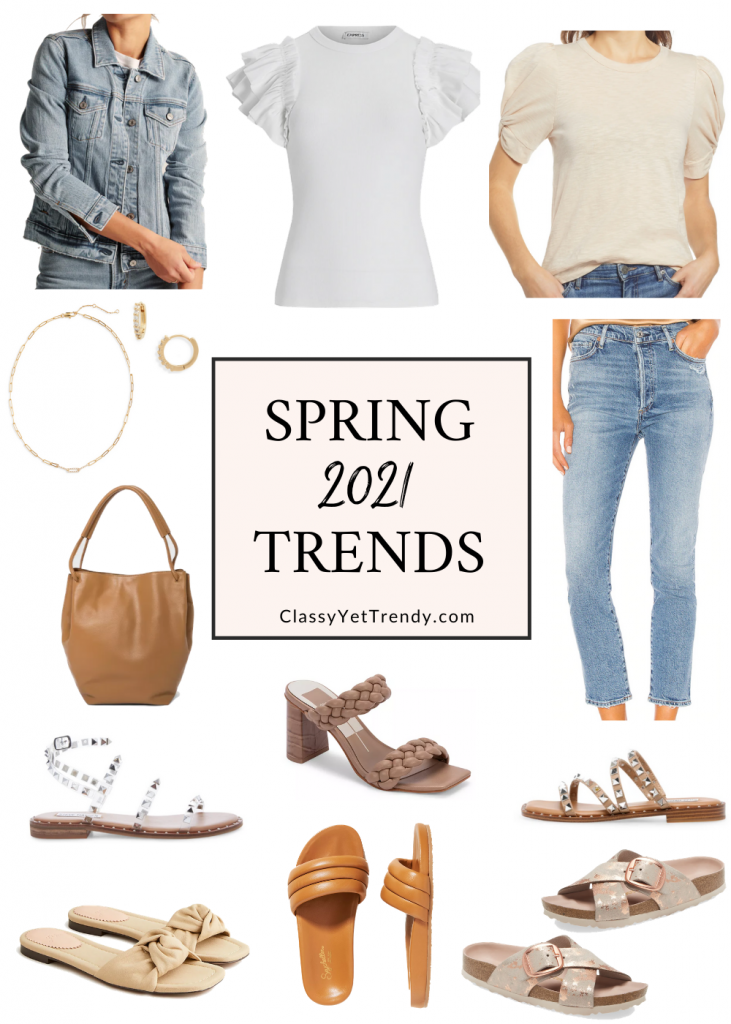 Shop The Collage:
Light Wash Denim Jacket / Ribbled Ruffle Sleeve Top / Knot Puff Sleeve Top
Pave Link Collar Necklace / Gold Hoop Earrings / Target's A New Day Soft Shoulder Bag
Citizens of Humanity Slim Straight Jeans / Clear Studded Sandals / Paily Braided Sandal Heels
Skyler Sandals in "tan" / J. Crew Knotted Sandals / Seychelles Low Key Slide Sandals
Siena Big Buckle Criss Cross Sandals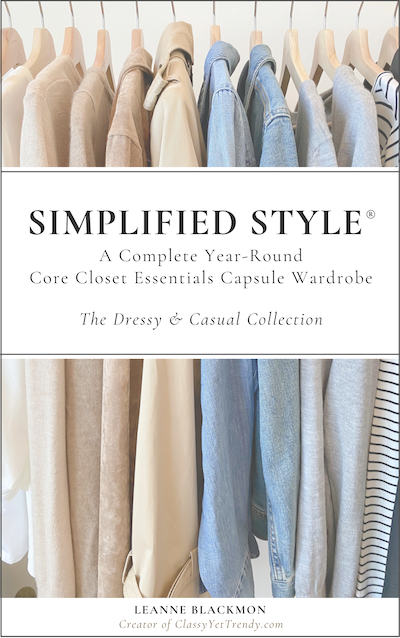 #1 – Straight Jeans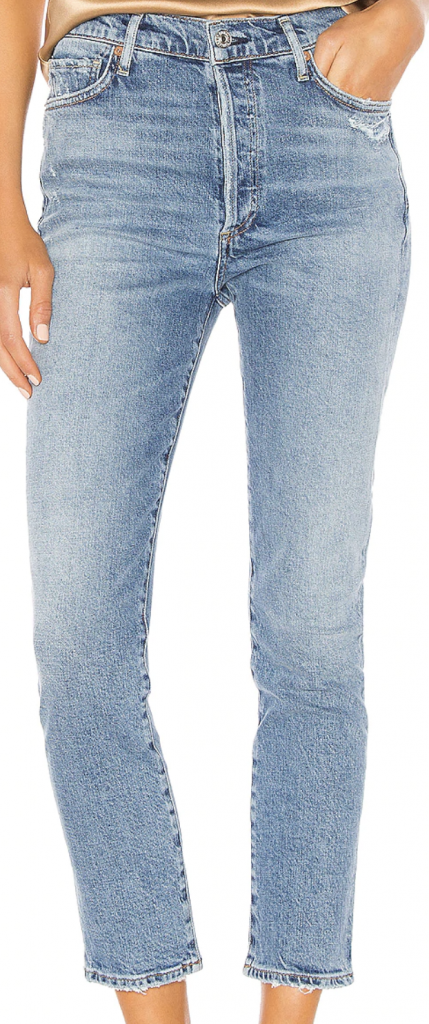 Citizens of Humanity Slim Straight Jeans
Straight jean styles have gained popularity in the recent months and they are going strong this Spring! You may have heard that "skinny jeans are out", but the sillouette of the skinny jean style goes with so many tops and layers that I believe they will remain a popular style. I do believe the "super skinny" style is on the backburner currently, but I'm still seeing the regular "skinny" style. Regular straight jeans are tricky to style as they may look frumpy with some tops, but the key to getting a good straight jean is to get a "slim straight" style. The "slim straight" cut is more relaxed than a skinny jean, fits great and avoids the frumpy look. I have these Citizens of Humanity Olivia Slim Straight Jeans and these AGOLDE Nico High Rise Slim Jeans, which both are very similar in fit and style. They both have the vintage medium wash denim texture. They are both soft denim and have a touch of stretch so they aren't stiff.
Shop These Straight Jeans:
You may also like:
How to Build A Travel Capsule Wardrobe
How To Clean Out Your Closet
How To Create A Carry-On Capsule Wardrobe (Spring Edition) + Outfits
How To Create a Core Closet
#2 – Puffy Slide Sandals
This is the next biggest trend I'm seeing this season! These sandals are a nice changeup from the slim styles we saw last year. My favorites are the puffy slide sandals shown above and I also like these J. Crew Knotted Sandals and these Sam Edelman Briar Slide Sandals, which come in several colors!
Shop These Puffy Slide Sandals:
#3 – Woven Sandals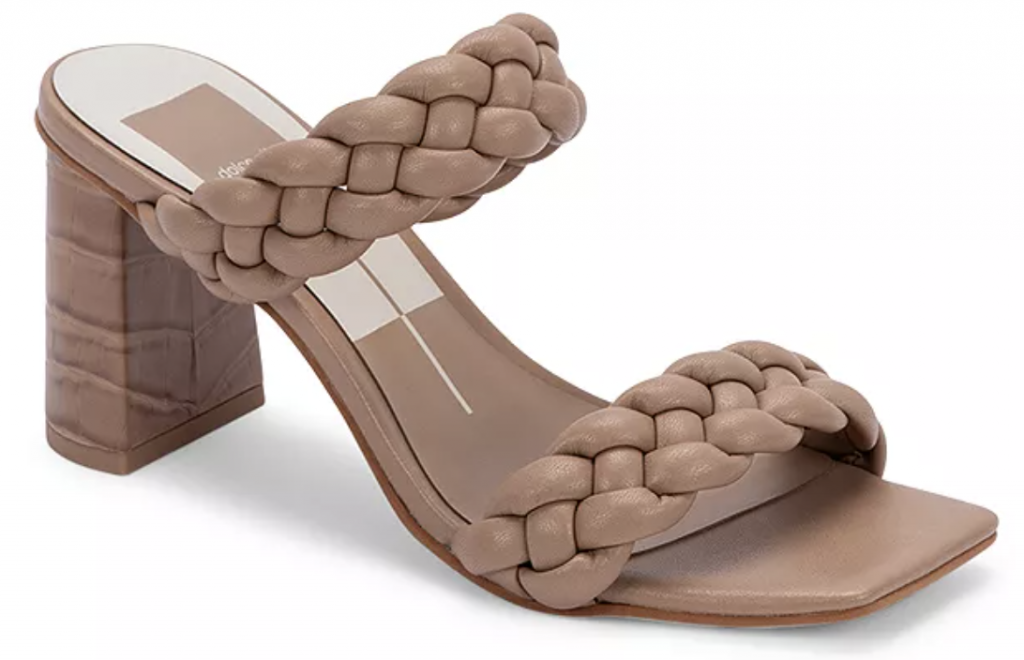 Dolce Vita Women's Paily Braided Sandal Heels
This style of sandal is gorgeous, especially these Dolce Vita Women's Paily Braided Sandal Heels, which will go with dresses, skirts, jeans and pants. Flat woven sandals are great to wear with many bottoms too, including shorts, like these Reanna Slide Sandals, which come in a few colors. I also like these Madewell Lianne Slide Sandals, which comes in black, brown and a beautiful multi-color.
Shop These Woven Sandals:
#4 – Birkenstock-Style Sandals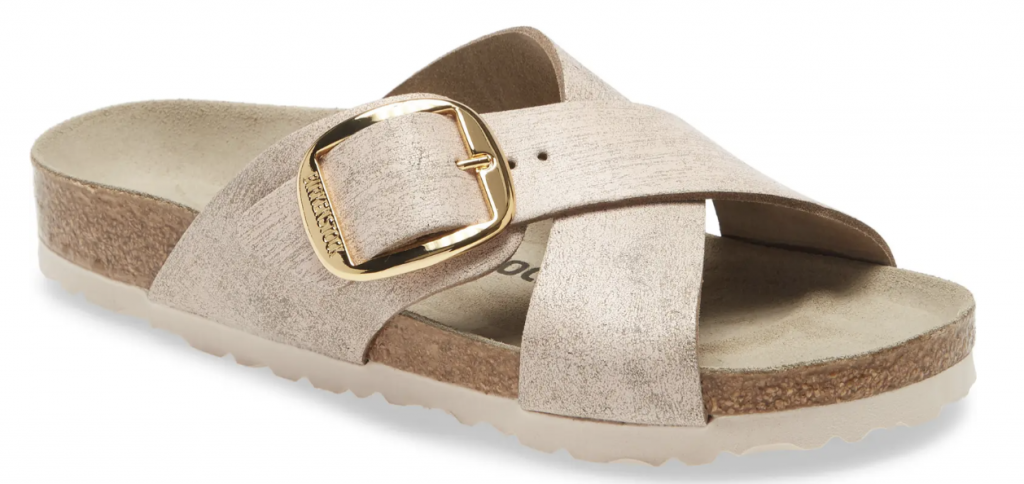 Siena Big Buckle Criss Cross Sandals
I'm so glad to see these sandals are on trend! I have worn my Birkenstock Granada Sandals ("tobacco" color) for the past 2 summers and I absolutely love them! I would have a closet full of Birkenstock sandals if I could! I love these Birkenstock Arizona almond color Sandals and these Siena Big Buckle Criss Cross Sandals in the "metallic rose gold" and the "metallic rose copper" colors!
Shop These Birkenstock-Style Sandals:
#5 – Embellished Sandals

Steve Madden Skyler Sandals in "tan"
Embellished sandals were popular last year and they are back again! These Steve Madden slide sandals and these Steve Madden gladiator sandals (the clear color is gorgeous) with the stud accents are very much on trend. The Dolce Vita Izabel Stud Slide Sandals are beautiful and comes in 5 colors!
Shop These Embellished Sandals:
#6 – Feminine Sleeve Tops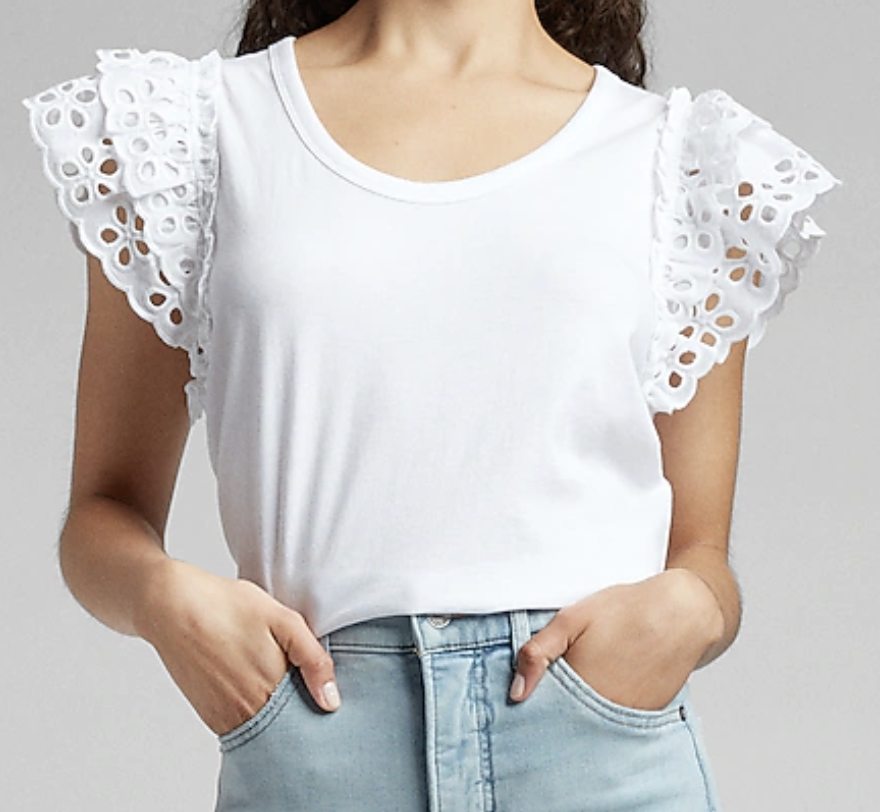 Feminine sleeve tops with flutter sleeves, ruffle sleeves and puff sleeves are back again this year! They instantly elevate an outfit and you can wear them with skirts, pants, jeans and shorts. Some tops are even bigger and bolder like this Ribbed Ruffle Sleeve Top and this Ruffle Lace Sleeve Top (I love this one in the "pecan" color).
Shop These Feminine Sleeve Tops:
You may also like:
The 10 Item Wardrobe (Makes 48 Outfits)
Travel Light: 2 Weeks In a Carry-on
10 Ways To Wear A Denim Jacket
#7 – Exagerrated Muscle Tops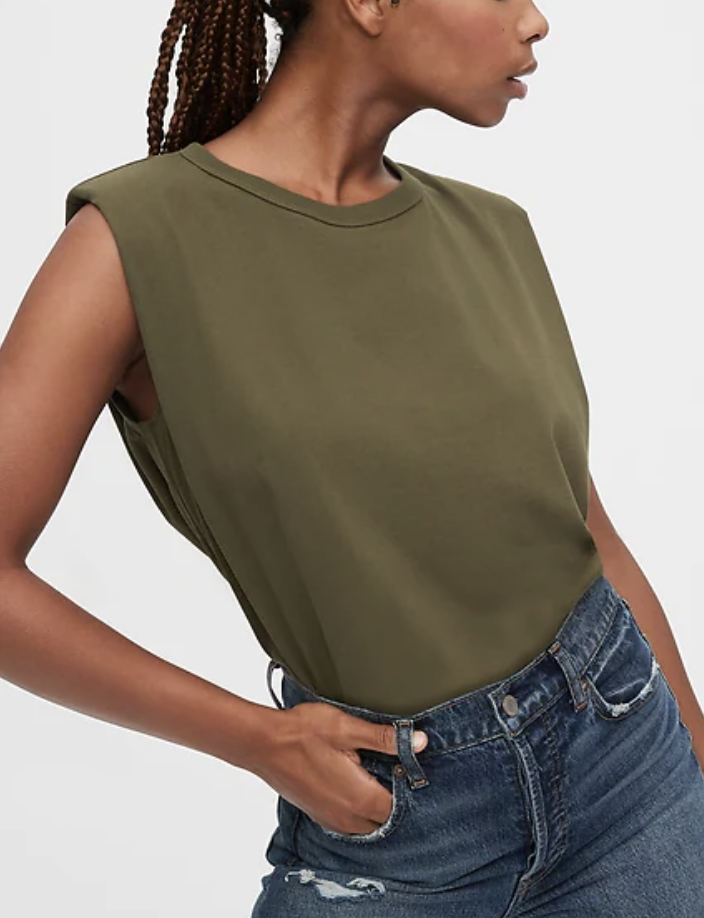 I believe this is a new trend this year because this is the first time I have seen this style of top. They are like a muscle tank top but the fabric drapes slightly over the shoulder to create a broader shoulder line. Some of these tops have padding in the shoulders (like this one shown above) giving them a bit of lift to the shoulder. They are definitely a modern looking style of top that goes easily with skirts, pants, jeans and shorts!
Shop These Exagerrated Muscle Tops:
#8 – Light Wash & Distressed Denim Jackets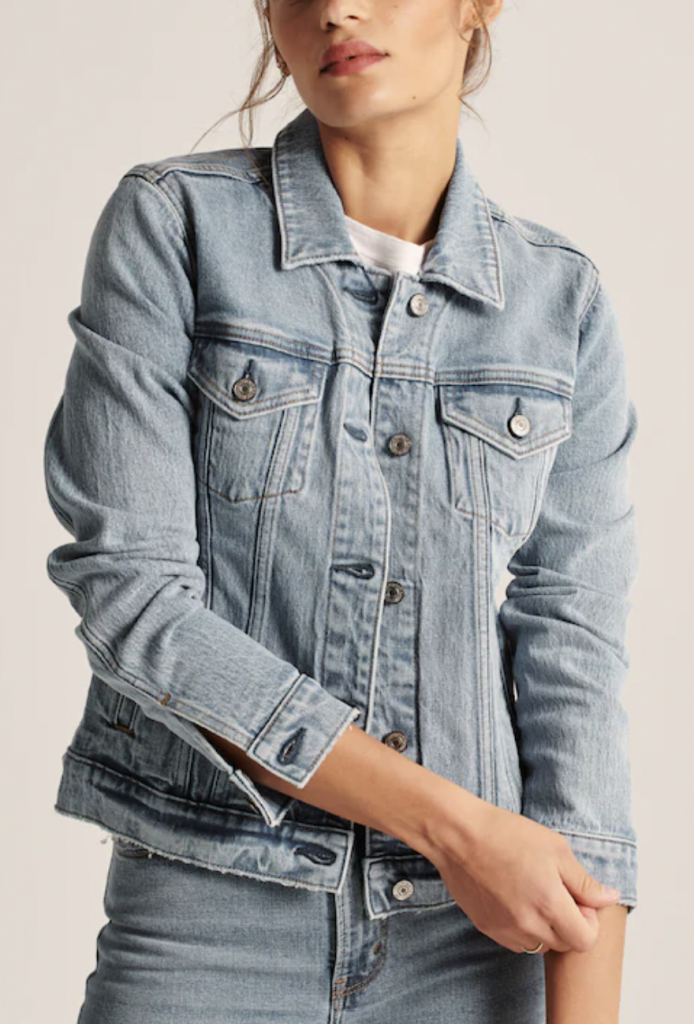 Abercrombie & Fitch Light Wash Denim Jacket
While denim jackets have been a wardrobe staple for years, I have seen a lot of light wash and distressed denim jackets this season. The Merly Jacket from Able (an ethical fashion company) is a light wash distressed jacket and is gorgeous. Even though it is a pricier jacket, the fit is great and it is so soft and the denim moves with you, unlike the traditional denim jacket. I ordered it and loved how it fit but the denim color didn't go well with my skin tone. The Merly Jacket looks great on fellow fashion blogger Amanda, from Lux Mommy, in this post. This Kara Denim Jacket from Evereve is so pretty and I love the frayed hem! And, Old Navy nailed it with this Lighter Wash Denim Jacket, as the color and slight distressing are spot on and of course the $40 price is very affordable. If you prefer a denim jacket that is slightly soft and has movement, look for the material content that is a cotton blend, not 100% cotton. Look for Lyocell or Elastane, as they provide softness and/or elasticity that allows the jacket to move with you.
Shop These Light Wash & Distressed Denim Jackets:
#9 – Gold Metal Jewelry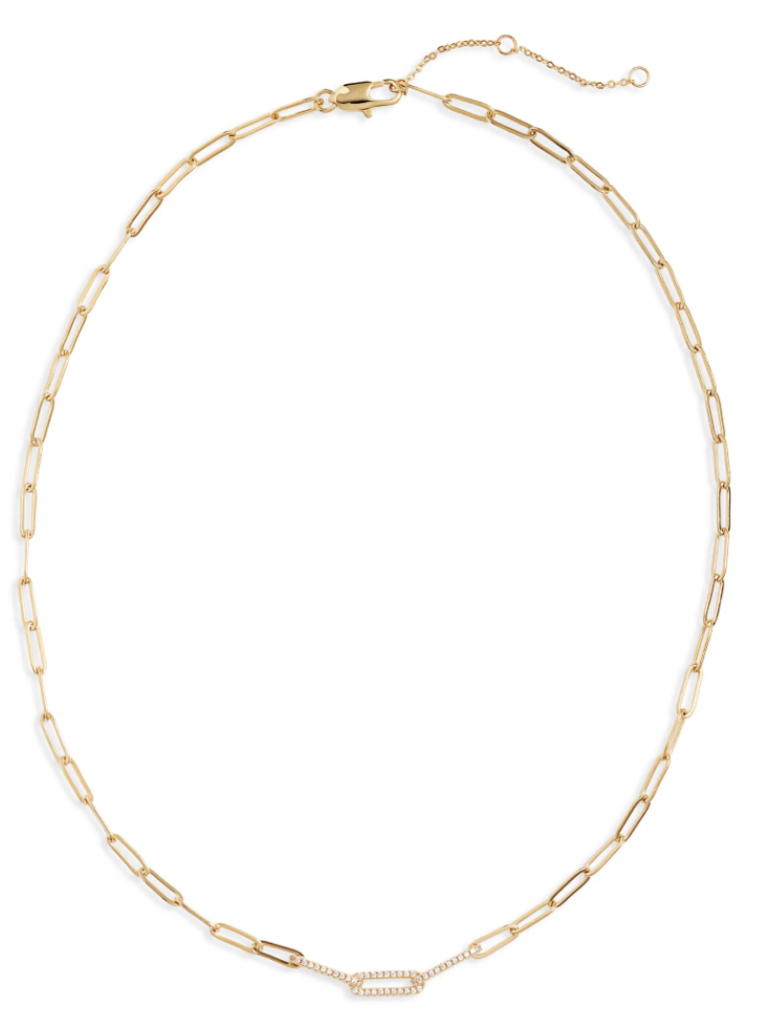 Gold jewelry has been very popular for the past few months and both delicate and bold styles have been on trend. Gold paperclip and link necklaces are at several retailers, like this Pave Link Collar Necklace and this Parker Link Necklace. I am considering ordering this Vervelle Double Chain Bracelet and this Filia Chain Bracelet, both from Missoma, who makes gorgeous well-made jewelry.
Shop These Gold Metal Jewelry:
#10 – Soft & Puffy Handbags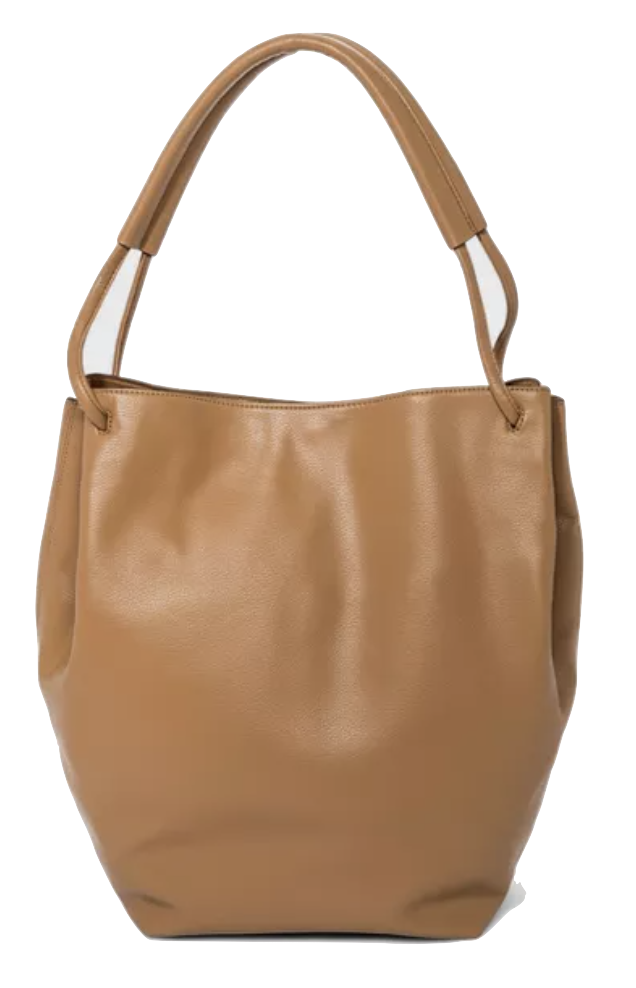 Target's A New Day Soft Shoulder Bag
Puffy bags have been around for a few seasons and they are on trend, as well as soft styles. The hobo style shown above from Target is a great option at $40 if you don't want to invest in a bag, but still include the trend in your wardrobe. Here is the bag in a similar knotted style.
Shop These Soft & Puffy Handbags:
A Bit Of Inspiration For Your Day:
"Do not let your hearts be troubled. Trust in God; trust also in me." – John 14:1