Nordstrom Anniversary Sale 2023: How To Shop The Sale & Items I Own and Love
The annual Nordstrom Anniversary Sale has started! The Anniversary Sale is when Nordstrom brings out LOTS of new fall and winter styles and immediately marks them down so you can get both wardrobe staples and new trends for the season at big discounts before the fall season even begins. This annual sale is different than retailer traditional sales. Instead of items being marked down as the season ends, NEW items are discounted before the season even begins!
FYI, all of my #NSale 2023 coverage can be found under the NSALE 2023 tab at the top of ClassyYetTrendy.com. (If browsing on your phone, tap the 3 lines at the top, for the dropdown menu.) As I add new posts, they will be added to that tab.
See the items I Own & Love below!
What Is The Nordstrom Anniversary Sale?
The Nordstrom Anniversary Sale is considered the most iconic sale of the year. This sale has become legendary among Nordstrom customers who enjoy outstanding savings on the most exciting new Fall and Winter items. There's also summer items on sale too at deep discounts! I have been shopping at Nordstrom for several years now. I first discovered the department store when I starting this blog in 2014. I was blown away at all the brands they carry in the stores and online. Shopping online at Nordstrom is super easy, convenient, have fast free shipping and they have free return shipping too!
The Nordstrom Anniversary Sale is when I buy any capsule wardrobe foundation essentials like tees, jeans, sweaters, cardigans and shoes. If there are any clothes or shoes in my wardrobe that need replacing, the Anniversary Sale is the perfect time to buy quality-made items at low prices.
What Are The Dates Of The Anniversary Sale?
July 11: Early Access for Icon Status Nordstrom Cardholders
July 12: Early Access for Ambassador Status Nordstrom Cardholders
July 13: Early Access for Influencer Status Nordstrom Cardholders: If you have a Nordstrom Card, you can shop during this time! This is the ideal time to shop. Tons of items sell out during this time frame and not everything restocks unless there is a return somewhere in the system. If you don't already have a Nordstrom Credit Card, you can sign up here!
July 17: Nordstrom Sale open to the public!
If you're still unsure about when you can shop, visit this page and log into your account. Once you're logged in, it will show your cardholder status on the yellow banner.
August 6: Last day to shop the Nordstrom Anniversary Sale.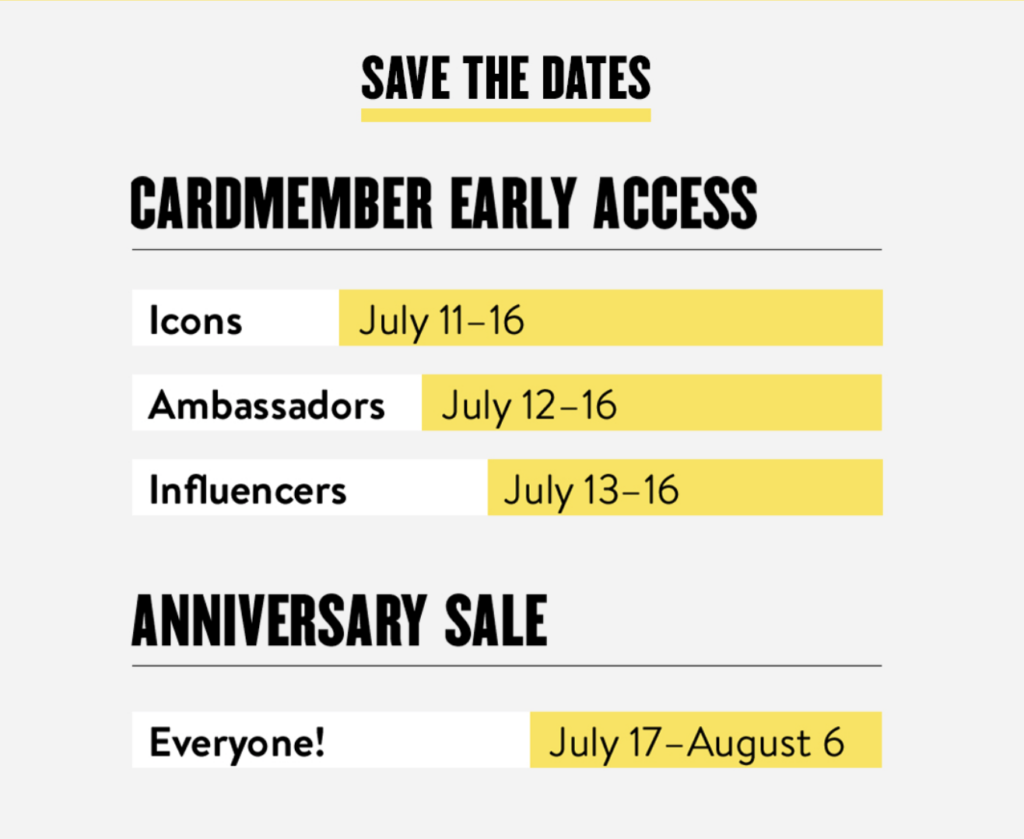 How Do I Get Early Access?
Early Access to the sale is available to Nordstrom cardmembers. The sale start dates are arranged based on your Nordstrom Cardmember Status. You can find out your Nordstrom Cardholder status here. I have had the Nordstrom card for several years and it makes shopping at Nordstrom more convenient! Nordstrom is one of my most favorite stores to shop!
If you don't have a card, you can sign up for one here.
What Are The Benefits Of The Nordstrom Card?
Early Access to the Nordstrom Anniversary Sale to shop for items before they sell out.
You can sign in to access your card online and start shopping right away.
Earn 2 points per dollar spent in stores and online at Nordstrom, Nordstrom Rack, HauteLook and Trunk Club.
Plus, get a $20 bonus Note when you spend $100 at Nordstrom with your new Nordstrom card the day you're approved.
No annual fee
24/7 Nordstrom Customer Service
Go here to sign up, and click Apply Now to submit your application. The application is simple and the approval process is quick.
Create A Wishlist Before It Is Time To Shop
Before it is time for you to shop, you can add sale items from the Anniversary Sale section to your Nordstrom Wishlist to purchase when your access level comes up. This is awesome because you can make a plan and shop the sale strategically, rather than buying impulsively.
I have spent several hours going through page after page of all the items that will be in the sale and selected a few items for myself, plus noted items that I recommend to you all! I shop the sale online not only because the closest Nordstrom store is 3 hours away, but so I can shop with purpose and stay focused on what I actually need to buy for my closet.
I bookmarked the items I want to purchase and saved them to my Wish List…it's easy!
When you find an item you want to buy in the sale, you select your size and color, then click on the "Add to Wish List" button.
When it is time for you to shop, just move the items from your Wish List to your shopping cart
Check out and you are done!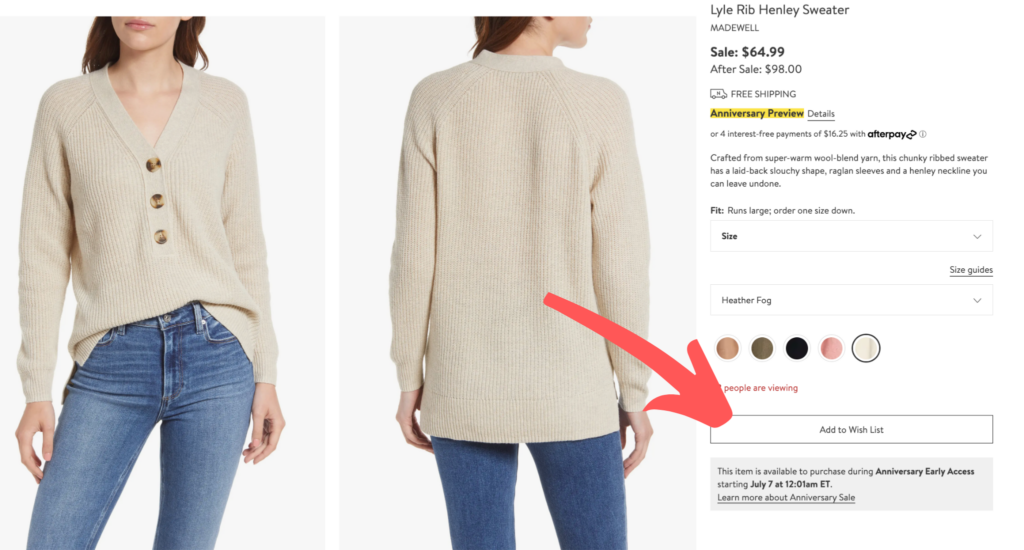 Anniversary Sale Shopping Tips
Shop Online – Since I live about 3 hours away from the nearest Nordstrom retail store, I always shop the sale online. I've heard from other fashion bloggers that shopping in the store, especially the first few days of the sale, is very busy! When I shop online, it's quick to find what I'm looking for, especially using the "wish list" feature, you instantly can pick your sizes and you save time and shop from the convenience of your home!
Buy Multiple Sizes – Items sell out quickly, so if you need to exchange your item for another size, it might be available. If I'm unsure about what size to buy, I will buy two sizes, then send back the one that does not fit with free shipping.
Keep Checking On Items That Sell Out – If an item that you want sells out, keep checking back. Nordstrom will often restock return items, so your size may become available.
Download the Nordstrom App – you can get notified when items in your Wish List and Shopping Bag are back in stock using the Nordstrom App. When I am on my phone, I prefer using the App since the menu stays at the bottom of the screen and is easy to access.
Double Your Rewards – Cardmembers can use a Personal Double Points Day to earn 2X the points on any day you choose.
Get Email Updates – Sign up for emails so you can stay up to date on Anniversary Sale news.
Contactless Curbside Pickup – It's a fast and convenient way to get your Anniversary Sale finds! Click here to find a Nordstrom store near you.
Items I Own and Love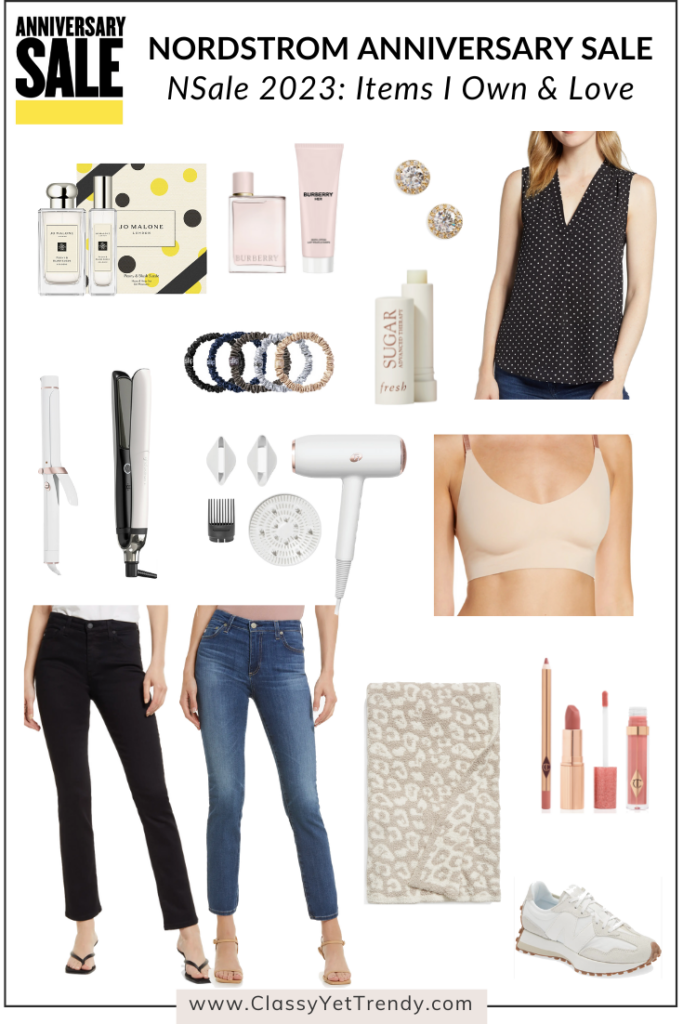 Shop The First Picks:
AG Mari Slim Straight Jeans – These are my MOST favorite brand and style of jeans! Some straight jeans can be baggy, but the "slim straight" style is slender and accentuates your figure. I have these in the medium wash color and black color. This dark wash color is also in the sale and I'm seriously considering buying these! See me wearing the medium wash color in a previous blog post below.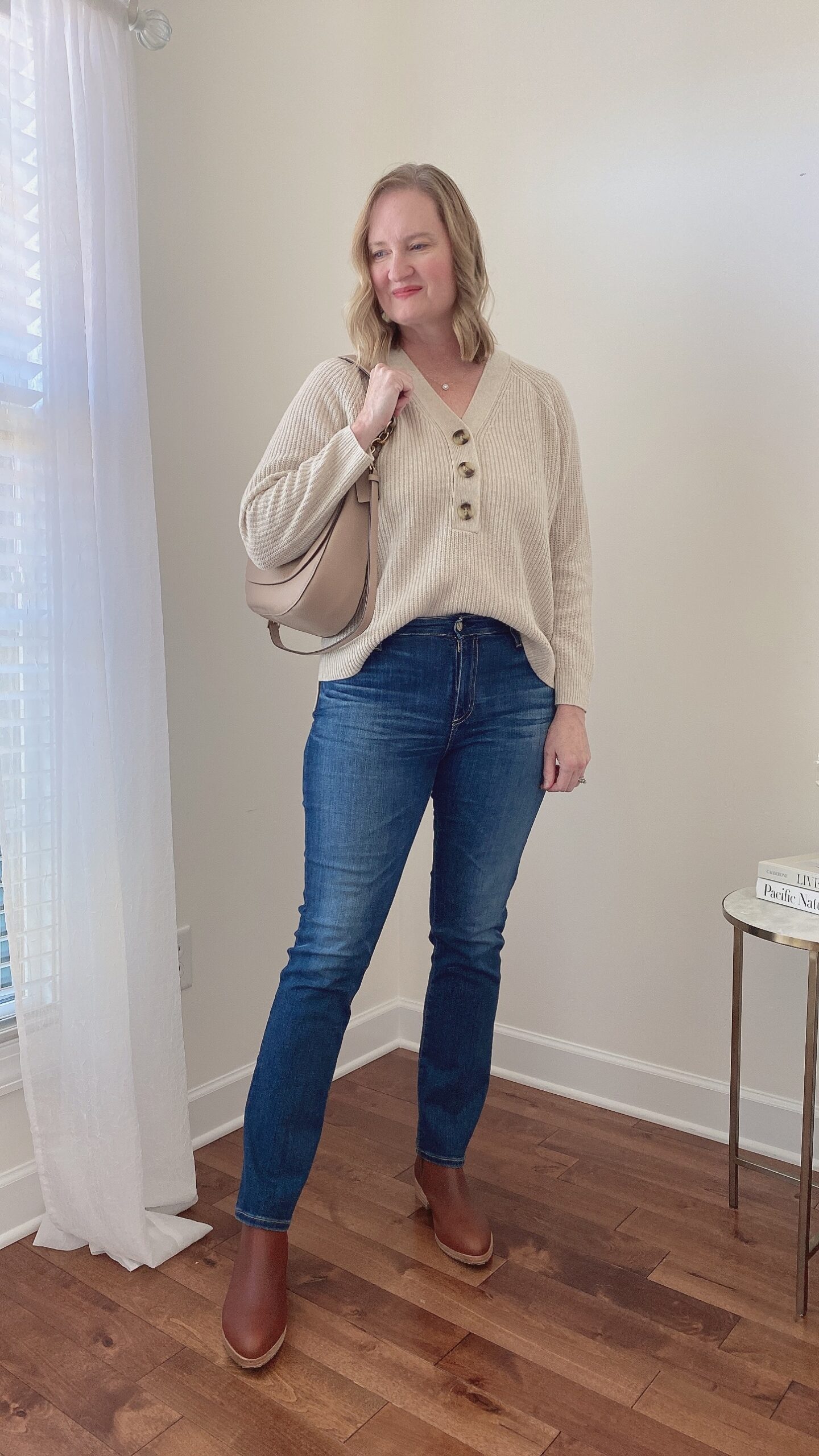 see the AG Mari medium wash jeans in this blog post
Jo Malone Peony & Blush Suede Perfume – This is one of the two perfumes I wear and I'm so happy to see a gift set in the sale!
Burberry Her Perfume – This is the other perfume I wear. I'll be buying this gift set that includes the perfume and body lotion.
Halo Cubic Zirconia Stud Earrings – I bought these earrings a couple of years ago and they are one of my most worn pair of earrings!
Vince Camuto Polka Dot Top – I'm glad to see this top in the sale! I have had this top in my closet for a couple of years and wear it to church by itself in the Summer with pants and in the Fall and Winter underneath cardigans! See me wearing this top in a try-on session below.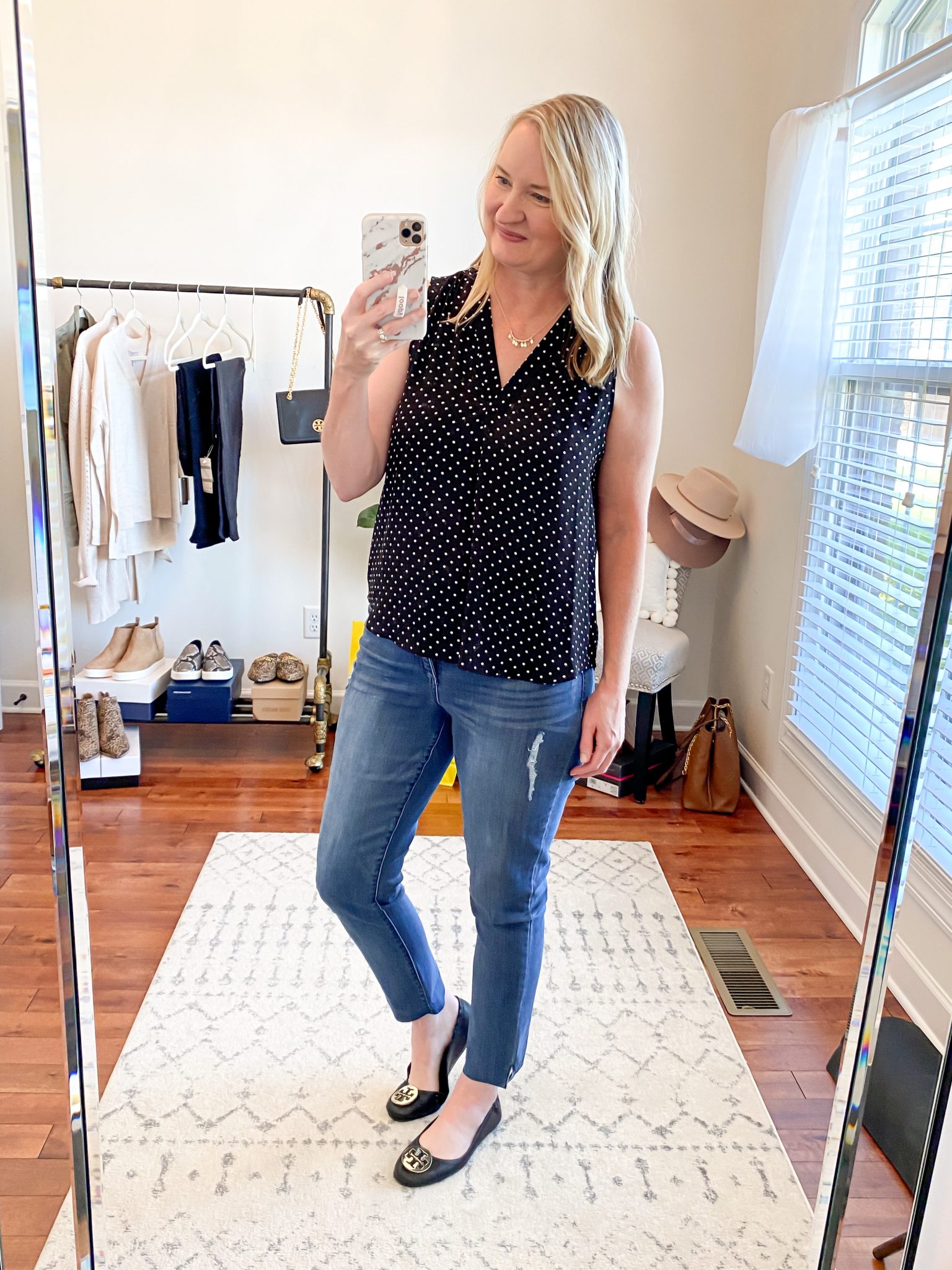 see the Vince Camuto Polka Dot Top in this blog post
True & Co Convertible Strap Bralette – These are the ONLY bras I wear! I have several of the "desert" color and two "black" colors. There is no underwire, has adjustable convertible straps that you can wear with regular tops and sleeveless tops and removable soft cups.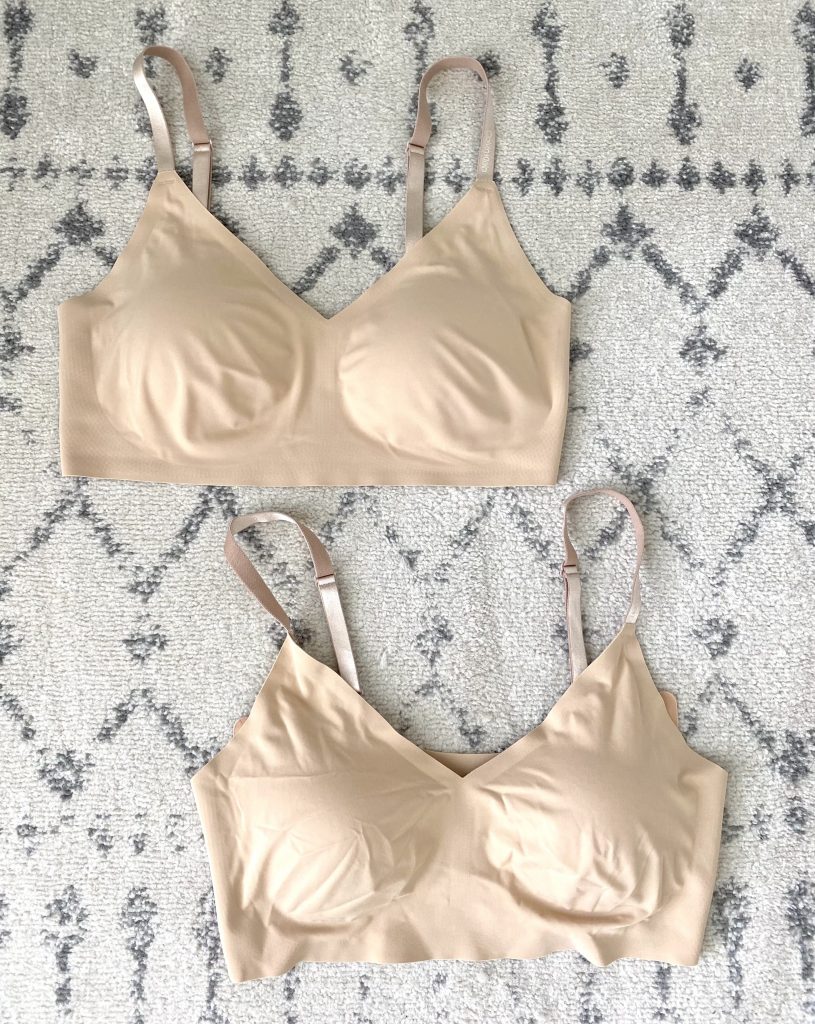 True & Co Convertible Strap Bralette
Slip Pure Silk 10-Pack Skinny Scrunchies – I bought the small pack last year in the NSale and I'm so happy to see they have a 10-pack with more colors! I wear one of the bands everyday when I pull my hair into a ponytail, usually at night when I'm cooking or watching tv.
Sugar Lip Therapy Balm – I have been using this lip balm for several years now. I apply it underneath my lipstick and also at night before bedtime. My lips are never chapped since I use this everyday!
T3 SinglePass® 1.25-Inch Ceramic Curling Iron – This is the curling I use to curl my hair. I have had it for a few years and it still operates like new!
GHD Platinum+ Styler 1-Inch Flat Iron – This is the straightener I use when I wear my hair straight. I lightly go over my hair with the straightener a few times and I'm done! It heats up quickly and I love using it!
T3 Featherweight StyleMax Dryer – I have been using a T3 hair dryer for almost 8 years now and I bought this white color one last year.
Barefoot Dreams Blankets – When I first bought this Barefoot Dreams blanket, little did I know I would be using this blanket for years to come! They are seriously that good! When I'm watching tv, I ALWAYS cover up with this blanket! In last year's sale, I bought a 2nd one and also bought this Cozy Chic Blanket in the "stone" color!
Charlotte Tilbury Pillow Talk Set – I have been wearing the "pillow talk" color for several years now. It's the perfect nude lip color! Every year during the NSale, I always stock up and buy two sets to last throughout the year! This year's set includes the lipstick, lip liner and lip gloss.
New Balance 327 Sneaker – I have this exact style of sneakers that I bought last year and have worn them so much! I'll be buying the Black Leopard Logo pair in the sale! See all the New Balance Sneakers in the NSale here.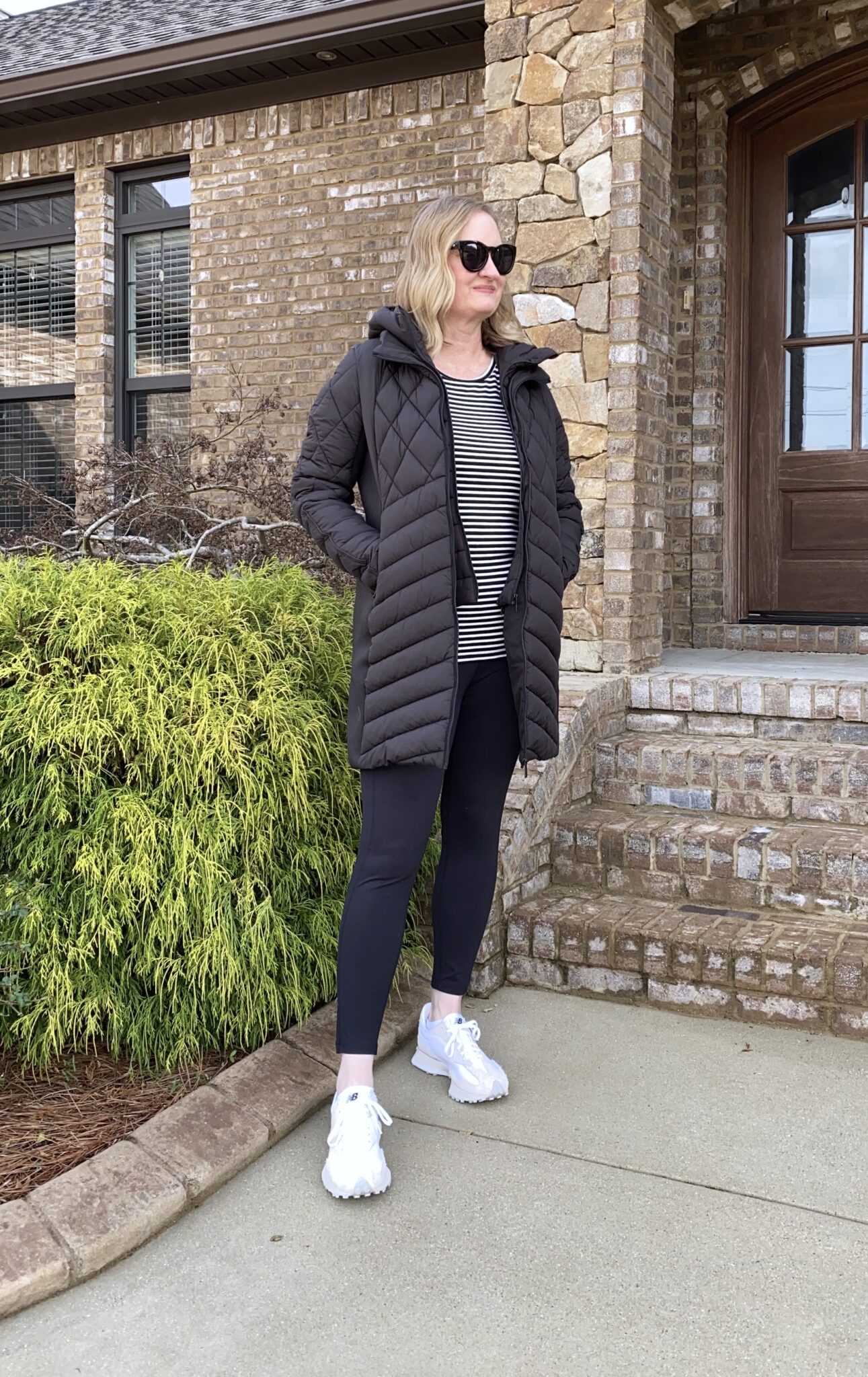 see the New Balance 327 Sneakers in this blog post
A Bit Of Inspiration For Your Day:
"Teach me to do your will, for you are my God; may your good Spirit lead me on level ground." – Psalms 143:10