Try-On Review – Mango Leather Jacket
A leather jacket is a wardrobe staple that is an essential for your closet. A leather jacket is a timeless piece that has been in style for many years. I finally found a leather jacket that fits well, is the classic moto style and is at a price that won't break the bank!
I have had a faux moto leather jacket with gold hardware in my closet that I bought a few years ago. While I like the fit and style of the jacket, I don't like the gold hardware and it is a bit stiff and uncomfortable. For the past year, I had ordered and tried on several jackets, but they all been too short on my body frame. I even tried on an "oversized" leather jacket, but it just looked awkward being that it was a longer style jacket. Leather jackets that are typically supposed to fall just above the hips, but being that I am tall at 5'9″ and long waisted, most leather jackets actually look cropped on my body frame and the hem falls right past my waist. I have an hourglass shaped figure with wide hips, so I need a leather jacket with a slightly longer length.
Mango's Leather Biker Jacket
I almost gave up on having a nice leather jacket in my closet, when I stumbled upon this Mango Leather Biker Jacket! I was kind of hesitant ordering the jacket, hence the name "biker" in the description. My personal style is "classic", which means I favor conservative styles and am uncomfortable wearing anything edgy. But surprisingly, the jacket looked a lot like Madewell's Washed Leather Jacket style, so I ordered it. By the way, I love the Madewell leather jacket as it was the one I wanted, but being the body length was short on me, it didn't work for my body frame. If you are shorter than me (I'm 5'9″), Madewell's leather jacket would probably fit you well and I highly recommend that jacket. I have also heard great reviews on Allsaints Leather Jackets, but they only go up to a size 10, not sure why they stop offering their leather jackets at size 10.
Here is a closeup of the Mango Leather Jacket. It is a moto style, with the pointed lay-flat collar and silver hardware. There are zippers at the back of the wrists of the sleeves which extends the width of the wrists, which is great when you wear thick sweaters. This jacket has just enough silver hardware to give it some detail, yet it has a classic style.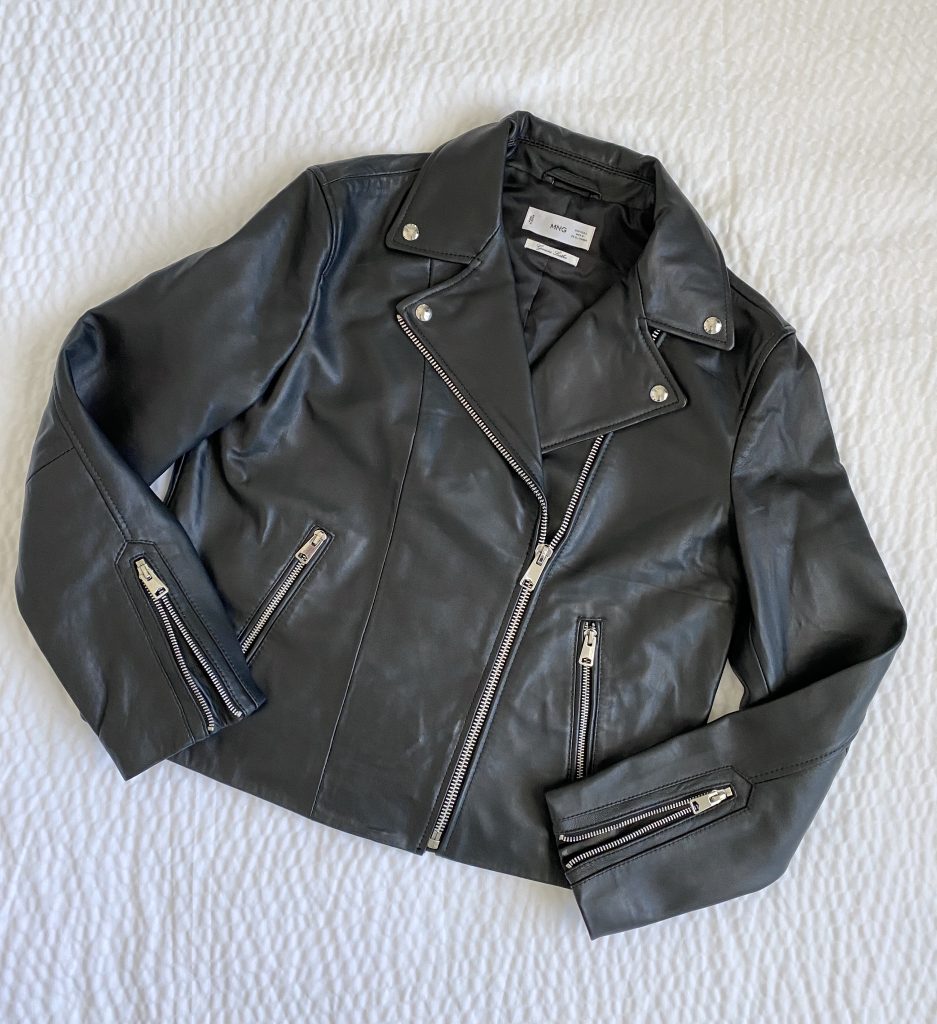 When the Mango Leather Jacket arrived in the mail, I tried it on and suprisingly it fit perfectly! I ordered a size Large in the jacket, since I like for my jackets to be just roomy enough to wear them with sweaters. I was pleasantly surprised than the hem of the jacket falls just above my hips, where a leather jacket is supposed to sit.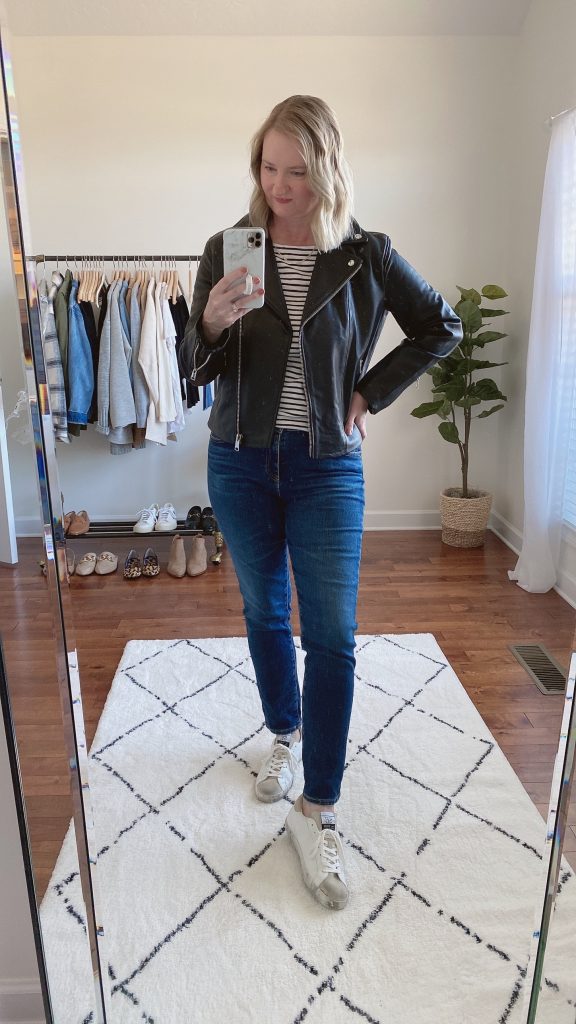 Outfit Details:
Mango Leather Jacket | striped long sleeve tee | AG medium wash jeans (budget option)
Sam Edelman sneakers HERE and HERE | gold paperlink necklace | CZ stud earrings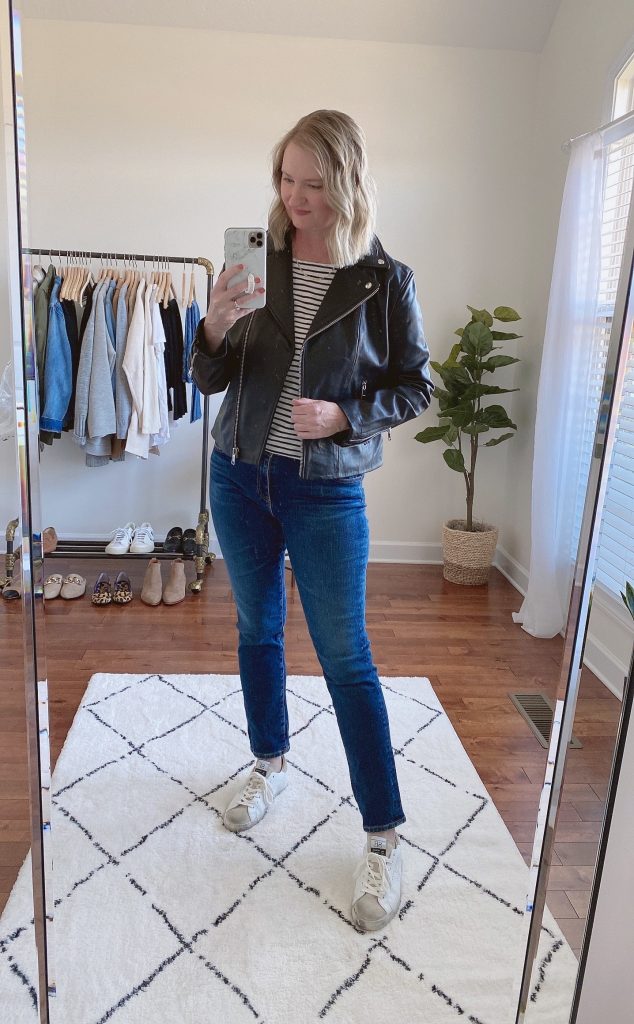 Here is a flatlay photo of the outfit, showing details of all the pieces in my outfit I am wearing. All the pieces in my outfit are in my best-selling capsule wardrobe eBook, "Simplified Style®: The Dressy & Casual Collection – A Year-Round Capsule Wardrobe." This capsule wardrobe eBook includes all the classic and timeless pieces you need for your closet. This eBook also includes convenient shopping links, 400+ outfits for all seasons of the year, dressy and casual outfit calendars for all seasons, how to add color to your capsule for even more outfits, plus more!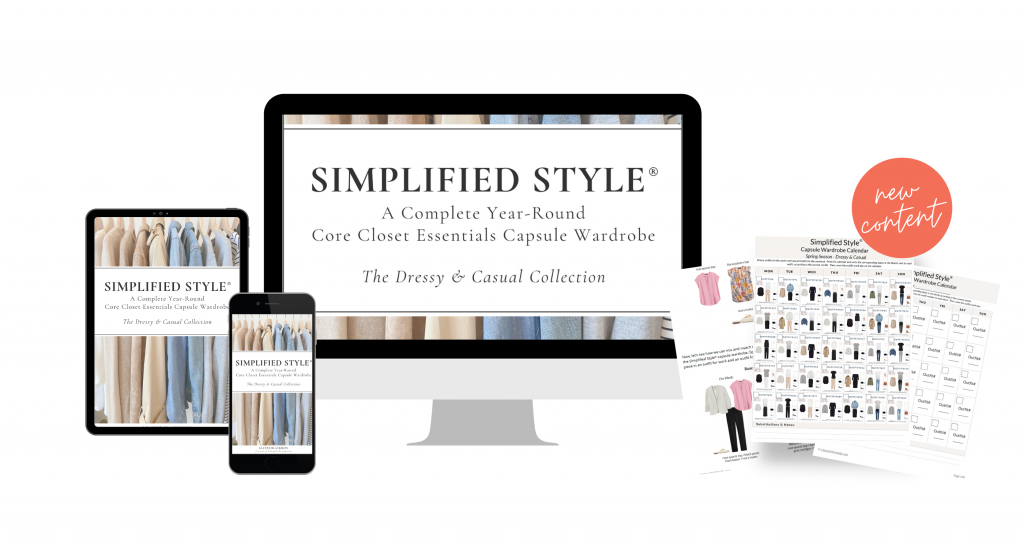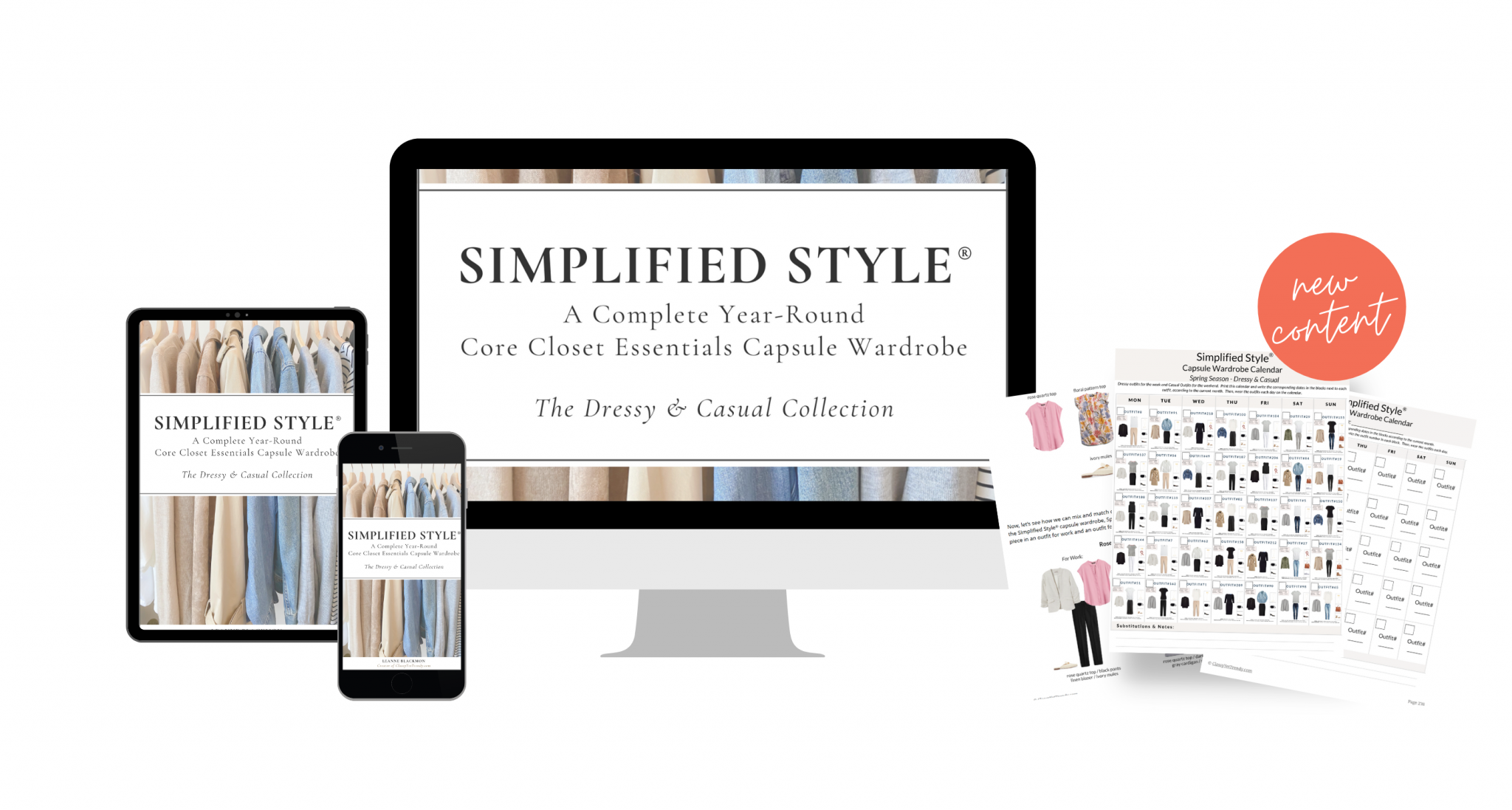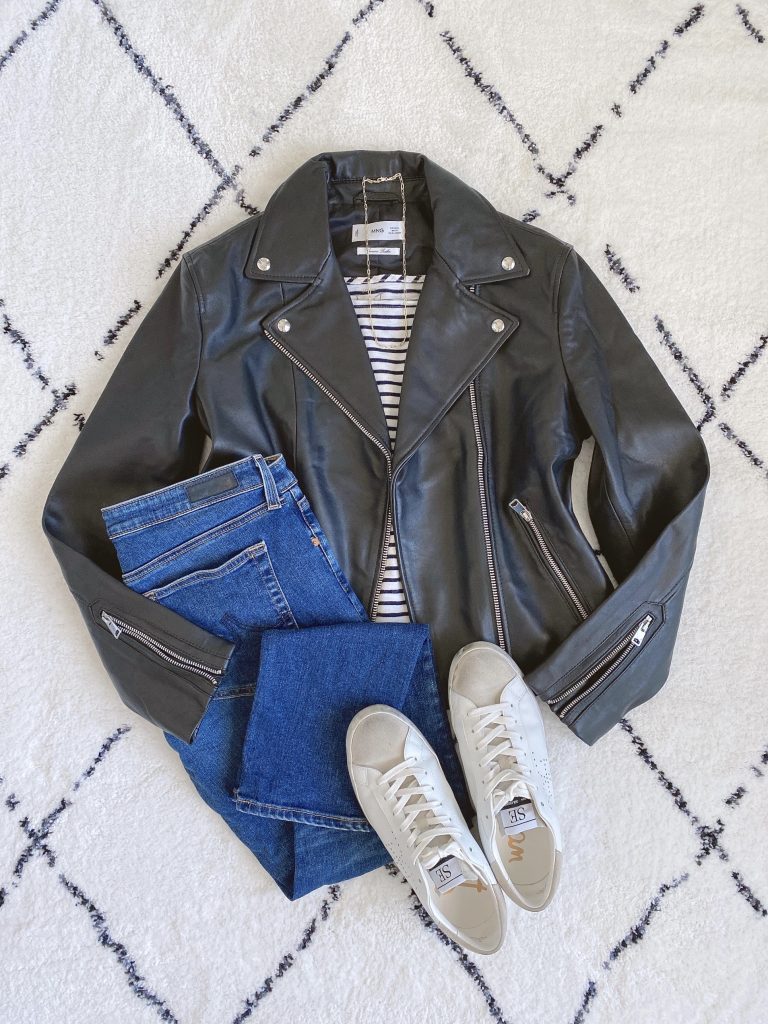 Outfit Details:
Mango Leather Jacket | striped long sleeve tee | AG medium wash jeans (budget option)
Sam Edelman sneakers HERE and HERE | gold paperlink necklace | CZ stud earrings
A plus about this Mango Leather Jacket is the price point. It is a real leather jacket for $199! I ordered this jacket first for the design and the fit, but it helped that this jacket was reasonably priced too. A well made real leather jacket can cost you of an average of $400 and up, so the fact that this jacket is less than others out there makes this jacket affordable.
And, this jacket includes Mango's sustainably made label. According to Mango on the product page, "The garments labelled as Committed are products that have been produced using sustainable fibers or processes, reducing their environmental impact. Mango's goal is to support the implementation of practices more committed to the environment, and therefore increase the number of sustainable garments in the collection."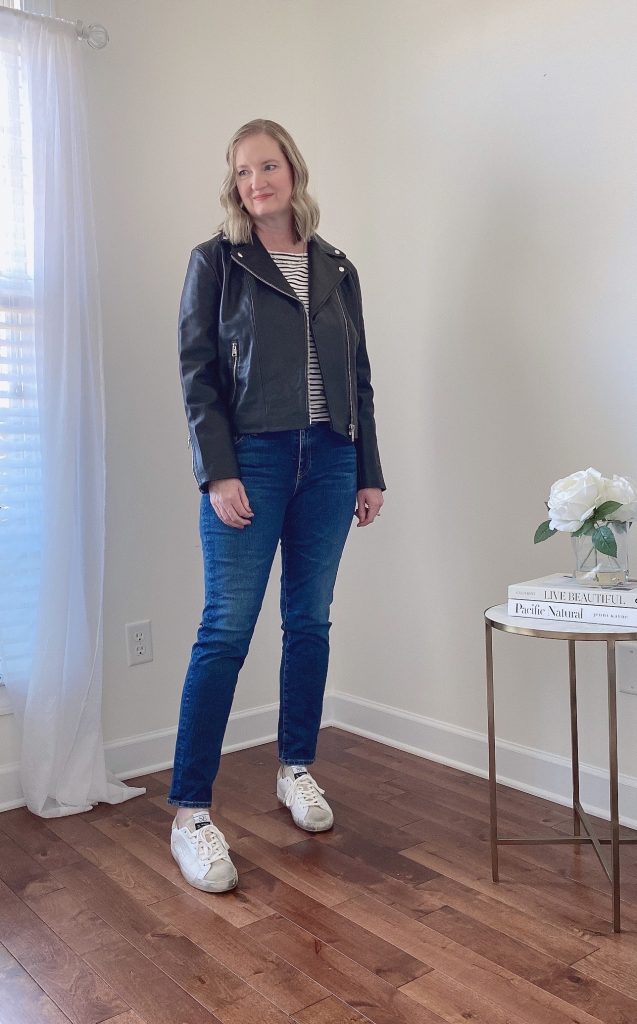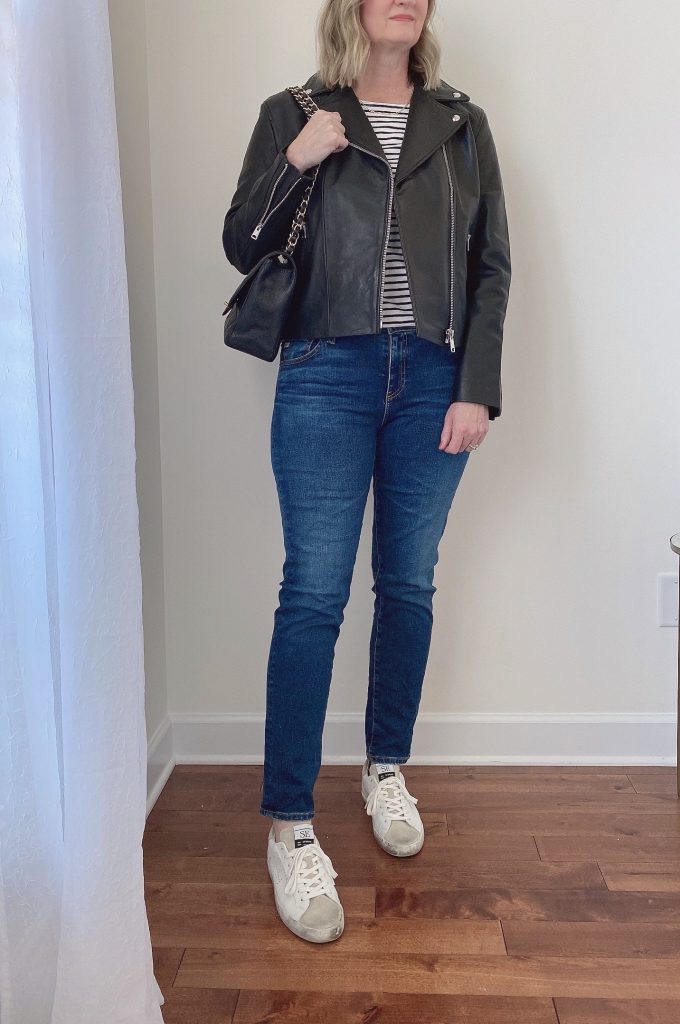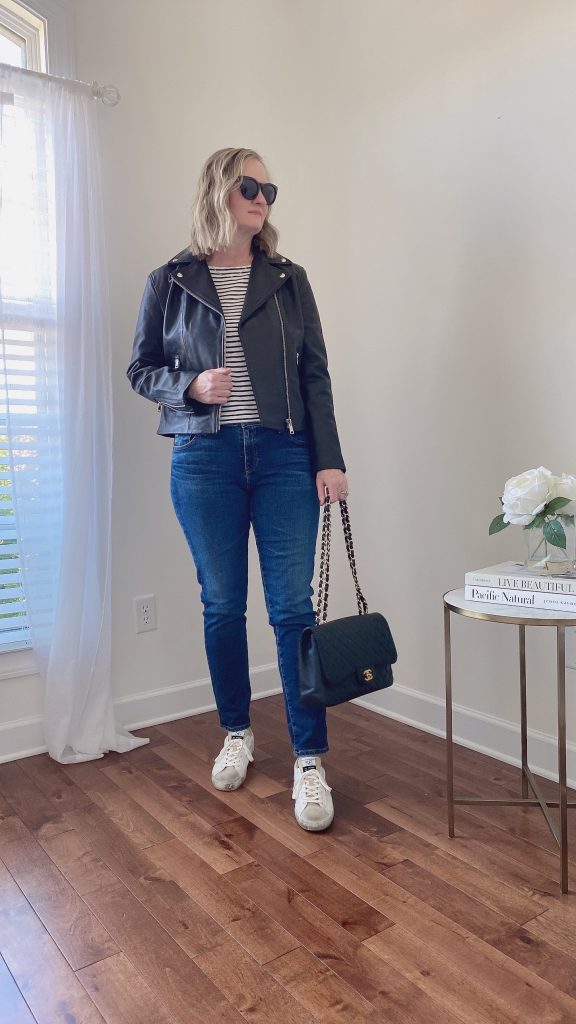 Outfit Details:
Mango Leather Jacket | striped long sleeve tee | AG medium wash jeans (budget option)
Sam Edelman sneakers HERE and HERE | gold paperlink necklace | CZ stud earrings
Le Specs sunglasses | Chanel Jumbo Single Flap Bag (budget option HERE and HERE)
A Bit Of Inspiration For Your Day:
"Though the mountains be shaken and the hills be removed, yet my unfailing love for you will not be shaken nor my covenant of peace be removed," says the Lord, who has compassion on you." – Isaiah 54:10