Top 10 Best Sellers & Blog Posts of 2019
Can you believe today is the last day of 2019 and the decade? This year has flown by! Are you looking ahead to 2020 with some new year resolutions?
In this blog post, I'm reviewing the top 10 best sellers here on Classy Yet Trendy. I'm a ShopStyle Collective affiliate, which means that clothes, shoes and accessories that I feature in the blog posts and that you purchase using the links in the posts, I receive a small commission, which keeps this site up and running! Being a ShopStyle Collective affiliate, I can research which products you like, based on how well they sell. This is especially helpful, because I can look at those products and determine what styles you all like and don't like, so I can know what content to feature on Classy Yet Trendy!
All these top 10 best sellers can go in a capsule wardrobe. As a matter of fact, you could make all these items into a capsule wardrobe, just by adding a few jeans and/or pants and a few pairs of shoes!
Top 10 Best Sellers from 2019
#10 – Open Front Sweater Blazer
The sweater blazer like this top seller Open Front Sweater Blazer has gained popularity the last couple of years. It's a cross between the classic cotton/knit blazer and cardigan. It's soft, yet structured enough that you can wear it to work. This sweater blazer is a layering piece included in The French Minimalist Capsule Wardrobe: Winter 2019 Collection!
#9 – Long Sleeve Crewneck Tee
This is a great crewneck long sleeve tee that comes in several colors! I have it in the white color in my own Winter 2019 Capsule Wardrobe. It fits perfectly, is not see through (I wear a nude bra with mine) and is just the right length, plus it's only $10!
#8 – Tab Sleeve Ivory Tunic
This Tab Sleeve Tunic is great to wear casually or to work! The ivory color so versatile and it also comes in a few other colors as well.
#7 – Striped Cotton Popover Top
This striped cotton popover tunic was popular in the Spring and Fall seasons and it's still selling! It comes in many colors and patterns. My favorite one is this blue striped one. You can wear this top casually with pants or jeans and wear it to work with a skirt or pants.
#6 – Cozy Pattern Scarf
The cozy pattern scarf in "ivory plaid" is just about perfect! If you need a good scarf for the Winter, but want one that you can wear with all your outfits, this one is it. It's neutral pattern with coordinate with many of your outfits, plus it's so soft too.
#5 – Dolman Sleeve Cardigan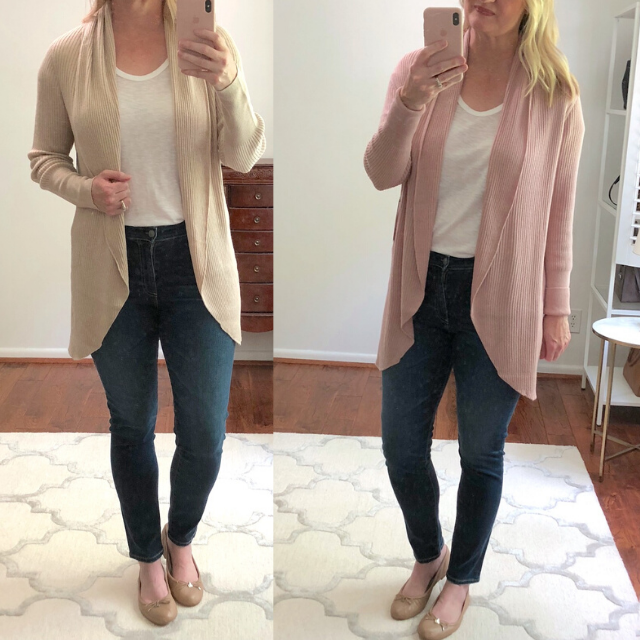 This dolman sleeve cardigan has a gorgeous, feminine style with it's fold-down collar, slender fit and tapered sleeves. I especially recommend it because I have it in the "pink adobe" color! It comes in 10 colors including black, burgundy, 2 gray colors and this beautiful "green bug" color.
#4 – Soft Brushed Cardigan
I have this Soft Brush Cardigan in the "sea green" color in my own Winter 2019 Capsule Wardrobe and absolutely love it! Several of you have let me know you love it too! The color is a light jade green. This cardigan also comes in 3 other gorgeous colors: heather red, cosmic (a flecked black color) and icelandic mineral (a taupe color).
#3 – Chambray Shirt
This Chambray Shirt is consistently a best seller! I have tried this shirt on and I loved it. I would have purchased it, but I already have one in my closet. The material is just the right texture. It's thin enough to wear underneath sweaters and is just right to wear alone or under a jacket or vest.
#2 – Striped Boatneck Tee
J Crew has been making this striped boatneck tee for several years now and it is continuously popular! Since it has 3/4 length sleeves, you can wear it in multiple seasons, with jeans, pants, skirts and shorts. The tone of the blue stripes are dark enough so that you can wear it with either black or navy pieces.
#1 – Leopard Print Tee
Many of you LOVE this leopard print tee, so much that it is the #1 best seller of 2019! The leopard pattern is subtle so it's a lighter print and isn't too bold. Plus, it is a neutral color and you can wear it with any color. It comes in over 20 colors and patterns too!
Shop The Post:
Top 10 Blog Posts of 2019:
These blog posts were the most popular in 2019. Several of these posts prior to 2019 consistently have the most views!
#1 – 7 Shoes Every Woman Needs In Her Closet
#2 – How to Create a Capsule Wardrobe: 5-Step Visual Guide
#3 – My 20-Piece Winter 2018/2019 Capsule Wardrobe
#4 – How to Reboot Your Closet In 2019
#5 – If Joanna Gaines of Fixer Upper Had a Capsule Wardrobe
#6 – 10 Ways to Wear Black Jeans
#7 – Travel Light: 2 Weeks In a Carry-On
#8 – How to Find Your Personal Style
#9 – 10 Ways To Look Expensive On a Budget
#10 – How to Create a Carry-On Capsule Wardrobe (Spring Edition)