My 2021 17-Piece Summer Outdoors Camping/RV Capsule Wardrobe
See all the clothes and shoes in my Summer 2021 Outdoors Camping/RV Capsule Wardrobe and find out how I created it for my closet!
We love being outdoors and camping, so last year my husband and I bought a teardrop camper to pull behind our Jeep Wrangler. I use a casual-style capsule wardrobe every season, but last year I needed a capsule wardrobe that I could wear while outdoors camping and hiking. Here is my 2020 Outdoors and Camping Capsule Wardrobe from last year if you want to look at what was in it.
If you are new here at Classy Yet Trendy®, I'm Leanne, the creator and administrator of this site devoted to all things about capsule wardrobes. I have been using a capsule wardrobe since 2014 and consider myself a bit of a pro when it comes to creating capsules! I publish several Seasonal Capsule Wardrobes, along with the best selling Women's Simplified Style®: A Year-Round Dressy & Casual Core Closet Essentials Capsule Wardrobe and the Men's Simplified Style® eBook. I also have Simplified Style®: The Athleisure Collection! Many women around the world use the ready-to-wear capsule wardrobe collections! I create and and share, here on the blog, my own personal capsule wardrobe in my closet every season.
Every season I create my own personal capsule wardrobe and here on the blog I share with you all everything in my capsule. You can see all my previous capsule wardrobes here!
My 2021 Outdoors Camping/RV Capsule Wardrobe
I was going to use the same outdoors capsule wardrobe as last year's capsule, but there were a few tops in the capsule that needed replacing due to wear, so I replaced those items and updated my capsule. I didn't buy any new items, but "shopped my closet" instead! I had four tops that I wear when I exercise by walking around our subdivision, so I already had them in my closet. I'm on the fence about the Birkenstock Granada sandals in "tobacco" and not sure if I want to include them. I have three pairs of shoes in my capsule, but I really enjoy wearing them around the campsite while camping.
I created my Outdoors Camping/RV capsule wardrobe using several pieces from Simplified Style®: The Athleisure Collection…
The Capsule Wardrobe Color Palette
In deciding what clothes I wanted in my Outdoors Summer capsule wardrobe, first I chose my base color, which is the first step in my post, How To Create a Capsule Wardrobe: A 5-Step Visual Guide. I decided on Black as my base color. Then, I added clothes in 2 accent colors: cobalt blue and azalea pink. I used mostly neutral color tones, with the accent colors adding a bit of color to the capsule.
Be sure to see outfits that I post on my Instagram! Throughout the season, I share several outfits that I wear from my capsule wardrobe.
Planning Your Outdoors Capsule Wardrobe
Anytime you create a capsule wardrobe, first you look at your lifestyle and where you will be wearing your clothes and shoes. Since we will be outdoors mostly in the heat and humidity, I knew I needed clothes with breathable fabrics and deeper tone colors (no white). We do easy to moderate hiking, so lightweight clothes are good. For shoes, comfort is most important and soles that will be durable for a lot of walking and hiking. When we are camping, we sleep in our Mini Max Teardrop Camper from Little Guy Trailers.
I live in Alabama where we have hot and very humid Summers! The clothes in this capsule are great for humid weather as most of the pieces are moisture-wicking or breathable cotton fabrics. If you live in a cooler climate, you may want to add or substitute a few leggings, like these Zella 7/8 Leggings or these Lululemon Align Leggings instead of some of the shorts and even include a track jacket as a layer. You may also like these Dyno Climb Jogger Pants.
Can You Wear This Capsule Wardrobe Everyday?
Even though these are clothes and shoes for my Outdoors Camping/RV Capsule Wardrobe, you can wear this capsule everyday! This is an all-casual capsule, so you can wear it just at home or wear it like a regular, everyday capsule wardrobe. The style is a cross between the Stay At Home Mom style and the Athleisure style, with breathable fabrics, several being moisture-wicking, so these clothes are great for the Summer!
Here's is my Outdoors Camping Summer 2021 capsule wardrobe on my wooden clothes rack:
Also shown on the clothes rack:
Patagonia Label Gray Cap
Black Transport Crossbody Bag
If you are limited on space, you can keep your capsule wardrobe on a clothes rack like mine shown above! In the photo above, I hung my tops and pants on the top rack, then on the middle rack I stacked my shorts and skorts. On the bottom rack, I have my three pairs of shoes.
You may also like these posts:
How To Create a Core Closet
How To Create a Classic Wardrobe
How To Find Your Personal Style
I created my personal capsule wardrobe using my capsule wardrobe process, which you can see here in this blog post, How To Create A Capsule Wardrobe: A 5-Step Visual Guide. You can download, print and use this Capsule Wardrobe In 5-Steps guide sheet to help create a capsule wardrobe, which is on the Capsule Wardrobe Tools page.
If you want to create a capsule wardrobe using clothes you already have in your closet, use download this easy-to-use 10-page Capsule Wardrobe Planner!
You may also like these posts:
How To Clean Out Your Closet
How To Start A Capsule Wardrobe: A 5-Step Visual Guide
Travel Light: 2 Weeks In a Carry-on
10 Ways To Wear A Striped Tee
Capsule Wardrobe Storage & Equipment
I use wooden hangers to hang my clothes in my capsule wardrobe. Using wooden hangers keep my tops from stretching. I use the Ikea Bumerang Natural Color Wood Hangers and LOVE them! For my clothes that are in my closet that are not in my capsule wardrobe, I hang them on these velvet hangers. If you have limited space to store your off-season clothes, I recommend this Large Storage Bin with Snap Lid. These bins are stackable too!
Now onto my capsule wardrobe! I have 17 items in my Outdoors Camping/RV Summer 2021 capsule wardrobe.
My Outdoors Camping Summer 2021
Capsule Wardrobe
THE TOPS:
Tops (left to right):
Pink V-Neck Dry Tee (similar)
Pink Spacedye Dry Tee (similar)
Patagonia Blue Mount Airy Scoop Tee
Blue Dry Tee (similar)
Blue Striped Tank
Patagonia Mainstay Tank in "Pacific Stripe" (exact) / other colors here
Old Navy EveryWear Tank Top in "Black Jack"
Patagonia Capilene Cool Graphic Tee in "Feather Grey" / same style different graphic
THE BOTTOMS:
I included the same 6 bottoms in this capsule wardrobe as last year's capsule. I included a pair of denim shorts, 3 pairs of neutral color shorts and 2 skorts.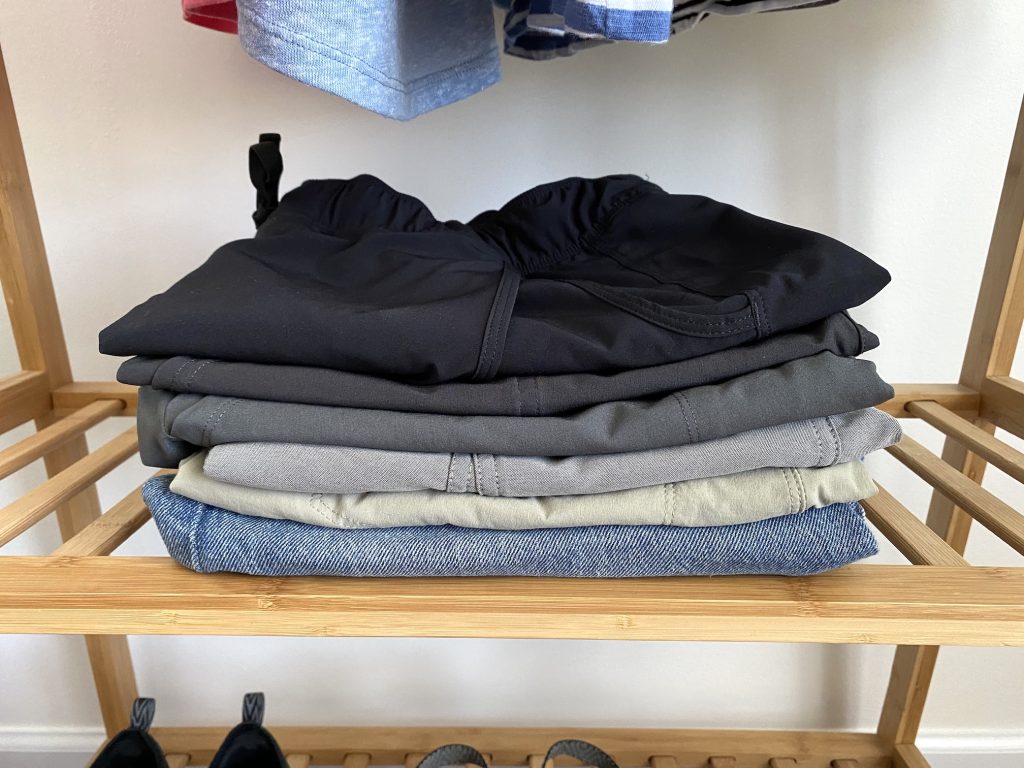 Bottoms (top to bottom of stack):
Patagonia Fleetwith Skort in "Black"
Pull-On Gray Shorts (similar)
Gray Skort (similar)
Patagonia Quandary Shorts in "Shale" / similar
Kuhl Trekr shorts in "Stone"
7″ denim shorts love the length and fit of these denim shorts!
THE SHOES:
I included 3 pairs of shoes. I can wear the sneakers while hiking, Chaco sandals while I'm at the campsite or sightseeing and the Reef waterproof sandals when I'll be around water or lounging in the camper.
Shoes (top, then left to right):
Skechers Sneakers (similar style)
Chaco ZCloud Sandals in "Excite B/W"
Reef Black Waterproof Slide Sandals
Accessories
I added a few accessories to complete the capsule: Patagonia Label Gray Cap to wear in the sun,
Black Transport Crossbody Bag (perfect as a purse when traveling), sunglasses and this Sackpack (similar) to wear when hiking. See my cap and transport crossbody in the photo below…
Here are a few photos of our camping trips so far. The first camping trip in our Mini Max Teardrop Camper from Little Guy Trailers was to Desoto Falls State Park in Fort Payne, Alabama last year in 2020.
This was the campsite we stayed at while in Desoto Falls State Park…
Our second camping trip last year in 2020 was to Monte Sano State Park in Huntsville, Alabama. We really enjoyed camping at both of those campgrounds and recommend them. Here are a couple of photos of the campsite, which we enjoyed because it was wooded with lots of shade!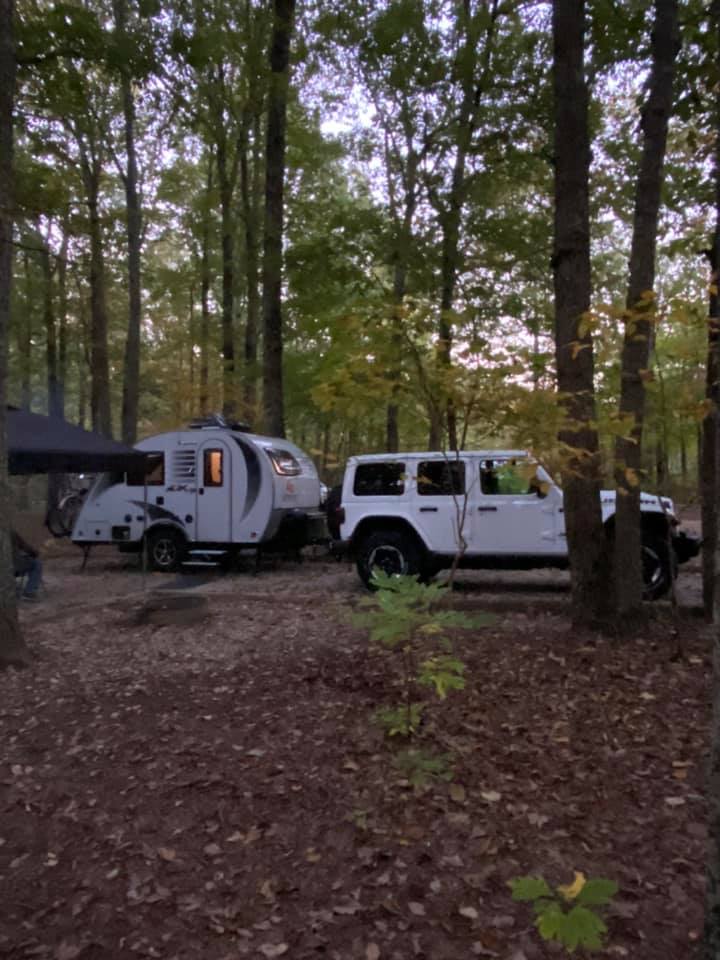 This Spring, we camped in Topsail Hill Preserve State Park in Santa Rosa Beach, Florida. It was gorgeous and the campground is huge! The campsites are spaced apart and they even have a coffee shop in the general store at the entrance. We took our bikes since they have an extensive paved bike trail in the park, which we rode everyday! I highly recommend this campground but book far in advance as they are reserved early. Here are a few photos from that trip to Topsail…
You may also like:
12 Essentials Every Woman Needs In Her Closet
How To Create a Core Closet
How to Build A Travel Capsule Wardrobe
A Bit Of Inspiration For Your Day
"I will say of the Lord, 'He is my refuge and my fortress, my God, in whom I trust." – Psalms 91:2